DIY Planters
DIY Project always encourages people to do something new. It not only increases the beauty of the garden but also gives new creativity to your creativity. Here we have displayed some of the DIY Planters collections for you using some cheap and old things. Here are some of the old things that you throw as worthless, Nature Bringtelling how to use them as a DIY Planters.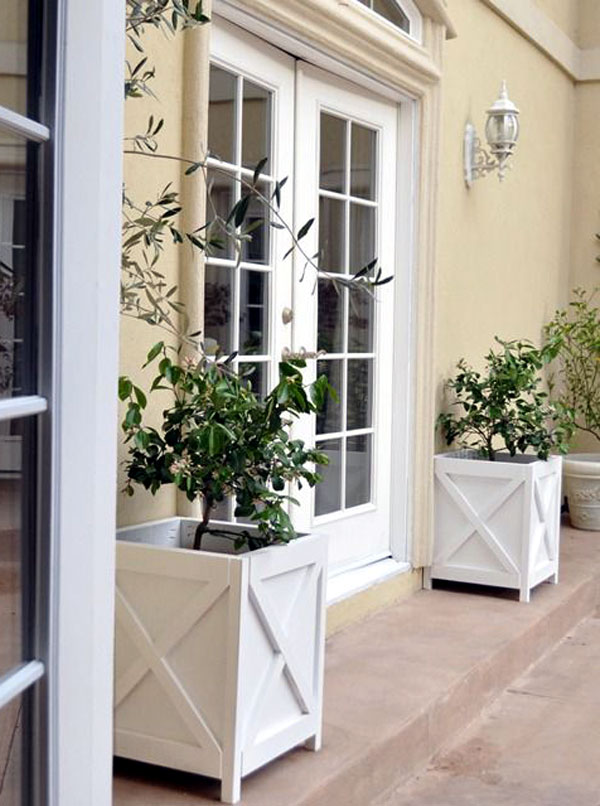 01. DIY Cross pattern outdoor planters
If you want to make your garden attractive, use the project we show in our garden. In this series, if you put the planters on the two sides of the door, it seems very elegant. To make this, the four wooden boards of the plantation have been prepared and added, later it has been made a cross pattern. You have to choose plants for it which is slightly larger in size and tolerates partial shadows.Watch for the tutorial.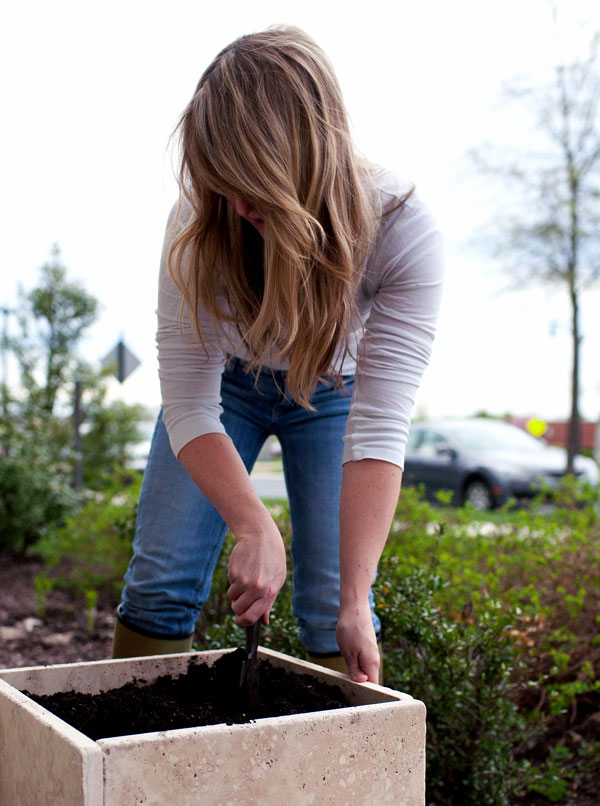 02. Stone DIY Planters
Planers made of marble or granite stones for your home or garden are your garden's fascinating DIY project. But buying them from the market is very expensive. With a little effort, you can make it at home only. You need 5 square-sized stones for this. This is an easy project and for this, you can use any shaped stone. By adding the edges of the pieces to the glue, you prepare the box. Add the pieces carefully to the angle of 90. Read more.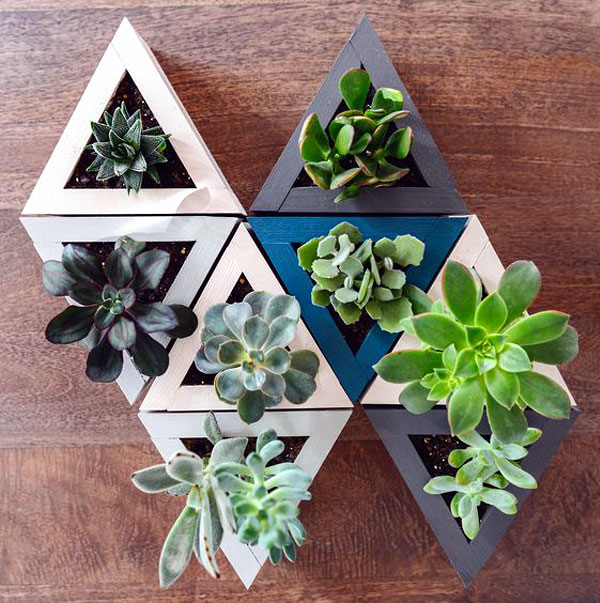 03. Triangle DIY Planters
These are triangle-shaped small planters, which you can create an attractive center point by putting them on the walls or in the garden. You can use the succulent plants on them. When used on the walls, it will be the subject of discussion for your guests. To make this, the triangle is prepared by adding a wood board to 60 degrees. Similarly, by making 8 triangles it is, then parallels with each other. See for more information.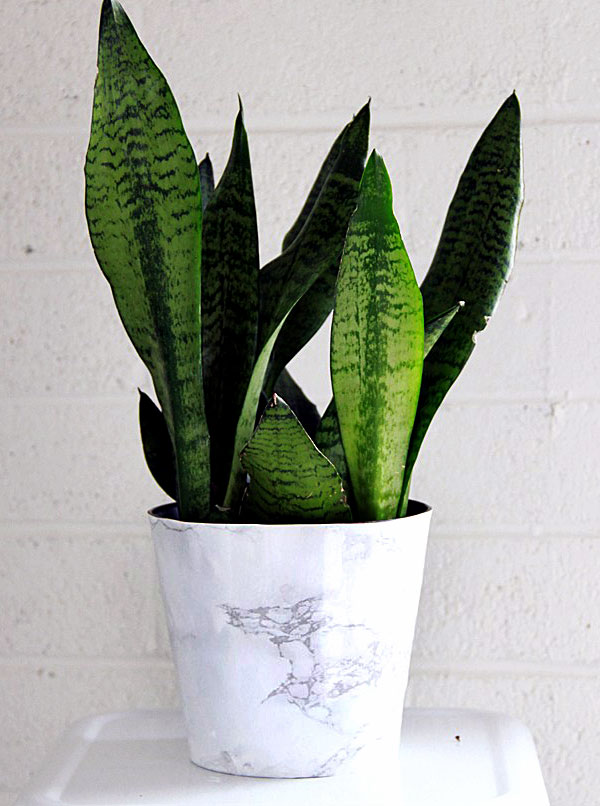 04. Marble DIY Planters
The idea comes when the name of the marble, it is a very expensive and weight container. But this is really cheap because, in an old pot, a new look has been given by the marble contact paper. In this, you make the line by rotating the pot into the paper, then cut it from this line with the help of scissors and apply it to your ugly container. Look for information.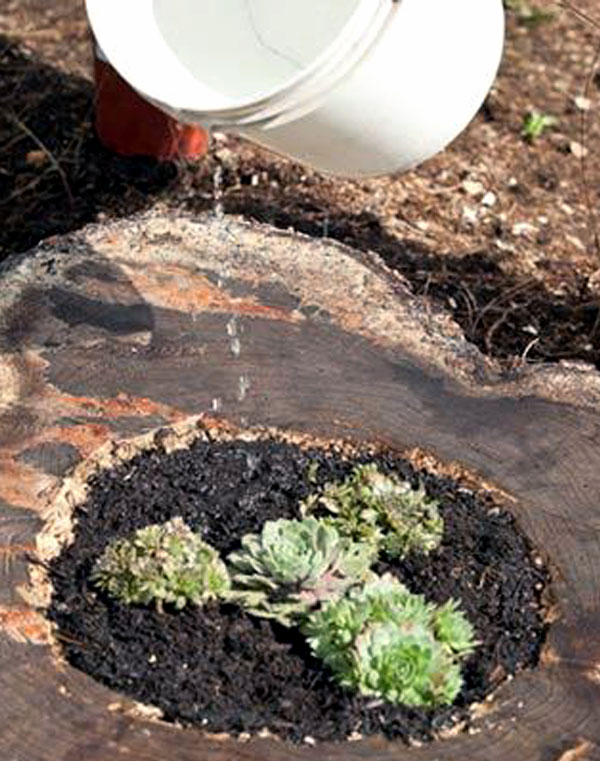 05. DIY Tree TrunkPlanters
Generally, throwing a tree out by removing the stump it is not the right decision in my mind, if you want to give your thought to fly then the Tree-Stump Planter is a good choice. This can be an attractive part of your garden. See for more information.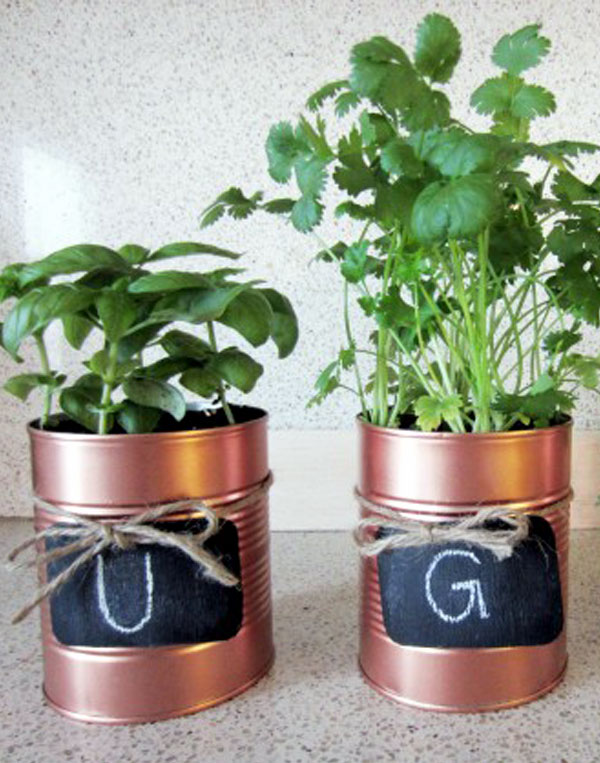 06. Copper Tin DIY Planters
This copper colored attractive DIY planter can enhance the beauty of your home and garden. It is quite easy to make, the tin can used for it is quite cheap. Start with some tin cans. It ideally uses the Chalk Board tag in it. Then each planter has been tied up with the help of a rope. See for more information.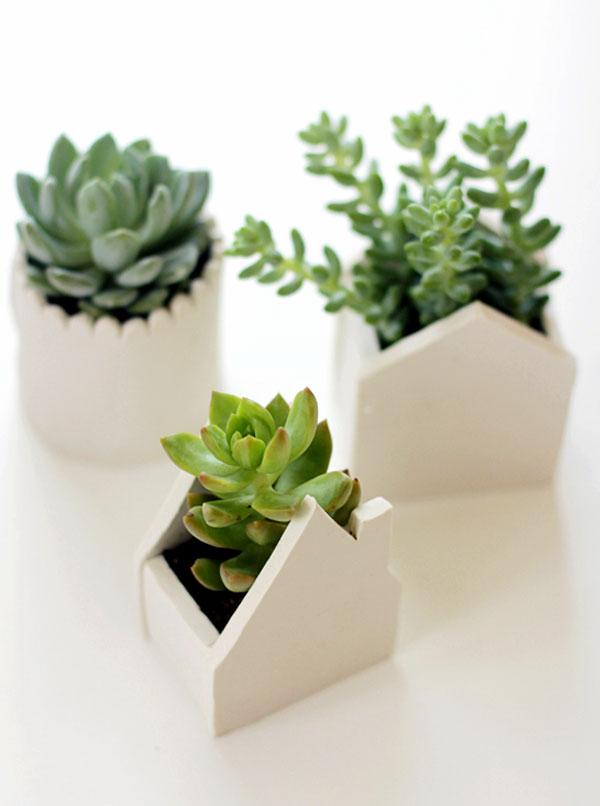 07. Handmade clay DIY Planters
This is a good opportunity to show you your creation, through a small plant in a handmade planter, you have the right way to present your thoughts. Roll out the oven-bake clay and carefully cut it into a shape with the help of a knife. After cutting all the pieces once, add it together. Your attractive planter is ready. See Tutorial.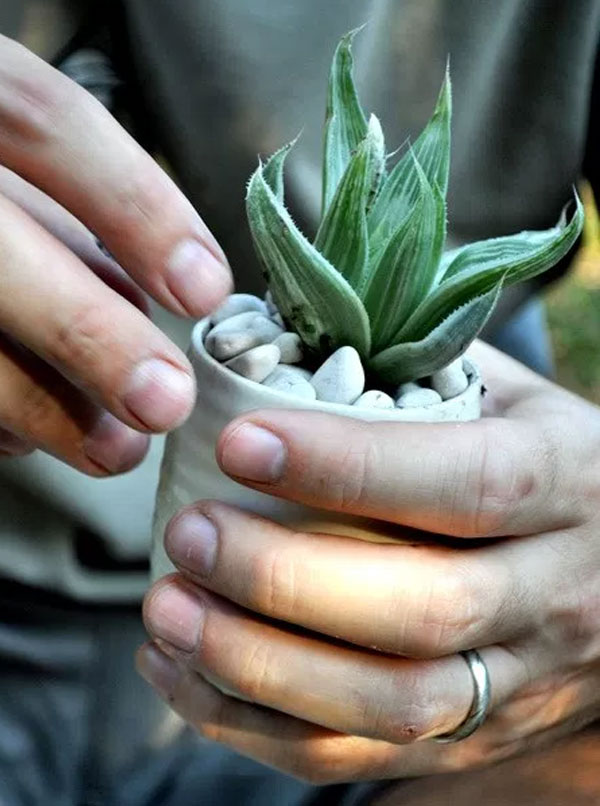 08. Tea Cup succulent DIY Planters
Typically, succulent and cacti require small and attractive pots. In order to make a small part of the house or window attractive, I had a plan in my mind, and in that part, I enthralled that part by planting some succulent plants in Tea Caps and Crockery. Today this is the most attractive part of my home and my work partner. You can also prepare this attractive DIY Project very easily. Read more.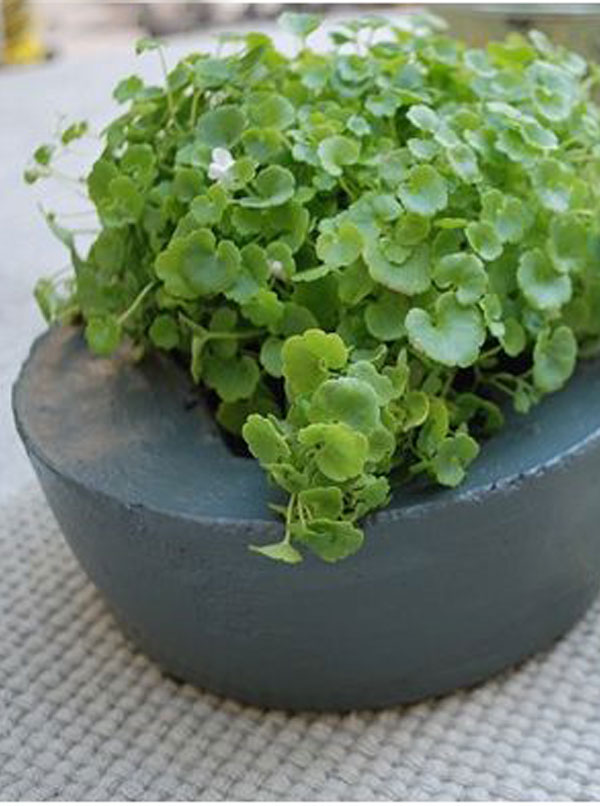 09. Handmade Cement DIY Planters
The pots made of cement in your garden provide sophisticated and robustness, they are thrilled to be fresh and handmade. In it, you give a new shape by mixing a part of the cement and 4 parts of the sand. You can use an old food container to shape, you can use ice cream cups or other containers for the inside part. Fill a large container with a ready mix and place a small container in the middle part. After about two days remove the container. Make a hole in the surface to get water. Your container is ready. See for tutorials.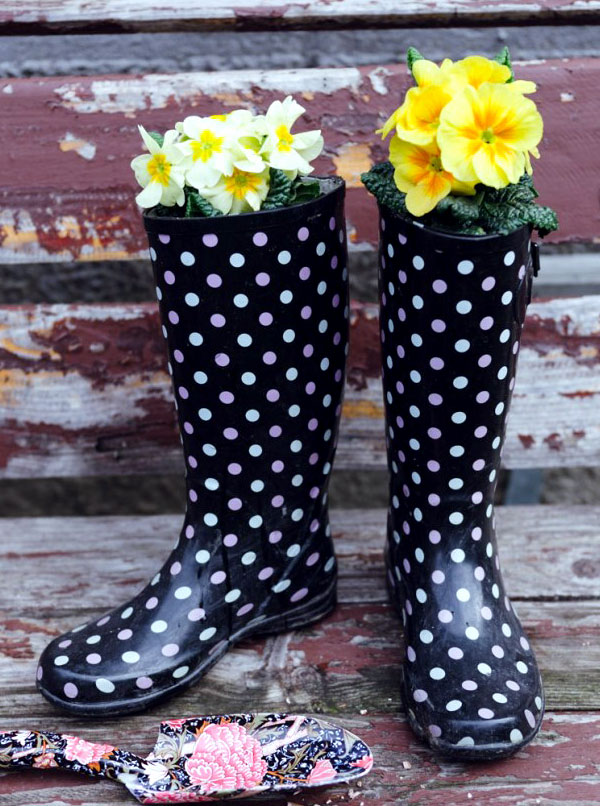 10.  Boot DIYPlanters
Do you know that you can use old shoes lying in the house as a beautiful planter? Looking at the old boots in the house, I had an idea in my mind why not use it as a planter, just what I had started to give it a new look. It is suitable for both indoor and outdoor and you can easily prepare it the same day. See.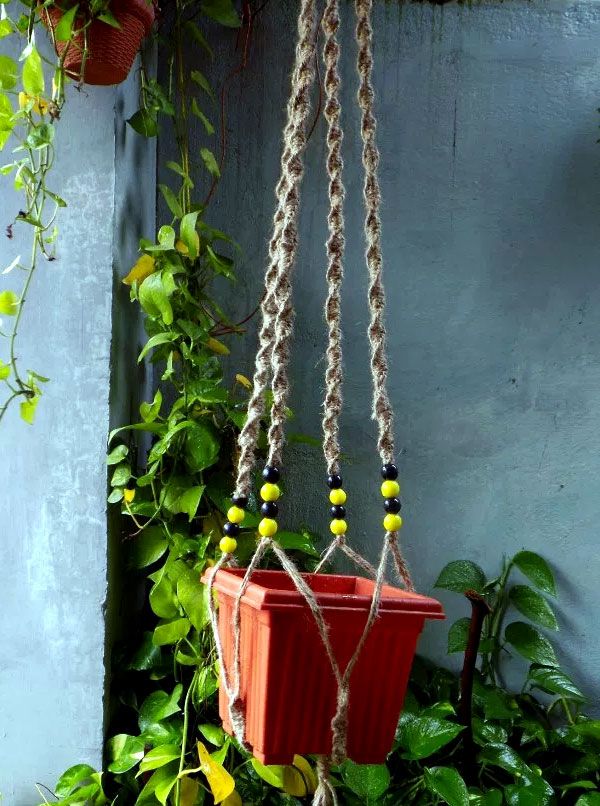 11. DIY Beautiful Plant Hangers
You can see variegated types of hanging planters made from jute and rope. These plant hangers make your indoor garden beautiful. Though this craft is easy to find in the market or you can easily create a short attempt, at the same well you also use your free time, Here some of the pictures are showing, you can make it easily sometime later. You can learn it easily on our website and make beautiful plant hangers itself. for tutorials.
For Pin: