Euphorbia milii growing and caring | Crown of Thorns
About crown of thorns:
A low-growing evergreen Succulent plant Euphorbia milii is full of thorns. Which is native to Madagascar. It is also found in Kerala, India. It's a good house for the winter, as the plant can be planted in a sunny window. The showy flowers, pearl green leaves juice is full, it is the best choice for outdoor gardening. Hybrid today than it was before and the flowers are large enough to come. Today it has become a very popular plant.
Many households have seen Crown of Thorn plant is growing inside. Indoor plants in your home, it can be planted, it is growing easy because it adopts the normal temperature and dry environment well. Without watering and fertilizer, the plant easily survives.
Thai Hybrid Plant is the largest is about 3 feet high. Though it should be 2 feet long, you can trim it. Its numerous and varieties 1 to 2 feet tall. This evergreen plant is growing slowly. It likes full sun. Zone 10 is the best for it.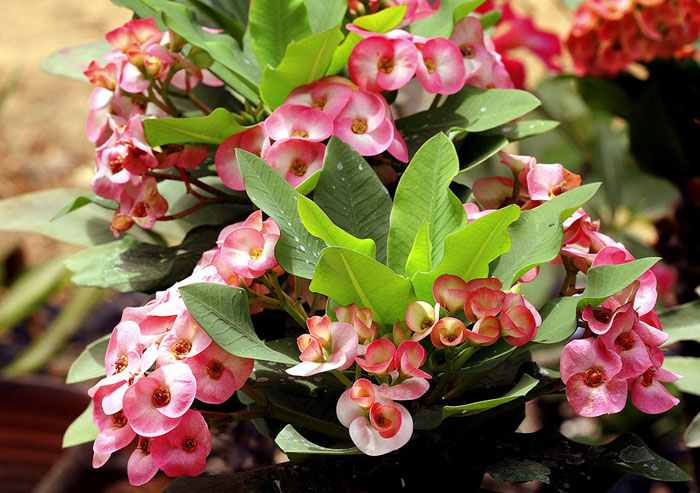 Classification:                                                                              
Botanical Name                   Euphorbia milii
Plant type                             Flowering Shrub
Flower Color                         Red, yellow, salmon and creamy white
Sun                                         Full sun/ part sun
Zone                                       10
Watering                                When the soil dry
How to grow:
Crown of Thorns is a cactus plant. It grows well in the poor and well-drained soil. It likes full sun, though it does tolerate some shade. 3 to 4 hours of sunlight is sufficient. It is the best choice for marine locations. So it is good for Salty Soil.  If you grow it in the house, then find a place near the sunny window where the sunlight comes up maximum. Though it is tolerant plant pleasure, to keep its leaves require regular fertilizer and water. Please check the appropriate amount of fertilizer nutrients. Plant it for the proper care of the place in the best location, where enough sunlight. Be engaged in the indoor temperature 65 to 75 degrees F is fine.
Watering:
The late spring to early fall when Crown of Thorns is actively growing, water it requires time. Reduce the amount of water when the plant stops new leaves and flowers, but remember the soil not dry completely. But take care not to dry the soil completely give up.
Fertilizer:
Granular fertilizer once a 2-3 months crown of thorns plant is essential to plant health. Use high phosphorus and low nitrogen when new leaves and flowers to come out.
Pruning:
When the crown of thorn is mature a little pruning is helpful in developing the plant.
At the end of the growing season, to encourage new growth in the spring season to remove some old leaves and branches.
Clear away dead fallen leaves and dead flowers immediate remove it, Because of them that spreads the moisture in soil due to the fungal disease will be allowed, so remove it.
If you see any brown leaves on the plant stem or cut it immediately, it can spread rot.
If you grow to plant the indoors, Then immediately placed in full sun, they prefer full sunlight. it can be placed in partial shade, where the bright sunlight coming.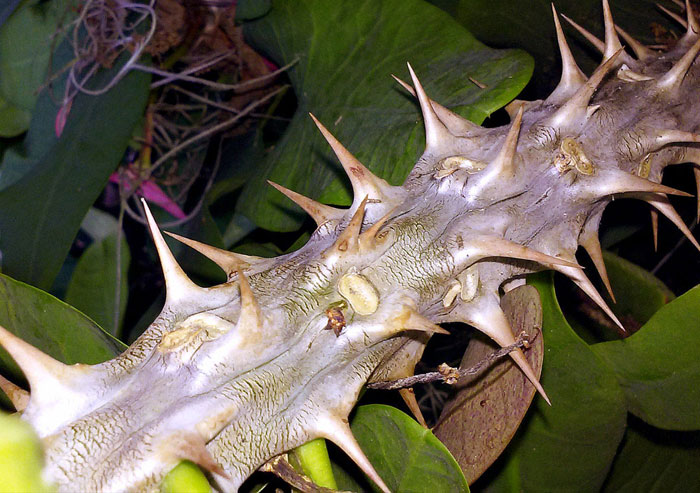 Care:
If you grow this shrub is in place that is its greatest care.
When the soil dries out completely, then run irrigation is regular required.
Crown of thorns plant is without leaves, if you must water it regularly comes up again leaves.
Granular fertilizer 3 times a year (spring, summer, and fall), it is necessary for the development. If you insert food into bone meal encourages it to bloom.
Propagation:
Crown of Thorn of 3 to 4 inches long cutting stem can be planted in the spring and early summer. But remember, there is a sharp thorn in the plant, thus cutting wear gloves while doing. Crown of thorns cutting should immediately immerse in cold water, and cold-water sprays so that the mother plant stops flowing milkiness. Allow Crown of Thorn's plant clippings to dry out for a few days.
Pest:
Crown of Thorns is insect resistant. However, the mealybug and aphids are main pests who come to disturb the plant.
For Pin: