Camellia flower
Camellia flower has its own charm, it enhances the beauty of the garden and blooms for a long time. Flowers of different colors between green shiny leaves double the beauty of the garden. Learn more about How to Grow Camellia, Growing Camellia plant in a container,  Propagation of camellia plant,  Camellia care in this article.
The South is called the heart of Camellias. Normal Camellia is flowers of Japan. Although it seems that these beautiful plants have been born here, in reality, the flowers of Asia. It's 3000 species are available on the basis of color, sizes, and shape.
Camellia flowers are very beautiful in winter and spring, hybrid species of Camellia are very easily developed. However, these plants require acidic soils, you can increase the acidification of the prepared potting soil and develop it in the container. Here are a few simple tips from Nature Bring, so you can easily develop it in the container.
Classified
Scientific name                   Camellia Japonica
Common name                   Camellia
Plant type                             Flower
Sun required                       Full Sun
Soil                                          Acidic Soil
Planting time                      Autumn/ late spring
Soil pH                                  6.0-6.5
Zone                                       7-10
Camellias overview
Camellias bush is usually 6 to 15 feet. But it's small species are available in 2 feet and 20 feet of large species are Camellias bush is usually 6 to 15 feet. But it's small species are available in 2 feet and 20 feet of large species are also available. Camellia leaves are bright and Evergreen also available. Its leaves are bright and evergreen. Its flowers grow in different colors, like a rose in red, pink, yellow and white. A wide range of shapes and colors is available, Including semi-double, double flowers, its width is around 5 inches. It can be easily put in the container; you can apply it in a terrace, patios, borders, and hedges.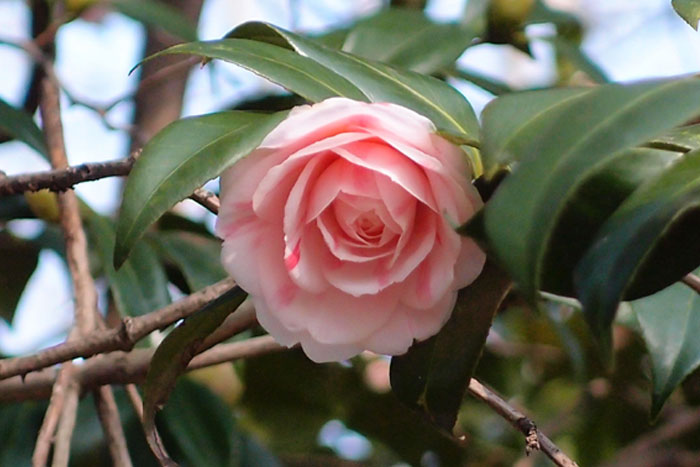 Growing information Camellia flower
Location and soil
Camellias have woodland plants. Those who grow well in the shelter and partial shade. However, it can be grown well in water and sun condition. Therefore, select the place before planting.
When preparing the soil, keep in mind that there is an abundance of organic matter in it. Use acidic and well-drained soil. These are ericaceous plants.
Fertilizer
When the flower of camellia stops blossoming, then it is the best time to feed it. Feed with acidic fertilizers in spring and early summer. Use a good quality fertilizer such as Yates Dynamic Lifter Plus Flower Food. Use liquid fertilizer for a plant that is in the container. Reduce the amount of fertilizer to plant, but give regular fertilizers.
Mulch
Camellia plants are of the shallow root system that dries quickly during the summer. To avoid this, spread out a layer of mulch after giving the fertilizer.
Watering
Rainwater is the best for camellia. Hard water contains calcium, which, along with time, reduces the acidity of soil around the roots. But water has to be supplied with tap water in the summer.

Growing Camellia plant in a container
Camellia plants you can easily grow containers. For the container, you select small-growing varieties, but its large species can be planted by prune and maintain the size. Do not use garden soil in the container, it is very alkaline, for this, you should use the ericaceous or multi-purpose potting compost.
Propagation of camellia plant
Seeds
In warm gardens camellias, seeds make large nut-shaped seeds. The color of this seed is black brown. Fill the potting soil n the container you want to apply in order to remove these seeds. This plant grows within two saloons.
Cuttings
August to September is the best time to cut it. For this, select a newly developed branch, cut it apart and separate it. Remove the lower leaves and then dip in the rooting hormones in the lower part of the cutting, put the cutting in the pot filled with peat moss. Then place it in a warm place with full sun. Where the temperature is 65 degrees F, it is good.
Camellia care
Most species of Camellias are hardy in USDA Zone 7-10.
Camellia plants prefer full sun or partial shadows or full shade. Partial shadows are especially ideal for white flowers. The plants can easily tolerate with cold and winter and are completely hardy. The heavier sun will burn its leaves, but morning sunshine is good for it, the full shadow will reduce its flower.
Camellia requires acidic well-drained soil and its pH 6.0 -6.5.
Its plant always needs moist soil, especially during the growing season.
Camellia plant usually does not require heavy feeding, but if the plant is weak and the leaves are yellowing, then you should use the Slow Release Fertilizer. Do this in the spring during the Growing Season.
After giving fertilizer, give the plant well water. To encourage direct growth, cut off the internal branches and separate them.
Cut off the dead branches and faded flowers immediately after flower blossom is closed. Well, it does not require pruning. To keep the desired size, it has to be pruned.
Pests and Diseases
It is usually a problem with the presence of scale and spider beneath the leaves. Use soap spray or alcohol. If the leaves of the plant are yellowing than the pH of the soil can be very high, test the soil to ascertain. Camellia naturally leaves it the old leaves, the loss of the leaves in a small amount is normal. Large amounts of dead, yellow, or reddish leaves can be a sign of disease.
Pin it: