Queen of the Climbers Clematis
Clematis vine in your garden is a matter of pride. You can plant it in the container or it can be planted near the fence. Once installed, you will have to take care of it from time to time. This vine is also called the 'Queen of the Climbers'. learn more about How to grow Clematis vine, Growing information clematis, Pests and disease clematis in this article.

About Clematis
Clematis is a genus of about 300 species within the buttercup family Ranunculaceae. Their garden hybrids have been popular among gardens beginning with clematis. They are mainly of Chinese and Japanese origin. Most species are known as clematis in English while some are also known as traveler's joy.
This popular vine is a beautiful flowering vine, it likes bright sun and tastes is bitter. When pets ingest it, they vomit and may also suffer from diarrhea. It contains irritating glycosides content. At least 6 hours of sunlight is necessary for it to bloom. A 2-inch layer of mulch can be incorporated to keep the roots cool and moist. Its species are smaller with a height of 2 to 5 feet. For larger types, its Arbors variety can be grown. Its height is between 8 and 12 feet.
Classification
Botanical Name                    Clematis
Plant type                             Vine
Sun exposure                        Sunny (at least 6 hours)
Height                                   2-5 feet
Soil type                                Good topsoil
Flower color                          Purple, white, pink
Bloom time                           Summer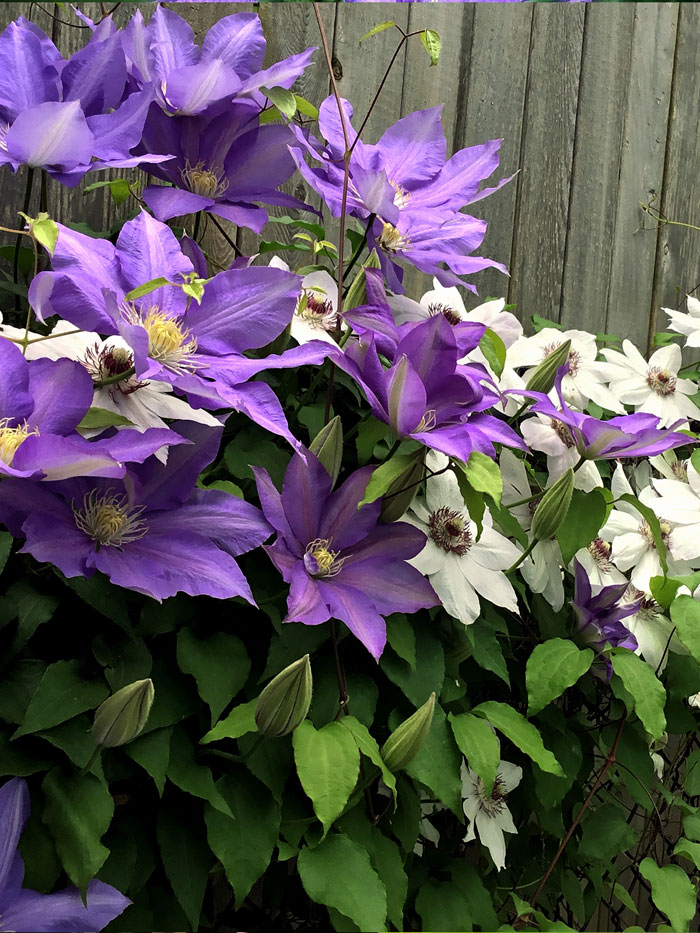 Growing information clematis
The best time for planting is spring, and you can apply it in the early spring, but it depends on the environment of your own area. It can be planted easily by plant cutting. However, most gardeners planted in containers, but you can apply it in the garden too. This vine requires full sun and well-drained soil. The use of fertilizer obtained Potting mix for the establishment of the plant is favorable.
This vine needs plenty of rooms. Dig a large planting hole, two feet deep and nearly as wide. Before planting use fertilizer must be.
Location and watering
Vine generally requires at least 6 hours of sunlight, but some verities also tolerate partial shade. vines are perennials with shallow roots, therefore prefer cold roots, to keep the roots cool, leaves or bark or mulch should be used. In the summer it should be given water regularly.
Flowering time
It is time to start flowering flowers in March and April. This flower development depends on the growth of last year.
In the spring, pruning should not be, when it will be bud.
Clematis care
Fertilizing
Plants prefer rich soil and water, which goes out completely. They prefer Natural Soil. The plant is a heavy feeder. Fertilizer 5-10-10 ratios can be used with reduced to nitrogen. Use fertilizer in the spring season when the Buds 2 inches long.  Continue with balanced feeder 10 -10-10 should every 4 to 6 weeks, the feeder regular until the growing season.
Pruning
Most vines require yearly pruning. Thay blooms in the summer need heavy pruning in winter season otherwise they appear thin and fibrous.
Pests and disease clematis
This vine suddenly begins to change into brown or black because of the fungi. Wilt can cause its vines to die after their foliage and stems have blackened.
Remedy
Prune damaged parts of the vine to prevent the spread of the fungus up to the roots.
For Pin: