How to grow Popular herbs plant Mint | Grow and care
About Mint:
If you are fond of eating tasty and to enhance the flavor of mint leaf in your food and tea, and you buy from the market. Don't buy from the market you can grow easily in your home patio or container. Herbs plant mint grows very quickly. You can develop accordance with our little instructions. Herbs plant mint is also known as Mentha.  Mentha is a genus of plants in the family Lamiaceae. The species is not clearly distinct, with 13 to 18 variations estimated. Hybridization between some of the species occurs naturally.
Mint is a popular herbs plant, the growing and planting are very easy on your patio. Mint has multiple uses to add taste use its fresh leaves in salad, sherbet, chutney, ice cream and hot tea.
You can grow in a pot or water. Take a pot with good drainage hole put your plant with the good potting mix(1 part of the soil, 1 part of coco peat and 1 part of organic fertilizer) for good and healthy plant. After the planting of mint, well watering is a must.
Classification of Mint
Scientific name        Mentha
Species                        13 to 18 variations estimated
Sunlight                      Full sun to partial shade
Maturity                     75-90 days from seed
Height                         12 to 30 inches
Spacing                      12 to 24 inches apart, 1 to 2 feet between rows
Watering                    regular watering
Soil                               Moist soil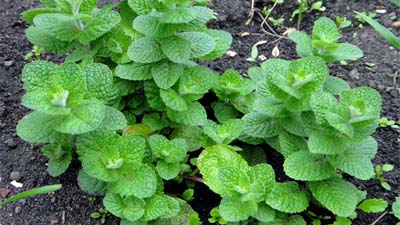 Fact:
Us produces 70% of the world's peppermint.
Healthy mother plant:
First, you buy a mint plant from a nursery or supermarket, but remember that this plant is healthy. Mind you this plant is free from any disease or insects, because it's your mother plant, otherwise it may damage the other born baby plant. It is grown by the plant, that is easier.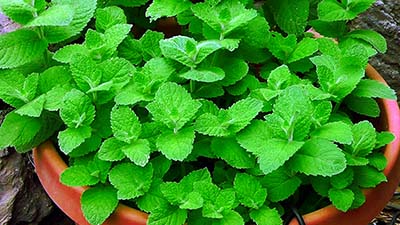 Plantation:
You can grow mother plant into a large container. To plant it in the morning sun or partial afternoon shade would be better. You must care for it otherwise it would cover like a weed. If you put in the container, the container must have a drainage hole. You can place a plate below the container so that if required by the plant absorbs water again.
Care:
Herbs plant mint prefer more sun. If you grow in a container place it near the window where the sun coming better. If it is on the lawn, it will get enough sunlight. Mint plant requires regular watering to maintain the soil is always moist. watering is must but you do not water whole day, you may watering ones or twice a day if necessary. Make sure soil moisture maintain every time. If you have a mint plant dies then you put it in the Sun and give plenty of water, you can re-live it.
Harvesting:
Cut a Mint sprig of it don't choose a lot of leaves and out of spring in a glass of water. You must take sprig one centimeter above from Junction, The new twig and leaves shall plant will be avoided.
Uses:
You can enjoy mint tea, you can use a herbal treatment form mint, use in an upset stomach. Fresh leaves of mint are used in salad, rice casserole or cooked vegetables. Mint is extensively used as flavorings in breath fresheners, drink, antiseptic, toothpaste, chewing gum and candies.
For Pin: