How to Grow Portulaca grandiflora (Moss rose) Plants and care it
About Moss Rose:
Portulaca grandiflora (Moss rose), is a flowering plant in the family Portulacaceae, native to Argentina, southern Brazil, and Uruguay and often cultivated in gardens. It has many common names, including rose moss, eleven o'clock, Mexican rose, moss rose, Vietnam Rose, the sun rose, rock rose, and moss-rose purslane. https://en.wikipedia.org/wiki/Portulaca_grandiflora
Common Name              moss rose, eleven o'clock, Mexican rose, sun rose, rock rose, and moss-rose purslane
Type                                Annual
Family                             Portulacaceae
Native Range                 Brazil, Argentina, Uruguay
Bloom Time                   Summer
Colour                             Rose pink, red, yellow, white, and orange. Some are striped or spotted with contrasting colors.
Water                            Dry to medium
Maintenance                Low
Suggested Use             Annual, Ground Cover, Naturalize
Flower                          Show
Tolerate                       Dry Soil, high heat
Plant height                 3' to 8'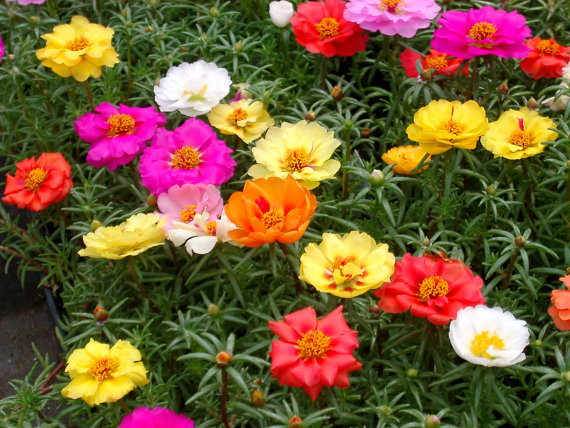 Plant Propagation:
Moss Rose is grown from seeds. Moss Rose seeds can be directly seeded into your garden, or seeded indoors for transplanting later in a pot. Portulaca flowers are easy to grow and enjoy. Moss rose grows well in poor, sandy or gravelly soils. The soil must be very well drained. It can be cured by root-knot nematodes and aphids. Aphids can be washed off with a clause of water or sprayed with soapy water.
Moisture: Drought tolerant, but flowers best with regular watering. Don't water with overhead irrigation, which can damage the flowers.
Moss rose care: Moss rose is a beautiful, bright colored, low growing blooms in all summer with little. No care required for plants.It is one of the very few annual succulents.