Radish is an edible root food, which is the Brassicaceae family. Radish was born probably in China. It is Japan's leading food. The worldwide consumption is considerable, most people use it as a crunchy salad or vegetable.
There are several varieties, its size, color and taste are different, it is a popular vegetable plant, its root is eaten. It is a hardy cool-season vegetable. It develops very quickly and become mature in about 20 -22 days, that is due to its many crops are taken. Radish crop is planted in spring and fall. But it should not be in heat. You can grow very easily. Here are some easy tips to grow radish continue nature bring, if you desire it in your patio or container can also.
Classified:
Scientific name    Raphanus sativus
Common name    Radish
Plant type            Vegetable
Sun Required      Full Sun
Soil                        Sandy, loam
Soil pH                  6.5-7.0
Temperature       65-85° F (18 -29 degrees C)
Zone                      2-10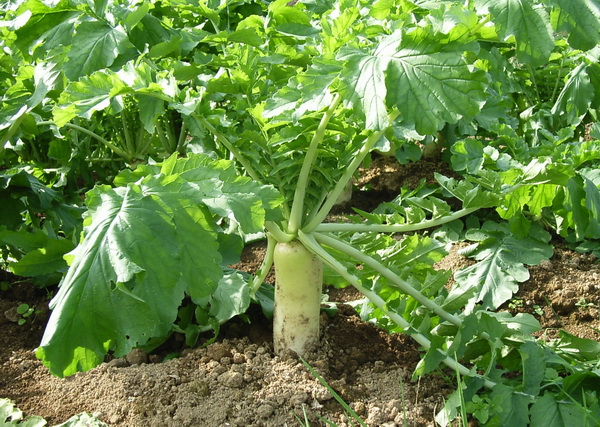 Planting:
It is a fast-growing cool season crop.
These root vegetables grow in any type of soil. For fast-growing radishes Dig soil 6 inches deep, and slow-growing radishes to dig soil 2 feet deep.
The seed germination takes three to four days, during which the situation of the soil should be moist.
They prefer loam sandy soil and full sunlight with Soil pH 6.5 -7.0 is the best. Loam is ideal for late-season crops.
Hot weather radishes you should plant in autumn.
The seed planting depth of 1/2 inch and 1 inch apart.
Crop thinning to control weeds during the growing season and water may be required.
You can plant it in the fall season. Than any other root, vegetable radish can crop in early fall or summer.
keep in mind that When you sow the radish seeds, long radish varieties tolerate heat rather than the smaller varieties.
Temperature:
The best temperature is 65 to 85 ° F (18 -29 degrees C). 65 ° F you can get a good quality crop. It takes 22 days to mature harvest, but in cold weather, it may take 6 to 7 weeks.
Growing tips:
When you prepare the soil to avoid fresh manure, organic materials, and high nitrogen fertilizer etc. Rich soil helps make lush foliage and crunchy radishes roots.
When planting radishes approximately 2.5 cm / 1 inch apart should be thin, it is not necessary to summer variety radish crops, Winter variety should be thinned to 15 cm (6 inches) apart.
Mulch around radish, rich compost, and wood ash Maintain moisture. Not just saving it from insects, but also keeps in moisture. Soil Moist has ensured the growth of fruits.
Give water sparingly, but water should be not less, because of the lack of water radishes will bolt and taste it too pungent. If too wet, so remain root will rot.
Hence the radish crop matures quickly. you can sow radishes between the rows in 'catch crop' such as peas and potatoes. You can easily get from the main crop.
Care:  
Radish well with constant humidity likes dry soil. Keep soil always moist, but should not be waterlogged.
Thin radish 1 inch apart, it surprises you when it will be 1 week old.
Pests and diseases: 
Snails and Slugs like radish taste. Yates Blitzem some radishes, to get rid scattering around the garden bed. Caterpillars and aphids also prefer to eat a radish. If the holes in the leaves due to caterpillars and the leaves curling the reason is aphids. In 7-14 days spraying insecticides, you will get eliminated.
Harvesting:  
Some varieties are very fast maturing radishes, which have to harvest within 3 weeks.
After maturing for a long time not leave them on the ground, otherwise, the situation will be worse.
Store cut the tops off radishes and wash well.
For Pin: