How to grow Root vegetable Carrot | Easy growing tips
Root vegetable carrot is usually orange in color, though purple, black, red, white, and yellow varieties exist. Carrots are a domesticated form of the wild carrot Daucus carota, native to Europe and southwestern Asia. Wikipedia Carrot is a famous root vegetable, it is also perfect from the point of health view. It is very easy to put in your kitchen garden or container. The more sandy soil is good for it, but the soil is free from stone and clouds.
Carrot Classification
Scientific name         Classified Daucus carota
Common name         Carrot
plant type                  Root vegetable.
Soil                             Sandy soil
Soil pH                      Natural
Sun                           Full sun
Zone                         4-10
Growing condition
You know that carrot production occurs in the early spring season but it can be grown in a year. The temperature of the soil for 45 to 80 ° f can be anywhere. Several species are available and they are maturing from 70 to 120 days. Carrot is slow germination in the meantime its security is required, otherwise it may damage from birds or heavy rainfall. You can also use the net. If you protect it from freezing coolness in temperature plastic tunnels can use.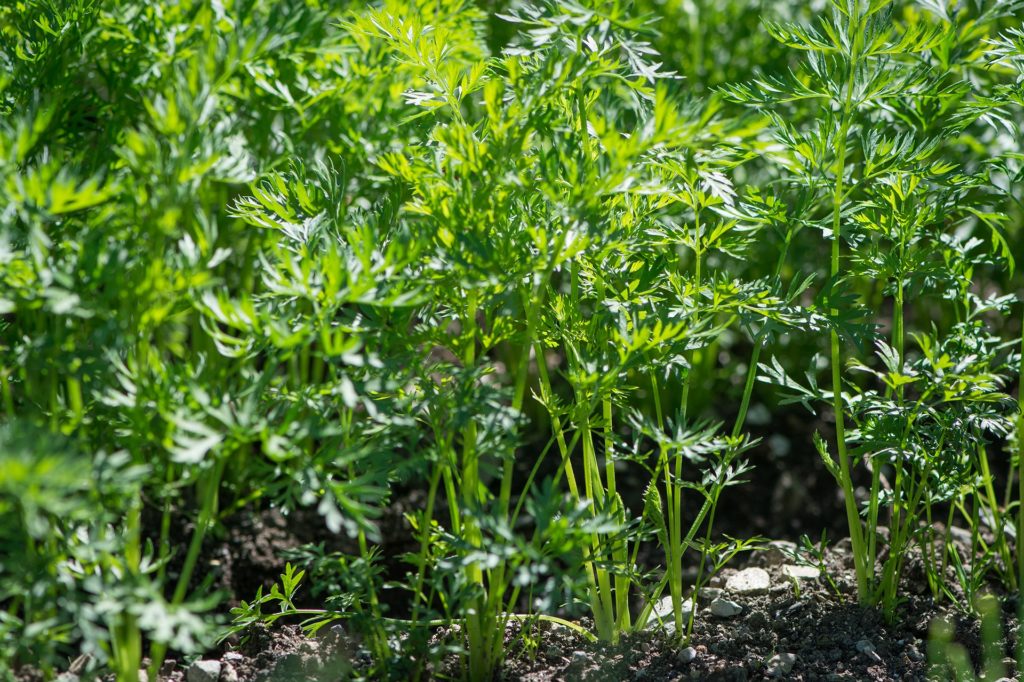 Cultivation:
Carrot seeds are mature in 70 to 120 days but some of its species are also mature in 70 days. Requires full sunlight of carrots, but tolerate some shade. The fertilizer used but depend the quality of soil because the carrots that crop required low level of nitrogen, phosphate, and high potash.
Nutrition:
Carrot is much greater amounts of beta-carotene causes the carrot orange, which is a good source of vitamin, per 100 grams carrots provides 9.6% carbohydrates, 4.7 grams sugar, 2.8 is fiber. It has more amount of vitamins, potassium, fiber, phosphorus, magnesium, that fulfills the requirement of the body.
Health benefits of carrots
Cancer:
Carrots in it due to antioxidant property has seen anti-cancer effects. It contains beta-carotene consumption effects of many cancers. A British research said the effect of lungs cancer reduced 40% from the help of the beta-carotene.  The research found that the regular use of carrot reduces the risk of colon cancer. If women used a daily carrot to minimize the impact of Brest cancer.
Blood pressure:
Carrot is a significant amount of potassium. It does ease the stress of your arteries so that blood flow and circulation are flow free, after which that helps to reduce stress. High blood pressure from regular use of carrots that would minimize the impact of the disease.
Macular degeneration :
The more amount of Beta-carotene and vitamin A is in carrots. and vitamin A enhances the vision of power eyes. It is extremely beneficial in macular degeneration. A study found that people who use a significant amount of beta-carotene, 40% of that disease are safe. (Macular Degeneration is the leading cause of vision loss, affecting more than 10 million Americans – more than cataracts and glaucoma combined. )
Healthier skin :
Fast Sunlight damage your skin and vitamin A is effective for skin. Using its regular moisture into your skin back, premature wrinkles, skin spots, dryness of hair, acne, dryness of the eyes is back. you can found several beauty products made by carrots in the market.
Infection :
Herbalists say carrots helps prevent infection.
Stroke :
The study found that people eat more carrots in their use are known to those people less affected by stroke.
For Pin: