Idli Recipe
Idli is a popular South Indian dish made by making a granulated paste of rice and urad dal. This is like seeing a sponge cake. This is a very ideal breakfast and very much preferred all over the place. It is also beneficial from a health perspective and is incredibly low in calories. It is hotly served with coconut chutney and sambar. learn  How to make Idli, Ingredients for idli recipe, Tempering idli and more about this recipe by Nature Bring .
The biggest thing is that oil is not used to make this. It is done in many ways like RawaIdli, Riceidli, PohaIdli, RagiIdli, Oats Idli and Ready Mix etc. However, the recipe can be made immediately with Ravasuji (semolina) but you will have to make from rice and Dal (lentil) for getting a traditional taste of South Indian dish.

Preparation time                  15 minutes
Cooking time                        45 minutes

Serve                                     04
Difficulty level                      Easy
Ingredients 
(1 cup = 250 grams)
Basmati Rice (for idli/ dosa)             02 cup
Fenugreek seeds                              1/2 tsp
Urad dal (lentil)                                1/2 cup
Salt                                                   as needed
Oil                                                     To apply in idli stand
Baking soda                                      1/2 tsp
Water                                                as required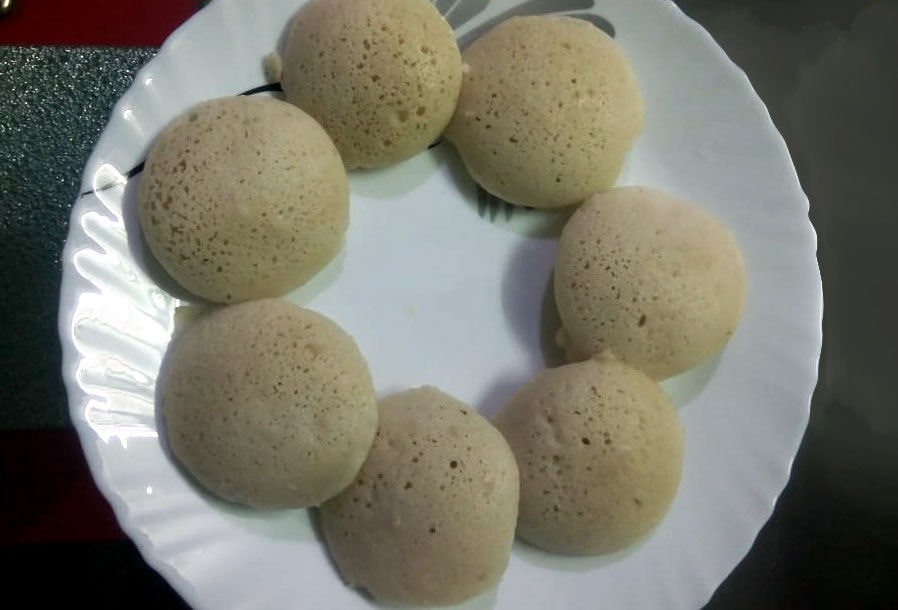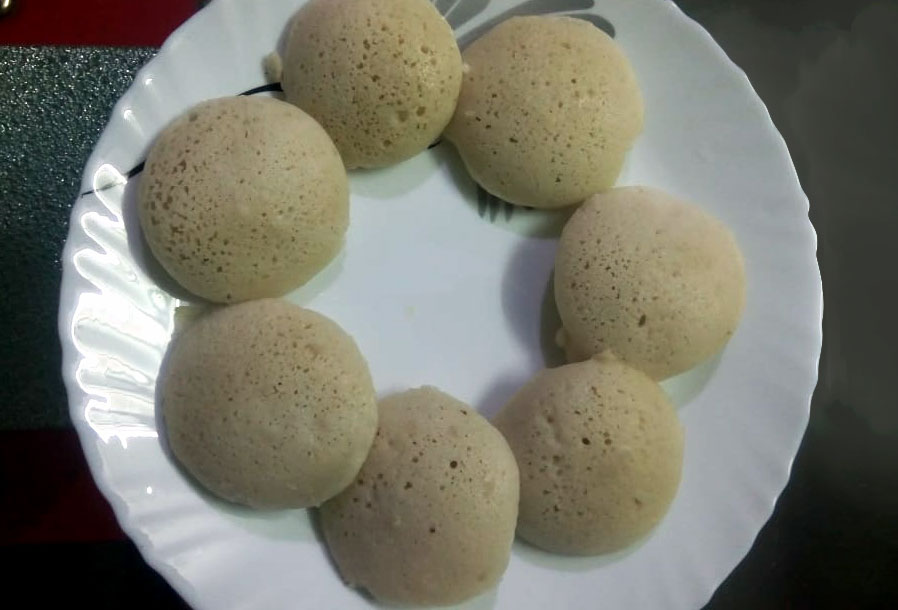 How to make Idli 
Soak basmati rice in a bowl for 3-4 hours. Similarly, in another pot, soak urad dal (lentil) also for 3-4 hours. After 3-4 hours, remove the extra water from the lentil and grind it finely. Similarly, after removing excess water from rice, grind it scabrous with the help of a mixer grinder.
Grind rice and lentils Mix together and prepare a thick paste. Add a little salt according to the taste in this mixture, then add a little baking soda in it and keep it in a hot place for about 12 hours.
Leave the mixture to ferment; you will see that the mixture becomes twice as fast as before. Now your mix is ready to make Idli.
Mix well the solution with the spoon, if the mixture is very thick, then getting water, otherwise, this will not become spongy. You Grease in the stand and pour the solution. In this way, all the stand is filled with solution.
There is a different kind of traditional utensil for making idli, if it is fine then otherwise you can make it in the pressure cooker too. We use a pressure cooker at our home.
Add two glasses of water to the pressure cooker and keep it on the flame. Now place the stand in the cooker and close the lid, but remove the whistle.
Cook it for 10 minutes in high flame, now turn off the gas and remove the lid, let it cool slightly, remove all from the idli stand with the help of a knife.
Take your idle, ready. Serve it with hot sambar and coconut chutney.

Read more.
Tempering  idli South Indian dish
Some people like to eat fries or if it became more, you can fry. Add a little oil to fry it on the pan, then add little mustard seeds in it, when the mustard seeds start crackling, add chopped green chilies and little curry leaves in it, then add lightly salt and cook for 2 minutes. Turn off the gas, garnish with a green coriander and serve with tomato sauce, schezwan sauce, chili sauce or green chutney.
Suggestion
Wash the rice 3-4 times to make a completely white.
Grease well in the stand, otherwise it will stick in the stand and there will be trouble in getting out.
See from Sambar Recipe.
See for Coconut chutney recipe.
For Pin: