Chilli Soya Chunks recipe
Nowadays, many people have passing runner's life and many problems have started, everyone eats anything anywhere, so keeping the body healthy is a challenge. Yoga and nutritious food are both essential to keeping your body healthy. From today you incorporate some protein foods into your diet. Soybean contains 27% calcium, Iron 87%, Vitamin B-6% 20%, Magnesium 70%, Protein 36 g, Amount per 100 grams, therefore this is the best food, incorporate it into regular diet. I have read about soya beans that it works in blood sugar levels and to control cholesterol.  But due to the taste, we and you could not include it in our diet. That's why nature bring brought crispy Chilli Soya Chunks recipe for you. It is very easy and is full of flavor and protein.

Preparation time- 20 minutes
Cooking time – 30 minutes

Serve- 04
Difficulty level – Medium
Ingredients for Chilli Soya Chunks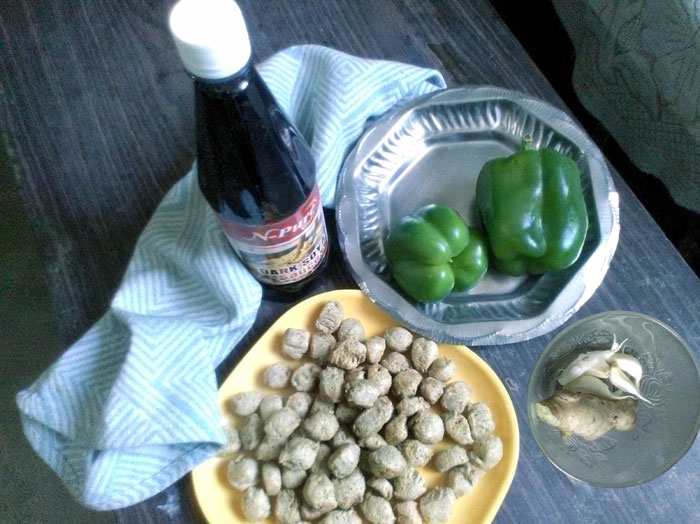 Soya Chunks (Nuggets)                     100 gram
Bell pepper (Shimla Mirch)                01 big size (chopped)
Onion                                                 03medium size (Chopped)
Spring Onion (green onion)              1/2  cup(chopped) optional
Ginger                                                1 inch piece (finely chopped)
Garlic                                                  6-8 clove (finely chopped)
Soya sauce                                         01tsp
Vinegar                                              01tsp
Tomato ketchup                                02tbsp
Green chilli                                        03 (slit)
Red chilli powder                              01tsp
Oil                                                     02 Tbsp or as you required
Salt                                                    as needed
Green Coriander leaves                    1tbsp(Chopped)
Recipe for Chilli Soya Chunks
First of all, soak the Soya Chunks (nuggets )in hot water for 10 to 15 minutes according to the volume written above.
Remove the soya Chunks (nuggets ) from the water after 15 minutes and squeeze the water with both hands.
Now heat it by adding a little oil in a pan. Then add finely chopped garlic and onion and sauté until brown.
Then add the red chili powder, then add capsicum (bell pepper) and green chilli slit and sauté for one minute.
After that add soya chunk (nuggets) in it and cook for about 6 to 7 minutes. After mixing well, add soya sauce, vinegar, tomato ketchup, salt and mix well again.
Cover with a pan and cook for 15 minutes in medium flame.
Now after cooking well, take it out on a plate and decorate it with chopped green coriander leaves. Now your Chilli Soya Chunks is ready. It is very tasty in the food, you can serve it with bread and rice.
*We have not put green onions in our recipe, if you want to pour it, then cut it with chopped capsicum and cut it too.
For pin: