Feverfew Herb
Learn How to Grow Feverfew herb, What is medicinal use? Side Effects of Feverfew and more about this herb. Feverfew, also known as altamisa or febrifuge plant, is a short traditional medicinal herb that is commonly used to prevent migraine headaches. It is also used to treat arthritis, asthma, constipation, dermatitis, earache, fever, in particular, headache and inflammatory conditions among others. Wikipedia 
What is Feverfew?
Feverfew is a small bushy perennial medicinal herb of the daisy family. This plant spreads rapidly and covers the whole ground in a few years. It grows in open fields usually situated by the roadside. It is a native to Eurasia. The plant has yellow flowers and green leaves and looks like chamomile.
Overview
Scientific Name     Tanacetum parthenium
Plant                       Herb plant
Height                    46cms or 18 inch
Sunlight                 Full sun
Colour                    Yellow / Green
USDA                    perennial zones 5-10
Soil                        Well-drained soil
Harvesting            80-90 days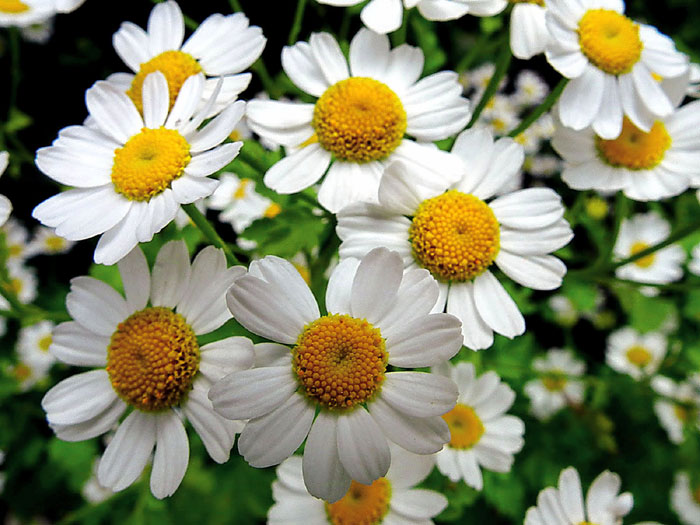 What is medicinal use?
It is extremely beneficial for having a fever and headache. It is also useful in treating digestive-related illnesses and rheumatism. Besides asthma, it is also useful in reducing inflammation, ear pain, abdominal pain, toothache, dizziness, swelling, insect bites, menstrual disorders, potential miscarriage, psoriasis, and cold. Consuming 50 to 100 grams leaves daily gives relief from a headache. After the meal, take fresh leaves if you have a headache off and on. There is no certified dosage for it though.
How safe is it?
Do not use it if there is any kind of allergies. People who allergic from chamomile, chrysanthemum, daisy, sunflower, esters, they should not use feverfew. It also has potential anti-clotting properties.
Side Effects of Feverfew
Patients withdrawn from feverfew may experience ill effects often known as "post-feverfew" syndrome. Handling fresh leaves may cause allergic skin reactions. Swelling of lips, tongue, and lining of the mouth in addition to mouth ulceration have been reported to be the side effects of feverfew use. Effects such as abdominal pain, nausea, vomiting, diarrhea, indigestion, and gas may also occur.
How to Grow Feverfew Herb
Plant seed can be grown in your garden. You can easily get its seeds in a nursery. However, people become confused while buying them because several shops know it by its scientific name Tanacetum parthenium. It remains happy in the presence of the full sun.
Soil
For better results, any sunny site with well-drained, and of a stiff, loamy character, enriched with a good fertilizer.
Spacing
Single Plants: 11″ (30cm) each way (minimum) Rows: 11″ (30cm) with 11″ (30cm) row gap (minimum)
Feverfew Care
Always requires good care because slugs, snails and black fly attack the plant. Luckily, if there are frogs in your garden, they save it from slugs.
Pruning
When leaves grow 3-inch long, it is ready to harvest and  Shade is necessary while the cutting or rooting.
Perennial Herbs
It is a perennial plant that grows within a fortnight.
Harvesting
When it is full of flowers but the greenery is still there. Its dry flowers are used to make herbal medicines.
Read also:
How to grow Soybean in containers. How to grow hollyhock at the patio. Growing Geranium in containers. The Garlic vine growing and caring tips. Growing and planting Freesia flowers. 11 Best winter flowers for your Garden.  Container Gardening tips. Colchicum growing and care guide. Daylily growing and caring tips. Lily growing in containers. Anthurium growing and care guide.
For Pin: