Container garden
Start a Container gardening is an easy and pleasant arrangement, it is a great way to present any garden landscape in a lively manner. But before starting the Container Garden, a small flower garden or flower arrangement should be considered. After you choose long plants in your garden, select attractive thriller plants, spiller plants, and finally filler plants.
Fill in the empty space with the help of shorter filler plants. Observe the container should be given both width and height from selected plants. Use the "Thrillers, Spillers, and Fillers" plant selection techniques to create a nice and attractive Container garden.
Thrillers, Spillers and Fillers plants
Thriller plants
Thriller plant is the height that dramatizes and combine your Container garden and home Vertically attractive. These can be a flower or leafy ornamental plants or indoor plants.  Thrillers are usually kept in the center or behind the container Place thrillers in the center of the container, to be easily seen from everywhere. These are a Perennial sunflower, canna, Summer Lilac, Blue Lily, Hydrangea, aster, cosmos, etc.
Fillers plants
Thriller plants are selected, then the next time you start choosing filler varieties Fillers plants are more spherical or mixed plants and the entire container appears to be full. Fillers' plants are normally placed in or near the thriller plant. If you put the Thriller plant in the container center, then fill the Fillers plants around the thriller variety. some example is coleus, Begonia, Pansy, Pentas, Lantana, Heart of Jesus, ornamental plants. Read more.
Spiller  plants
In the end, you add spillers plants in your container gardening.  Spillers plants are trailing plants and hang on the edge of the container they are placed on the edge of the container, spillers are clearly visible from any point of view. If the container is being seen from all sides, the spills should be kept on all sides. According to thespurce.com  Lobelias, fuchsia, Calibrachoa, Nasturtium, Scaevola aemula are the best spiller plants.
Best Filler Plants for Container Gardens

01.Caladium
They have excellent beauty in their leaves; hence it has a special place in the filler plant. Its leaves are in large, thin and attractive patterns. These are tubular plants that grow their leaves from spring to autumn. These plants are highly needed for moisture; they are not cold tolerant at all. Caladium requires a Rich, well-drained potting mix. You can easily divide its mature tubers and develop new plants. These are considered USDA hardiness zone 10, but many gardeners develop them in an annual.

02 Basil
Herbs can be used as a good filler for you. Basil gives you the choice to fill the garden with green, burgundy and violet. This herb is called the king of herb and the royal herb. Basil is a leafy shrub whose annuity has a different scent. There are many kinds of basil, Sweet basil, purple basil, lemon basil, and Thai basil. Basil can be planted easily, it is used in Italian and Chinese dishes, but it only grows in the summer.  Read more.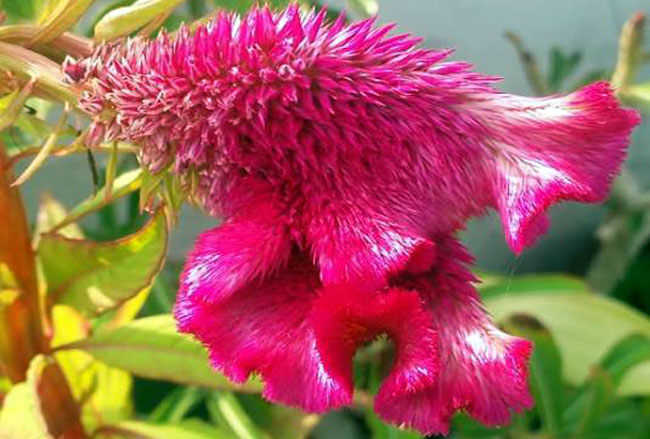 03. Celosia
Celosia's flowers offer charm in your garden, they keep blooming throughout the year and they look almost good in all the seasons. Whether you put a plumed type of Celosia, or its striking straight spires, or with an attractive twist form, all are charming and showy. Celosia is also a good option for your bouquets.  As they blossom yearly, their root systems take less space and can be easily planted in containers. These blooms in the striking shades of bright sunsets.  Read more.

04. Crossandra(Firecracker) flower
Firecracker flower is usually growing in the form of a bed in the garden in subtropical and tropical areas, gardeners use it to create contrast from the point of view of color combination. When these plants are grown with other shade-tolerant plants, they become even more valuable. The attraction of the crossroads flower also happens inside the house.   It is a small dense plant and can be easily planted in the container, it blooms wholeheartedly.  Read more.

05. Coleus
Coleus is an aromatic plant, which smells like camphor plant. The plants are usually small and can be developed indoor. This leaves yellow, green, violet, orange, red, attracts people from patterns.  The plant's leaves are colorful and decorative, it is also a well-known herb all over the world. The plant is grown as an indoor or outside the home in a container.  Coleus leaves are used as a hallucinogenic drug in some places. Coleus is 65-70 centimeter tall perennial plant when they fully mature. Learn more.

06. Lantana
Lantana has a lot of small flowers, most of Gardner's annually grow in cool climates. In warmer climates, Gardner is familiar with its aggressive form of production. It is called Red Sage, Wild Sage, Yellow Sage, and Shrub Verbena. Lantana plants are evergreen. Although they are classified in the shrub form, they work like little vines. Because of their presence of branches like a vine, they are often grown in hanging baskets or containers, where their branches are freely spread on the edges. More about.

07. Ornamental Kale
The ornamental kale is a very beautiful plant of the spring Container garden. Add attractive colors to your garden during the winter and fall. It remains when the temperature stays above 5 degrees Fahrenheit. These plants prefer well-drained and highly organic soil, they grow very well in the presence of the full sun. These plants grow up to a height of 1.5 feet. Pink, violet, white and green fringed edges are the attractions of this plant. These are suitable food leaves for salads-dressing. Ornamental Kale requires fertilizer during the Growing Season.  Ornamental cabbage or kale are the perfect choices for containers in the fall garden.  Read more.

08. Sundaze Blaze
These are a better option for dry-tolerant beauty in the summer. Its flower orange color and paper petals are surrounded by gold centers. These plants are 10 to 14 inches long and wide, you can choose these plants in your container design. Sundaze Blaze Strawflower blooms from mid-summer to late fall. These flowers are very good for cutting, and you can use them to bouquets or air dry flowers. Its narrow leaves remain the whole season of dark green color. Read more.

09. Dusty millers (Senecio Cinerea)
Dusty millers are gray or silver-leaf plants, commonly known by the same name. Usually, these plants are used as an annual bed. This is actually a perennial subcategory plant for the Mediterranean, which has been categorized as Senecio Cinerea. It is usually grown for decorative leaves in homes. Although it is only a tender perennial hardiness zones in 7-10. These are suitable Container garden plants for making focal points. Read more.

10. Persian shield
Persian shield is a perennial tropical plant. Due to the attraction of its rainbow purple leaves, it is grown as a beautiful Container garden plants. It is also a great annual outdoor plant, but most people like to pick it up in the containers. When the weather changes, you can enjoy it and keep it out.

11. Double Zahara Strawberry
If you want a consistent flower in your Container garden, then select this fantastic feather zinnia. These blanket plants bloom in the entire summer, like dark roses. They are constantly blooming and never require deadheading. These are very good cut flowers and attract butterflies. These plants can reach 16 to 20 inches in length and width. Zinnias plant is annual, those who love full sun and prefer moist and well-drained soil. Read more. 
Read also: Growing Cornflowers in your garden. Geranium growing and caring tips. The garlic vine growing and caring guide.11 Best winter flowers for your garden. Colchicum growing and caring tips. Plumeria growing and caring guide. Growing and planting Freesia flowers. Growing Basil in containers. Enjoy Gardening and stay fit and healthy. 8 Best Frugal gardening tips. How to grow Soybeans in containers. White flowers create a peaceful landscape. Growing and caring Lupine plant. Primrose flowers growing and caring tips. 8 Long blooming Summer perennial Plants.
Happy gardening
For pin: