Coleus plants (plectranthus scutellarioides)
Coleus is a genus of flowering plants in the family Lamiaceae. In recent classifications, the genus is no longer recognized, and the formerly included species are instead placed in the genera Plectranthus and Solenostemon. The plant's leaves are colorful and decorative, it is also a well-known herb all over the world. The plant is grown as an indoor or outside the home. Coleus is a genus of flowering plants in the family Lamiaceae. Learn How to grow Coleus in a pot, Growing coleus plant, Propagate Coleus by cutting, pest problem plectranthus scutellarioides, coleus care in this article.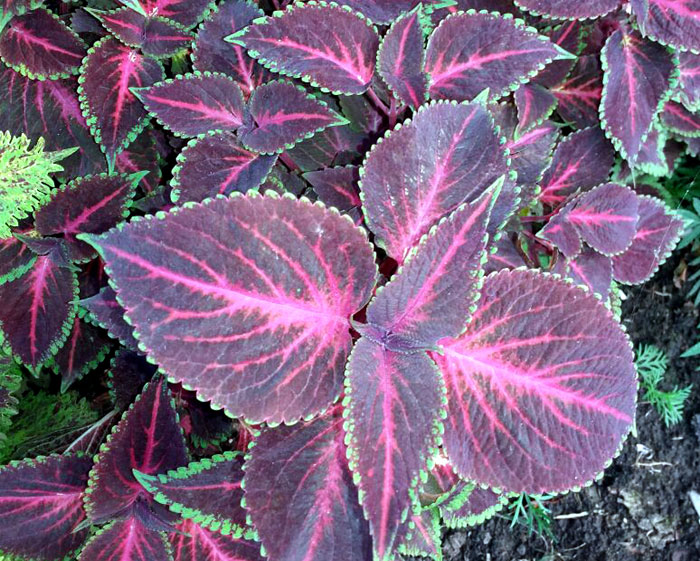 About coleus plants
Coleus is an aromatic plant, which smells like camphor plant. The plants are usually small and can be developed indoor.  This leaves yellow, green, violet, orange, red, attracts people from patterns.  This plant in many parts of the Asian country is used as food. In India, it cultivated in some areas and is used as pickles and fresh vegetables. Coleus leaves are used as a hallucinogenic drug in some places. Coleus is 65-70 centimeter tall perennial plant when they fully mature.
Overview Coleus
Botanical name      Plectranthus scutellarioides
Common name      Coleus
Plant type              Flowering plants
Colors                    Yellow, green, violet, orange, red
Height                    60–75 cm (24–30 in)
Soil                         well-drained soil
Temperature        65 to 90 degrees
Sun                         Full sun or shade
Growing condition Coleus
How to grow Coleus, its plantation method is very easy but it is important to know about the plant's needs and care.
Soil
These plants prefer neutral to slightly alkaline soil. If the soil is a little acid, then the much organic matter can be helpful for it.
Planting
All species of  Plectranthus scutellarioides are not tolerant of frost. If the temperature for Garden Ponting is above 60 f, then do the planting otherwise you can wait.
Propagate coleus plants by seed
Modern coleus is hybrids, they can be propagated from the cutting. Its seeds can start in the garden about 8-10 weeks before the date of their last frost.
If you are growing them as a houseplant, then you can start it by seed at any time,  though they continue to grow year-by-year.
Propagate Coleus by cutting
Plants cutting to put it in plain water without any rooting hormone.
By cutting as much as you can extend the plant.
For a new plant, development takes 2 to 4 inches cuttings.
These stems cut clean slant, and remove all leaves lower side.
Then cutting the

Potting Mix

(Soil, sand, and peat moss mixture) to a depth of at least 1 inch apart.
Keep the soil moist, but do not add fertilizer. If development in the summer use a shaded garden.
Two to three weeks later when plants develop root well goes out, then transplant it.

How to grow Coleus plant in pots
Many people grow coleus plants in pots or gardens as an annuity plant. These plants tolerate full sun, partial shade, and are suitable for garden beds and borders. If you keep it in small containers it will be small but if it is moved in large containers or open garden, then it can be up to 2 feet in length.
This plant thrives well in both pots and gardens, requiring well-drained potting soil for planting in containers. If you plant indoors, continue fertilization regularly. Feed your plant regularly during the growing season.
Place your vessel in the places where the right amount of sun comes. Coleus does not show its best colors when there is a lack of a suitable environment.
There are two ways to grow coleus 1. You can grow from seed. Second. You can cut and promote. However, the seeds are cheap and easy to obtain. If germinated by seeds, the seeds are usually sprinkled over the soil and pressurize them to light soil. Seeds require light to germinate, so do not cover the seeds too much.
You can also plant in a hanging basket, some people choose to apply it on the edge. Compact, type of bush can be used for attraction in the center. The coleus requires a lot of water, and the basket quickly gets dry. You can choose a self-water basket for the best results.

Read more.
Fertilizer
It also survives without fertilizer, but undesirable plant growth these plants require fertilizer. Organic fertilizer, nitrogen, and soluble fertilizer bring undesirable growth.
If you want to shorten the compost plant to follow the rules. Pinch out from time to time to plant and plant growth will be lower, thereby decreasing fertilizer.
Coleus use a herb
If we talk of an annual plant, It is not just about in flowers but leaves the matter to the top. This is a member of the mint family. This popular and are great for selection. The name comes from the compound forskolin which Coleus. Research shows compound forskolin was a very powerful herb. Such use cataracts, heart failure, and can be used to treat diseases like asthma.
Coleus care
Long considered coleus shade plant, but the color of its leaves in the morning sun is the most accurate.
Its much variety does survive well in partial shade and shade type.
The perfectly moist soil is not good for it, the cause of the fall of the leaf, and may encourage disease.
When the soil temperature exceeds 60 degrees F, enter the plant regularly soluble fertilizer, especially when they are engaged in containers.
To maintain the plant, flower pruning must prevent it from becoming a week.
Problem with coleus plants (plectranthus scutellarioides)
Rabbit is the biggest problem if it has been put in the outdoor. For this you need care in the early days of the season, later there are plenty of things to eat animals. There may be a problem of scale, whitefly, and mealybug in the plant growing indoors. Plants usually do not bother with any disease, due to more water or moisture, there may be mild diseases like mildew.
Read also: Plumeria growing and caring guide. Kohlrabi growing and care guide. Cantaloupe growing in containers. Anthurium plant Growing indoors. Mulberry tree growing at home. Growing Kiwi fruits in your garden. How to grow Gazania plants. Growing Celery in containers.  How to grow and Bleeding Heart plants. Crossandra growing and caring guide. Ivy gourd growing tips. Clovesgrowing guide at home. Verbena Growing in pots. See also for the Ornamental Plants – Creeping Jenny
For Pin: