Dahlias
Dahlia pinnata are beautiful perennial flowering plants that grow very easily. Dahlias are suitable for summer and humid weather, these large flowers bloom in a variety of attractive colors. Plants can bloom in any sun garden during the growing season, creating a 120-day long-term attraction. Learn how to grow dahlia in your garden with Nature Bring experts, Growing Dahlias in pots, Pests and disease, dahlia tubers, and propagating dahlia plants.
Dahlia thrives in the cool moist climate of the Pacific coast. If you want to get proper information about these plants then read this article.
It is a group of shrubby, tuberous, herbivorous perennial plants native to Mexico. Asteraceae, a member of dicotyledonous plants, related species include sunflower, daisy, chrysanthemum, and zinnia. Dahlia was declared the national flower of Mexico in 1963.

Overview of Dahlia Plants
Scientific name           Dahlia pinnata
Common name           Dahlia
Plant type                    Flower
Sun required               Full sun
Soil                              Loamy/sandy
Blooming time             Mid-summer, fall
Flowers colors             White, Red, Orange, purple, Yellow, Pink, Bio colors.
Zone                            8-11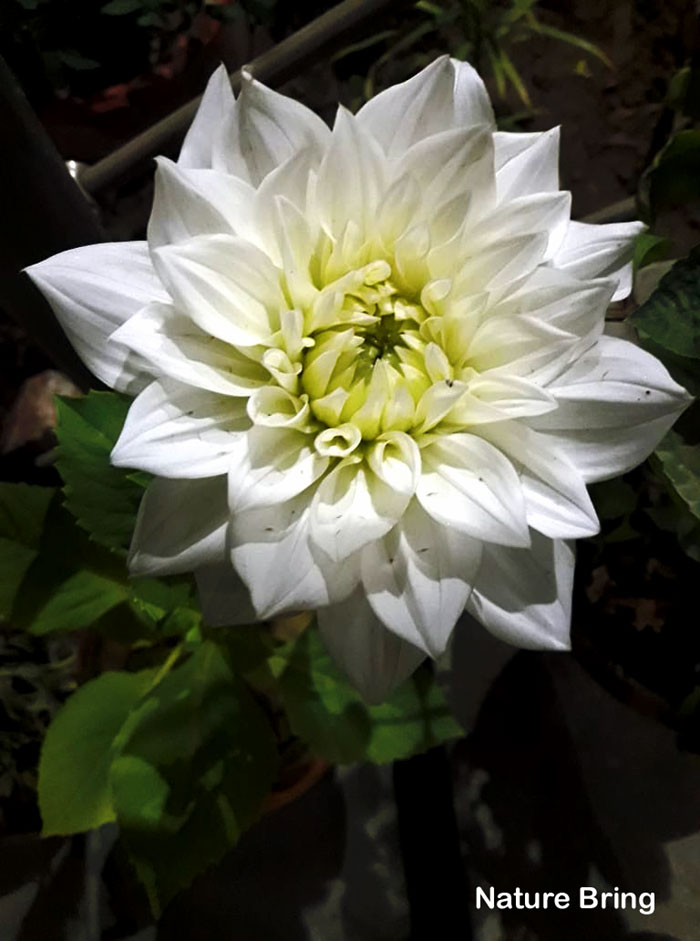 Growing Dahlias in pots
Dahlia plants grow very well in containers, however, planting them in the pots, the soil gets dry again and again, and therefore you need to be careful. These perennial flowering plants require regular fertilization during the growing season, the flowers are heavy, you will require support so that they do not fall. You can plant tall varieties in heavy containers so that your whole pot does not over in the stiff wind. Read more.

How to Grow Dahlias
Soil and location
The successful growth of Dahlia plants requires well-drained, fertile soil, and water. If soil drainage is poor in your area, add sand or compost to the soil before planting. If the soil is heavy, add peat moss or compost to the soil to loosen it. For more information, see Potting Mix Recipe.
These flowering plants prefer full sun conditions, the dahlias require direct sunlight for a minimum of 6 to 8 hours to bloom. Plant them in places where there is a need to protect them from the wind with full sunlight. Stiff wind can cause heavy damage to your plants and flowers.
Planting
Dahlia tubers grow out of your area after the last frost when the soil becomes hot. Most of the flowers flow in mid-summer.
If you live in a cold climate and want to start, you can start its tubers two to four weeks before your area's last frost date, in a container.
After sprouting, keep the container under a sunny window or light (a south-facing window is best for this). You can transplant in your garden once the risk of frost has passed.
Dahlia plants are small size plants dig a pit 6- to 12 inches deep. Before planting it, amend the soil by adding compost.
Dahlia tubers 2 to 4 inches deep and keep 1 to 3 feet apart depending on its variety. Their development will be visible in about 14 to 20 days.
Watering
Once developed the dahlias require regular watering. The plant should be given deep water 2 to 3 times a week. Increase the amount of water during hot and dry seasons. Lack of water affects the production of flowers.
Fertilizer
Do fertilize once a month with water-soluble flower fertilizer or organic fertilizer. Avoid using high-nitrogen fertilizer, as its plants and leaves will grow but the flowers will get less and small.
Liquid fertilizer such as 5-10-10 or 10-20-20 in Dahlia is beneficial. Fertilization should be done 3 to 4 weeks after germination, from early autumn to mid-summer.
How to care Dahlia plants
Dahlia tubers should be planted between April to mid-May for the best results in most areas.
The ground temperature should be less than 60 degrees. (Hot weather is the exception.)
Plants need full sunlight to bloom, so find a place where it can be protected from adequate sunlight and strong wind.
These flowering plants will give good results for at least 8 hours in direct sunlight. Less sunlight will affect plant growth and bloom. (Excessive warm weather is the exception) For better results, these plants need morning sun and afternoon shade.
The flowers around this plant are quite large and heavy, requiring the support of the weight of these flowers and stems.
Avoid giving water after tuber planting, it promotes tuber rot. Start watering after the germination of the plant.
Staking Dahlias
If you are growing a large plant of dahlias, staking is very important. The length of its plant is long and the flowers are very heavy, they get bent when the wind and rain come and many times the plant gets heavy damage. If you want to avoid damaging the plant in bloom time, you can place one or two stakes near the dahlia tuber, and tie the plant with twine.
Harvesting dahlias
If you want to protect the plant in cold areas, the early fall before digging the dahlia tubers can gather in the cold.
The leaves must be cut for raising so be it from the ground up.
Rotten tubers, sliced tubers, and foliage to leave dry naturally.
Store in a well-ventilated and frost-free space where the temperature is 40 to 45 degrees F is ideal.
Tubers in the spring can start to take out a new plant.
Pests and disease Dahlia flowering plants
Dahlia flowering plants are free from many pests. Most common pests irritate it, they do not require any spray insecticide, you can adopt a biological method for control. Must watch slug bait, it can be very harmful. Japanese beetles also cause damage, if roses are around the plant, they not only cut leaves but also damage flowers. Be alert for this and spray pesticide soap periodically. Earwigs and cucumber beetles, aphids, and mites also affect the plant.
Powdery mildew
It usually shows up in the plant in the fall. To avoid this problem, At the end of July or August, be sure to spray. Neem oil is an organic approach fungicide.  You can buy it from a nursery shop.
Happy Gardening.
Read also: Anthurium plant Growing indoors. Celery growing in containers. Plumeria growing and caring guide. Coriander Growing and care in containers. Growing Litchi tree in containers.  Bleeding hearts flowers growing tips. Mulberry tree growing at home. Orange growing and caring guide. Grow your own Spring Onions at home. How to grow Jasmine indoor. Growing Plum tree in containers. How to grow Clematis vine.  Watermelon in the containers. Euphorbia milii Growing and caring.  Gaillardia growing and caring tips. Cantaloupe Growing in containers.   Pansy flowers growing through seeds. Houseplants care tips. Gazania's growing and caring tips. Snake plants growing in containers.
For Pin: