Plum Tree (Prunus)
Learn How to grow Plum Tree in containers, Growing Plums, pests and diseases, and more about this Prunus tree.  Plum fruit Tree is adapted to a great extent, it is very compact and its care is quite easy compared to other fruits. Therefore the plums tree is a good choice for new gardeners, who want to grow fruit trees. Prunus tree is the attraction of a garden because its fruits are very good to see. The fruits of plums are most deliciously juicy to eat. Most fruit trees are propagated by the mother plant. However, after planting the tree in the pit, it can be very different from the original tree. You can produce a better variety.
It is the best fruit plant to grow in containers because it goes up to less height rather than applying on the ground.  How are you able to plant plums easily in a container? This is telling you, Nature Bring.
Overview plum fruit tree
Scientific name                    Prunus
Common name                   Plum
Plant type                              Fruit
Planting time                       Spring or Early Summer
Sun requires                          Full sun
Soil                                           Well-drained / loamy
Soil Ph                                    5.0-6.5
Zone                                        5- 9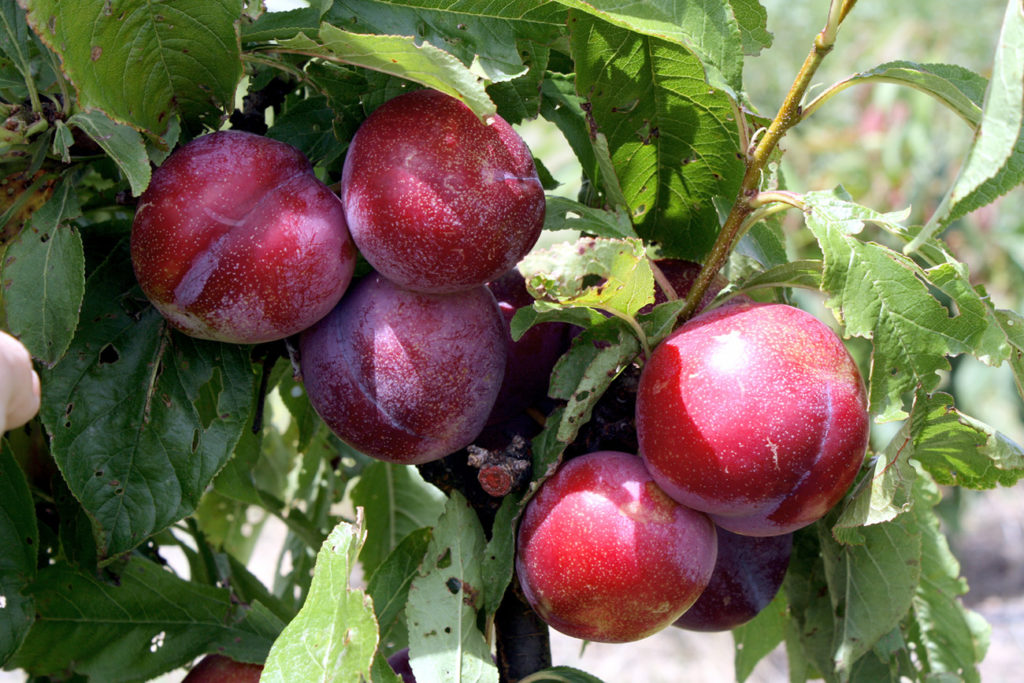 Growing Plums
More than one tree is needed because it requires cross-pollination to produce fruit. However, there are some varieties that can produce fruit automatically.
Before planting this tree, make sure to know which species is best for your area. There are three categories of plum trees: European, Japanese, and Damson. Europeans mostly work in most areas of the US.
Plums trees grow very well in moisture. Therefore, this tree should be planted in loamy or rich soil, but it should be noted that the soil should be well-drained. Do not have such a clay where the waterlogged. For this, add high organic matter to soils.
Generally, fertile soil, and well-drained soil and full sunlight are the best for this. Survivors of planting in areas where there is a regular cold. Because this tree can cause damage to the cold.
Potting compost in the summer dries faster. Therefore use a large container, to solve this problem when the plant growing.
This is a crop is quick gets converted into fruits from flowers. And the flower can kill with a frost, so avoid the trees where there are cold and windy places.
Avoid planting in such areas, where it is regularly cold is settled. Because this tree can damage caused to the cold. 

Read more.
How to grow Plum Tree in containers
For planting Prunus trees, choose a large size container, at least 18 to 20 inches are better. For this, instead of clay containers you choose plastic containers, after getting the soil container plant, it becomes very heavy and there is an inconvenience to transfer it.
Fruit trees, vines, and bushes can be planted in containers at any time, however, March and April are particularly suitable for a good time. At this time the plant's roots grow rapidly and provide stability to the plant.
Before planting, on the surface in the containers place the pieces of stone or the pieces of the old broken pot.
To fill in the container, use perlite with high-quality well-drained soil or with

potting mix

.
Use high potassium liquid tomato feed fortnightly.

Plumtree care
When rain is not there, leaves of Plum Tree appear to be brown, it is due to lack of water. To get rid of such a situation, soak the entire pot with water.
In each spring, fertilize cow dung around the Prunus plant.
This plant requires moisture, to maintain moisture, make a 1-inch layer of mulch.
Pruning the plants lightly in spring. Remove dead and broken branches, it helps in developing plants and encourage new branches. Pruning in early spring or mid-summer, to prevent infection. 

Read more.

Cut the thin root of the plant from the lower trunk of the plant.
Use Fertilizer when the plant has established.  Manure a pond calcium nitrate per tree. Stop nitrogen in the fall and winter. Avoid encouraging new growth this season.
To avoid cold, arrange the sheets or guards around the trunk under the young plant.
Spread the trap around the tree, it protects the fruit from birds and animals.
Harvest the plum fruit as soon as possible, when the fruit is mature. Collect all the

fruits

that fall into the container; If left untreated, fruits can be worse.
Use staking
Most Prunus need to be staked in the first two years of the beginning. It helps in the development of the plant. Use a plastic belt or lanyard to tie the plant with stacking.
Harvesting
Leave the plum fruit on the tree to fully ripe. Harvest between July and August according to crop and environment. Cut the crop a little early to preserve it.
Pest and diseases Plum Tree
Japanese beetles, aphids, plum pests, and birds harm it. Due to fungi, the leaves become silver and eventually brown and infected. It has no chemical treatment. Cut the infected wood and burn it. Honey Fungus and Bacterial Canker Diseases also harm it.
Read also: How to grow Ridge Gourd. How to grow Spring Onion in containers. Growing Colchicum bulb. 8 Perennial Vegetables you can plant once and savor forever. 8 Best Frugal gardening tips. Growing Watermelon in containers. Jackfruits growing and caring tips. Grapevine growing and caring tips. Peachtree growing in containers. Onion growing and caring tips. Pointed gourd cultivation.
For pin: