Kohlrabi (Brassica oleracea)
Learn How to Grow Kohlrabi at home, Growing Kohlrabi, Kohlrabi plant Care, and more about this vegetable. It has many other popular names, as Kohl-Rabi, German Turnip, and Cabbage Turnip. This is a popular vegetable; it is well known for both taste and health. This vegetable prefers the presence of the full sun, it flourishes very well in rich and well-drained soil. Brassica oleraceais are a great cool-season crop, which you can grow in spring and fall.
The spring harvest can grow you out after the danger of hard frost. For the fall crop, you should sow it in mid-summer. Space 12 to 18 inches apart between its rows. Thin plantation, place it in a 4-inch apart, when the plants become slightly mature. This is a turnip-like vegetable,  its white, green, and violet bulbs are for eating. This vegetable is a sweet and milder taste. You can grow kohlrabi in the container very easily. Nature Bring is sharing some similar tips here so that you can easily sow them into your home.
Classification Brassica oleracea
 Scientific name                   Brassica oleracea var. italica
Common name                     Kohlrabi, Kohl-Rabi, German Turnip, and Cabbage Turnip.
Plant type                              Vegetable
Sun required                         Full sun
Soil                                             Fertile well-drained soil
Soil pH                                    5.5-6.8
Zone                                         3-10
How to Grow Kohlrabi at home
Soil and Location
The plants prefer full sun,  therefore, select places where at least 8 hours of direct sun comes. The soil is completely well-drained and rich. It likes the soil pH of 5.5 -6.8. Before planting a seed, lay the layer of 1-inch compost in the soil.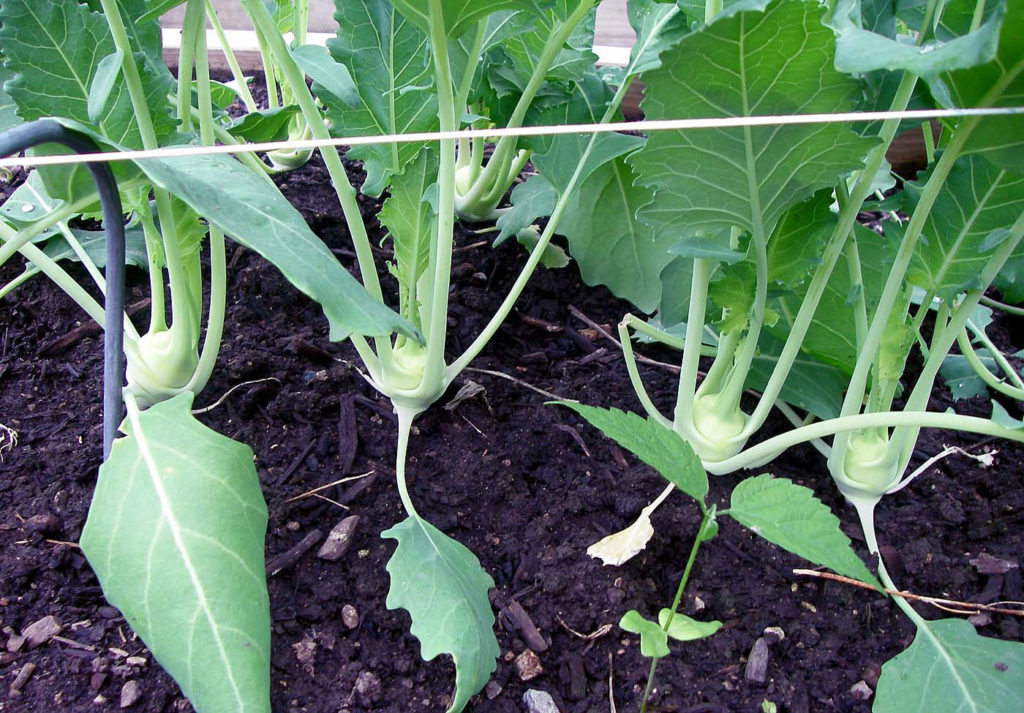 Kohlrabi Planting
This vegetable is planted very easily by the seed directly on the ground. Before planting, make the soil loose, fertile, prefer this well-drained soil.
It is a cold-weather crop, which should be sown directly 3 to 4 weeks before the last spring cold weather. To sow the seed, place 1/4 inches deep and 10 seeds per foot.
Start seedling for fall crop 6 to 8 weeks before the last average spring cold in the house.
When the seedling becomes slightly mature, thin planting 5 inches apart in a row 1 feet apart.
When the average temperature of the soil is more than 75 degrees Fahrenheit, it comes for harvesting.
In hot winter areas, kohlrabi should be sown in late summer for the winter crop. By which kohlrabi could tolerate the cold of the autumn. 

Read more

.
For Container
The root of the plant is very long, so it is not very suitable for growing in the container.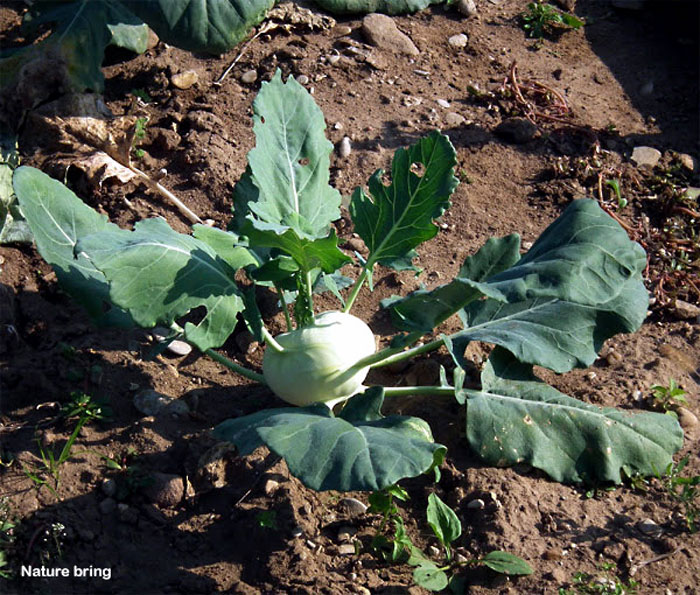 Kohlrabi plant Care
Brassica oleracea plant requires regular sunlight for at least 6-8 hours. They prefer well-drained and fertile soil. Kohlrabi requires moisture to produce large and healthy bulbs.
Use mulch to keep moisture in the soil. Finely ground leaves and ground bark all around the plant will provide soil and moisture.
If your area is not raining then give 1 to 1.5-inch water per week.
Water and fertilizer give it quick growth, otherwise, Kohlrabi will be woody when it's deficient.
Its roots are shallow, so cultivate carefully otherwise it can be damaged.

Read more

.
 Pests and Diseases of Brassica oleracea
Kohlrabi bothered cabbage loopers, cutworms, and imported cabbage worms. These insects have eggs under the leaves to remove them, you can also use liquid soap or spray bacillus thurinensis to control cabbage worms.
The crop should rotate every 4 years to avoid illness.
Cabbage yellows, clubroot, and downy mildew, etc. diseases spread infection. To avoid this, grow the disease-resistant varieties and destroy the infected plant.
Harvesting
This vegetable takes 45 -60 days from seeding. Its harvest should always be kept in mind when its bulb size is almost equal to the tennis ball, it should be harvested. On leaving it for more time, its taste and tenderness disappear. Many people also eat its leaves.
Read Also: How to grow Fenugreek in the pot. How to grow Ivy Gourd. Growing Potatoes easy tips by Nature Bring. How to grow Purple Vegetables.
For Pin: