Lupin flowers
How to grow Lupin | Growing Lupine flowers | Lupin plant care. Lupin flowers appear with candles in the month of May, its flowers can be yearly, and only for one season, the perennial. The flowers of lupin are attractive and spiky to your garden, the length of the plant is about 1 to 4 feet. It is a unique herb that provides a vertical charm to your garden.  How to grow Lupin, Growing, and care information about Lupine to know more about its health benefits, reactions, and facts then read the following article.
These are merciful to develop larvae of endangered species like a butterfly and honey bee. Lupin domestic plants are Blue, yellow, purple, and pink. In some areas of the United States, these are wild and plant flowers are white and blue. Its tall spiky flowers are similar to sweet pea plants. Nature Bring is giving you information about growing Lupin.
Overview
Scientific name                    Lupinus
Common name                   Lupin, Lupine
Plant type                              Flowering plants
Sun required                        Full Sun to partial shade
Soil                                        Well-drained rich soil
Soil PH                                  6.5-7.3
Flower color                          Blue, Purple, White, red
Blooming Time                    Summer
Zone                                       1-9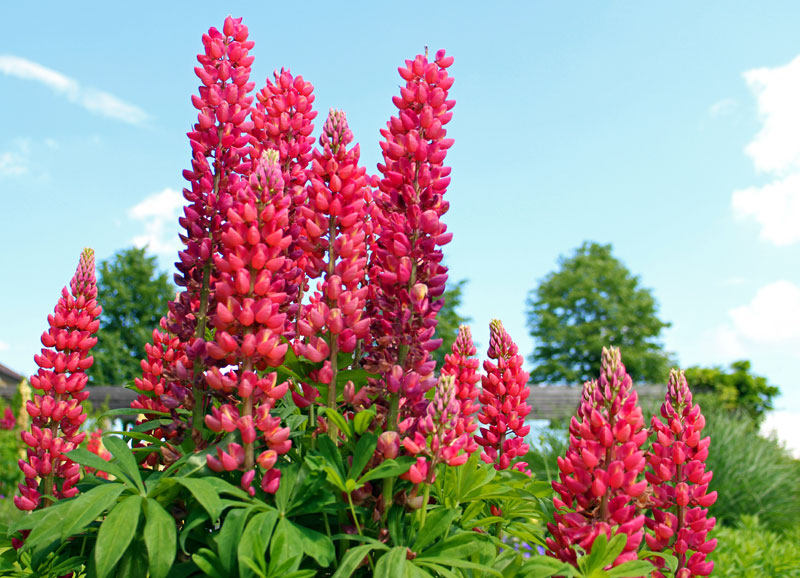 How to grow Lupin
Location and soil
Well-drained soil that does not rich too much, lupine likes acidic soil. Before planting, add gravel to teasing, it will not survive in heavy soil, which will not allow water to flow.  They are very easy to grow and always prefer cool and moist places. Choose locations where there are a light shade, average soil, and the presence of the full sun. Its plants also bear a dry and sandy soil. Loosen the soil to the depth of 1 to 2 feet before planting the plant.
Propagation by cuttings
Lupin is self-seed plants. In the month of March and April, you can visit its basal cuttings. Compost and sand should be well in the soil for propagation, its roots will come out easily.
You can also divide the lupin plant in the spring, but not in the autumn if you divide them in the autumn, the plant will die.

Planting of Lupin seeds
For new plant development, you can use seeds.
Planting of Lupine seeds directly in the fall is a very easy way, use loam-based compost for seed planting.
Soak in the water for 24 hours before using old seeds.
You should be patient after planting because it takes 14 to 60 days to germinate.
Timing to sow
The best time to sow before 6-8 weeks from the last frost, besides this you can sow on the coast at the end of February. If you sow inside it, then use Pete Moss. In the early spring, you can sow directly in the ground if winter is light, then you can also sow in the autumn.  Read more.
Temperature
Lupin likes a moderate temperature and a place of rainfall. They are not tolerant of frost. Flowers will not show up at temperatures greater than 30 degrees.
Fertilizer
Manganese, phosphorous, and nitrogen helps to make this crop potential. There are many types of soil, so do the soil test before dowry. The lack of Manganese can lead to seed disorders, so use it in the soil, or by foliar spray. You can use organic compost once a month also.
Pruning
If the plants of lupine are grown from seeds, then you will get flowers in the first year, pinch the blossoming flowers, it will encourage blossom for a long time and the plants will also be healthy.
Harvesting
The best time of harvesting is when the moisture level is 14% and the crop is mature (i.e. The yellow pods and the seeds are brown). If you want to store the seeds then this is the most suitable time. See harvesting.
Pests and diseases Lupine
Black-bodied mite, lucerne flea, caterpillars, Cause harm to it, due to these insects, damaged seedlings, leaves drops, and damages pods. Apart from this, brown leaf spots cause spots in leaves and flowers, and eventually, the leaves fall and wounds become. Due to waterlogging, there is a fear of rot. Due to the cucumber mosaic virus, the color of the plant becomes brown.
Read also: How to grow Cantaloupe in containers.  Growing Anthurium plant indoors.  Colchicum growing and caring tips. Lily Growing guide. Growing and care about Pansy flowers. How to grow Jade Plant.  How to use wood ash in the garden. Container gardening best filler plants. 8 Frugal Gardening tips.   Black Pepper growing at home. Growing Celery in containers. Diy low budget gardening ideas.
For Pin: