Geranium (pelargonium)
Geranium (pelargonium) annual, biennial, perennial houseplant, is a genus of 422 species. It usually goes by the name of cranesbills. Geranium is the common name of the genus Pelargonium members, but it is confusing. If we take care of time, the geranium plant can easily survive for a long time. Learn how to grow geranium in containers,  Growing Geraniums houseplant, and geranium perennial houseplant care in this article.
These days Pelargonium is very popular as a houseplant, they are excellent for decorating inside and outside the house, especially in hanging baskets. It depends on you how you plant it. There should be a suitable environment for planting because each plant has a different need.
Overview Pelargonium
Scientific name      Pelargonium
Common name     Geraniums
Plant type             Perennial Houseplant
Sun                        Full sun
Soil                         Sandy
Flower color         Pink, Red, Orange, White, Blue
Bloom time           Spring, Fall, Summer
Height                   3 feet
Temperature       70 ° F
Zone                      10-11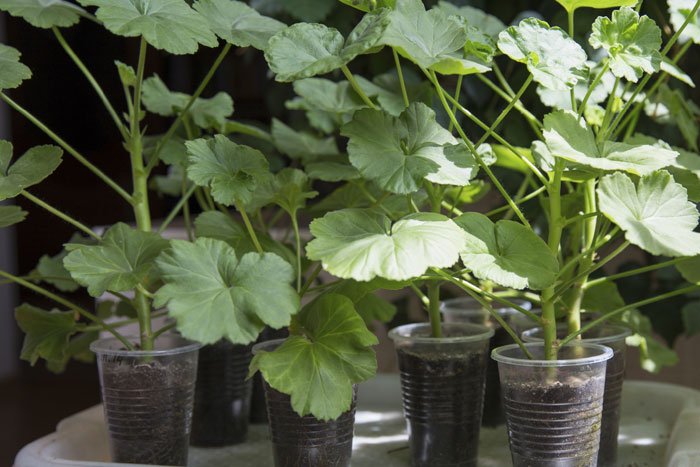 How to grow Geranium in containers
How to grow Geranium in containers is very easy, but follow the tips to perform very well.
Geranium Care is easy to make the choice of the place before planting. Planting in containers or wherever you are in the outdoors, should the presence of the full sun. If not, at least 6 hours of sunlight are essential.
Keep in mind that when planting geranium in containers they do not like too wet and soggy soil, so a proper drainage hole in the container is necessary. Well- Drained soil is good for the geranium plant.
The plants range from 6 inches to 3 feet long, keep in mind when purchasing a container, depending on the variety. For small plants, 6 to 8 Inches container is enough, and the 10-inch wide large plant would be fine.
The Potting Soil Mix to use in

containers

, it is not any dirt.

Propagation pelargonium
Pelargoniums is a valuable and popular plant, most Gardner is aware of this it is developed by cutting, but it can be easily developed by seed. Developed by the seed of the plant, you will get the desired color.
If you are considering propagating plants with cuttings, make sure that the cutting of geranium is about six inches long. It is very easy to grow from cuttings. This plant has no dormant period and continues to grow throughout the year. You can propagate it at any time. Although it is difficult to get 100% success in it, apply it in hot, moist, sterile potting soil for maximum success and keep it in a bright place instead of direct sunlight.
Temperature
Pelargonium perennial houseplants prefer full sun. Indoor geranium requires too much sunlight, though they tend to tolerate medium light. 65 to 70 degrees F it indoors during the day and 55 degrees F temperature necessary at night.

Geranium care
These perennial houseplants require a high-quality Potting Mix, which contains perlite.
Fill the container in the well-prepared

potting soil

. Check the soil before filling the drainage hole in the container or not. Create a layer of pebbles on the surface of the pot. Drainage of the right to water. If the plant is already engaged in the container spread organic compost on the soil, and dig around the plant.
Select a location before planting geranium, where there is direct sunlight. Make sure to plant at least 6 hours in the sun. If the sun is much faster, keep it in the shade in the afternoon. 70 ° F temperature is regularly required.
Balance fertilizer 10-10-10 or 20-20-20 your geranium update every two weeks. Purchased fertilizer, it should dissolve easily in water. Or slow-release fertilizer Offering the planting time in the soil mixture. You can be feed in all seasons.
Water the geranium plant, do not water again until the soil should not dry out. In the summer it requires regular watering. 2 inches of

water

each day to give.
If you repot this plant, spring is the best season.
Trimming
If Pelargonium is in the pot cut the fade flowers. Deadheads to exclude incentive helps to new flowers. Trim Stems at the same time, it encourages new branches. Pinch off the leaves had faded.
If the temperature becomes lower than 45 ° F, then the first place the pot near a sunny window. Stop fertilization. Water one day a week is enough. in early spring when they see new growth in your plant should re-fertilizer.
*Planting in spring after the last hard winter is well explained (National Gardening Association). Depending on the species of plant, it's mid-summer, fall, or summer can bloom. Though sometimes occur in the spring flowers.
Geranium health benefits
Pelargonium plants are also interesting for recovery. It improves the health of the kidneys to reduce inflammation, strengthen the immune system, digestion capacity and is used in reducing pain.
Pests and Diseases Geranium
There are some common problems, such as low light, be more or less water. To avoid this you in the drainage system of the container, and place the plant in the sun.
Read also: How to grow Zucchini in containers.  How to grow Sweet corn in containers. How to grow Sugar Apple in the container.  Growing  Clematis vine in your garden. Growing Daylily plant.  Garlic vine growing and caring.  Cabbage Growing and caring. Coriander growing and care tips. Princes' flowers growing in pots. Poppies growing and care guide. Dianthus flowers growing and care.
Thank you and happy gardening.
For Pin: