Cabbage
Cabbage is a nutritious vegetable, which is rich in fiber and vitamin properties. Vegetables like cabbage grow very well in containers. Apart from planting on grounds and beds, growing in a container is a good option if space is less. Learn how to cultivate, How to Grow cabbage in containers,  Growing Cabbage, Cabbage Care, Cabbage nutrition.
Although it is difficult to grow, it is worthy of the main vegetable kitchen garden but this vegetable requires care because of pest attack. If you want to put these vegetables in your kitchen garden, start indoor in 4 to 6 weeks before the last spring.

Growing condition Cabbage
When you growing new plants in freezing weather protect them. Like all vegetables, cabbage also requires full sun. Cabbage required at least 6 hours of sunlight. If you grow in a container in the shed you must put it in the Sun for six hours.
Soil 
This plant is required fertile, well-drained, and moist soil, in the beginning, it should more organic compost required. You choose the soil for planting it is sandy, where the full of water and contains nitrogen supplements. It grows very well in the soil pH 6.5-6.8, it also protects from clubroot disease.
Spacing
It is easy to transplant. It should be planted in 12- 24 inches apart in a row, depending on the verities and size of the head.
Temperature
Need to mulch, "that holds the moisture and regulate the temperature of the soil. Cabbage broccoli and cauliflower closely related species, so they require almost the same nutrients. These three require more nutrients. These three vegetables are a type of insect and disease are afflicted.
Classified
Species                 Brassica oleracea
Plant type           vegetable
Soil                        Well-drained rich soil
Soil pH                 6.5-6.8
Sun                        Full sun required
Harvesting         80 days
Fertilizer             N-P-H
Temperature    45 degree is the best
How to cultivate Cabbage
This crop is grown where the temperature is between 45 and 75 degrees. The plant is tolerated 20-degree temperature. This can grow easily from seeds,  start seeds grown indoors 4-6 weeks before the last spring season. The crop is ready within 80 to 160 days.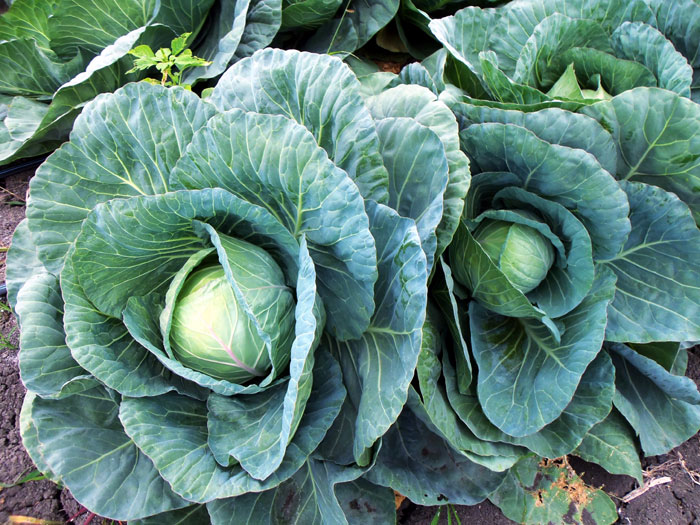 Water and feeding
Plants need regular watering. Use sprinkler when watering otherwise the head of the plant is slant and growth will be interrupted. You can be planted near the cucumbers and beans, but it should not have tomatoes and strawberries.  Read more.
Harvesting
When it is desired to be the size using the sharp knife to cut head. This will take around 80 to 180 days from seed depending on the variety. After the harvesting brings inside in a shade. If you put inside the plastic cover, you can keep two weeks in the freezer.

How to Grow cabbage in containers
This plant is easily grown in containers. The container should be deep for its better development.
Buy a cabbage plant in the nursery and choose a variety of royal balls such as "king coal" or "cheers" or red cabbage. Apart from this, there are many varieties that perform well in the container.
Choose a 12 inches width and 18 inches deep container. Mix high-quality compost and vermiculite with potting soil. Before filling the soil, check the drainage hole as it is necessary to drain the cabbage plant.
Use the slow-release fertilizer in the soil before planting, with balanced granulated fertilizer 13:13:13.
Hole in the middle of the container and plant, The leaves of the plant should stay above the soil surface.
These plants prefer full sun, so keep the container in a sunny place. This plant requires at least 6 hours of sunlight.
Regularly check the container, if the soil looks dry, give it water immediately, the container soil is dried quickly.
When the head of cabbage began to form, give it a soluble fertilizer. For this, follow the instructions in the packet.
When the head starts to grow bigger and mature, cut it from the plant.

Read more

.
Varieties
If you are planting a fall harvest verities Chinese cabbage is the best option. good verities are 'Ruby perfection' and 'lei-coy'. For the quick harvest, you can grow 'Golden Acre'
Cabbage Care
As the head grows, keep regular water in it. Use sprinklers when watering.
Ensure the supply of nutrients to it and stay close to the plant.
Carefully weed all around the plant with hand.
The cold crop is very harsh, they require cold protection during extraordinary cold weather, for this, you can use a line cover tunnel or cloche. You can harvest in the greenhouse in very cold areas.
When the plant gets 5 inches tall then this transplant.
Plant fertilizer the planting to use three weeks later.
Pest and Diseases
Cutworms, aphids, flea beetles, and loopers to attack this plant.
Yellow virus club root and black root rot infect the cabbage. It has three years to infect the plant. To avoid this rotted the crop for three years or use hot water treated seeds. Infected plants destroy immediately.
Cabbage nutrition
This is a leafy green or purple biennial plant, grown as an annual vegetable crop for its dense leaved heads. It is a hardy vegetable and leafy vegetable enriched with vitamins. It's like cold regions environments.
Nutritional Value per 100 g
Energy                     103 KJ(25 kcal)
Carbohydrates     5.8 g
Sugars                      3.2 g
Dietary fiber         2.5 g
Fat                             0.1 g
Protein                    1.28 g
Read also: How to grow Cauliflower.  Container Gardening.  How to grow Ridge gourd. Pointed gourd cultivation. About us.  Potatoes growing and in containers.  Growing Geranium in containers. How to grow Ridge gourd. Clematis growing and care guide. Peachtree growing and caring. Allamanda cathartica easy growing tips. Growing Plumeria plant growing and care guide. Spring Onion growing and caring guide. Planting and care about Freesia flowers.
Happy gardening.
For Pin: