Allamanda cathartica
learn  Growing information Golden trumpet vine, How to grow Allamanda in containers,  allamanda plants care, and more about in this article. Allamanda cathartica is commonly known as Golden Trumpet Vine. The common trumpet vine and yellow trumpet vine are species of allamanda in the family of Apocynaceae. These are perennial, evergreen plants that are native to Brazil.
The allamanda plants Enhance the beauty of your garden during the summer season. Trumpet vines require a lot of sunlight. It can be extended inside the house, but for this, you have to resort to the southern window.
These perennial evergreen trees' leaves are leathery, and flowers are large and yellow in color. The Golden trumpet is a common beauty in gardens with Summer and Plenty of Sun.
Classification Allamanda cathartica
Scientific name                     Allamanda cathartica
Common name                   Allamanda, Golden Trumpet
Plant type                              Flower
soil                                          Rich humus Soil
Soil pH                                   3.7- 6.8
Flower color                          Yellow
Blooming time                      Midsummer to mid-fall
Height                                    20 feet
Zone                                       9-11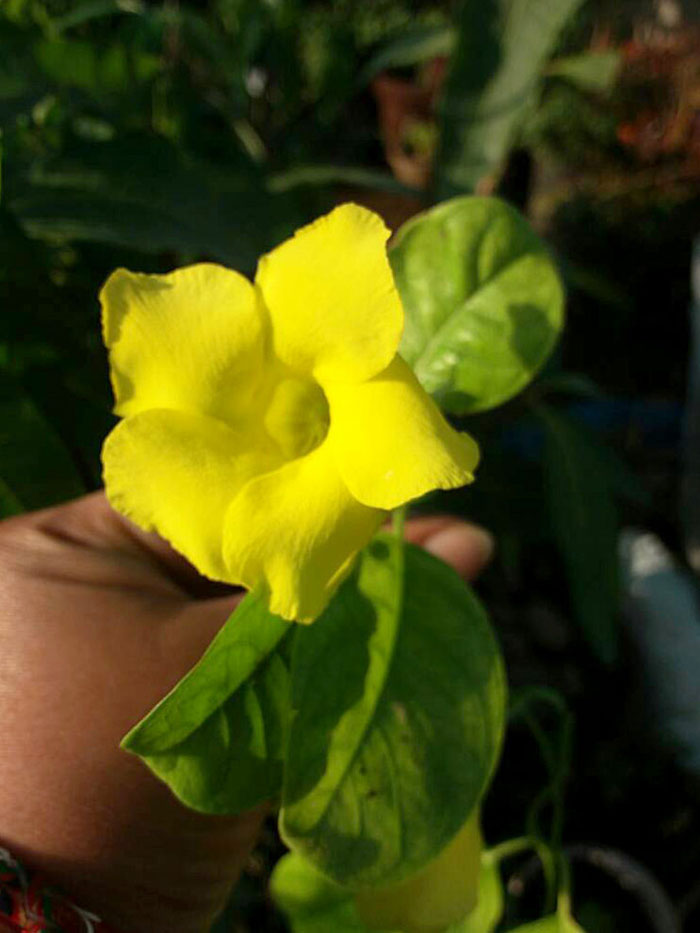 Growing information Golden trumpet vine
Like other vines, the Golden trumpet also likes rich soil. It can be grown easily in the container, you start with a planting medium. Use a

Potting Mix

with equal parts peat, compost, and sand. Golden trumpet vine is hardy in USDA zone 9-11.
Its vines require support with Trellis. So that it can be fully dispersed.
The Golden trumpet is popular and can be planted in a container in the form of an ornamental plant. With adequate care can be grown in sheltered areas and inside the house.
Tropical areas are often sorted by using them as a hedge plant. Its growth can be stopped by its sorting so that its flower can blossom on its top.
The care of the Allamanda cathartica plant is as easy as other tropical plants. The Golden Trumpet Vine Allamanda is native to North America. Allamanda plants require at least 50 percent humidity with high light and warm temperatures. The condition of the greenhouse is ideal for the care of these plants.
Within the home, there is less moisture in the air, in such a situation, you can take the plants in the bright light of the sun in the spring and

summer.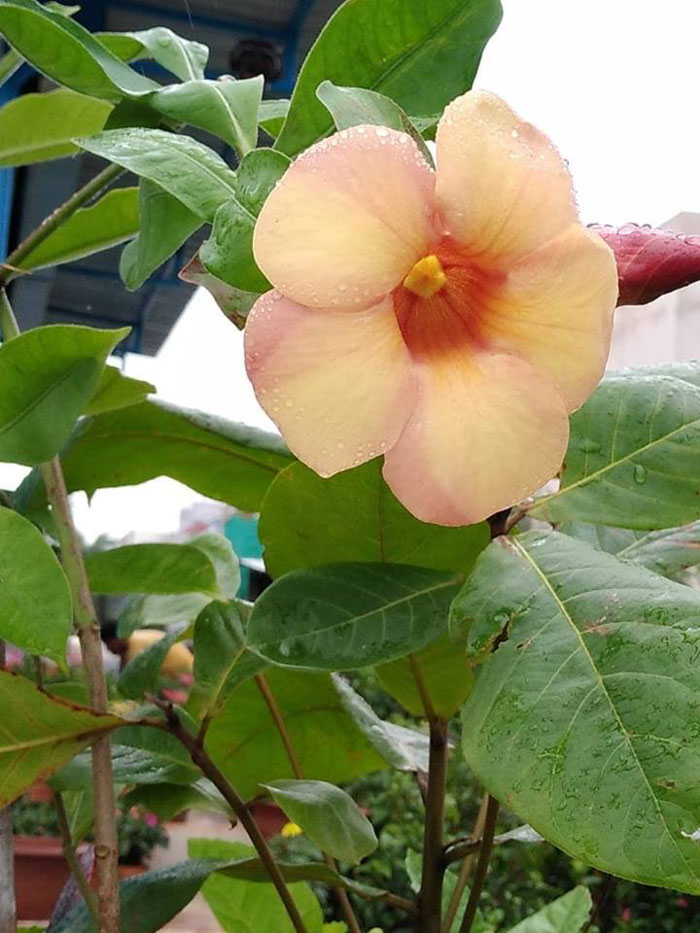 How to grow in a container
Golden trumpet houseplants require more than 4 hours of direct sunlight.
Select at least a 1-gallon size container for planting. Manage drainage in the container.
Use an unglazed pot It promotes the evaporation of moisture.
Place the pot is filled with water and pebbles. This will keep the humid environment that will be required for the Golden Trumpet Plant. Use

Potting Mix

to fill the container.
Choose a healthy and 4-inch long trumpet vein stem, which is a bit thick. Choose a healthy stem, do not choose insects or diseases (such as those damaged by yellow leaves or deformed growth).
Leave a pair of leaves in the stem and remove all leaves from the scissors. Pinch off all the leaves of the bottom half, leaving the node open. Nodes where the roots will emerge. Put routing hormones in the lower part of the stem. Gently stave this stem in the sand mixture.
Put this stem in a pot filled with potting mix with sand.  Cover the pot with a plastic sheet and keep the pot in a shaded area to prevent sunlight.
Check the moisture level in the sand mixture, if you see less, then pour water. But avoid overwatering because it can cause the plant to rot.
Continue checking after 3 months after the roots begin to grow.
Get emerge the root, after 3 weeks of leaving, shift it to a pot filled with potting soil. Then transfer Allamanda cathartica directly into the incense. After crossing the frost threat, transplant it in a permanent plantation site in spring.
Allamanda care 
Start fertilizing the plant in April. And as the temperature reaches 60 degrees F, keep your plant out as soon as possible.
Pruning in early spring, because it promotes new development.
Spider mites and whiteflies, such as insects, trouble it. If these insects appear, then shower the plant first, so the small insects will be removed. Use insecticidal soap spray or neem spray for remaining

insects

.
*All parts of this plant are poisonous. If this plant is cut, then leaves the white latex, which bothers the skin.
Read also: Aloe Vera growing guide. Black Pepper growing and caring guide. Custard apple Growing guide. Zinniagrowing and caring tips. How to grow Star fruits.  Beetroot growing and caring tips. Orange growing in containers. How to grow lettuce. Indoor garden. Propagate your plants by cutting. Christmas tree growing and caring tips. Houseplants' care tips. Growing Impatiens in your garden.
For Pin: