Christmas Tree
Learn How to grow Christmas Tree, Growing Christmas Trees,  Araucaria columnaris care, and Christmas tree Problems in this article.  December is the month and thinks about all the Christmas trees, planting this plant is also a challenge and an attachment to the environment. Many gardeners consider growing it on. However, it is quite difficult and we do not argue about the consequences. If you have an extension plan and full attachment,  then it can be easily possible. The Christmas tree takes a lot of time to grow, more than about a decade.
The Christmas tree is the central feature of the month of December. The number of consumers of the Christmas tree in the container is constantly increasing. The Christmas tree can be planted after the holidays. You can prepare a fascinating scenario by adding them to your garden. To achieve success you must follow the rules stated by Nature Bring.
Overview Christmas tree
Scientific name                    Araucaria columnaris
Common name                    Christmas tree
Plant type                            Houseplant/ tree
Sun required                        Full sun
Soil                                        Fertile, well-drained soil
Soil pH                                 5.5-6.8 (Virginia Pine), 7.0-8.5  (Afghanistan pine)
Zone                                     3-10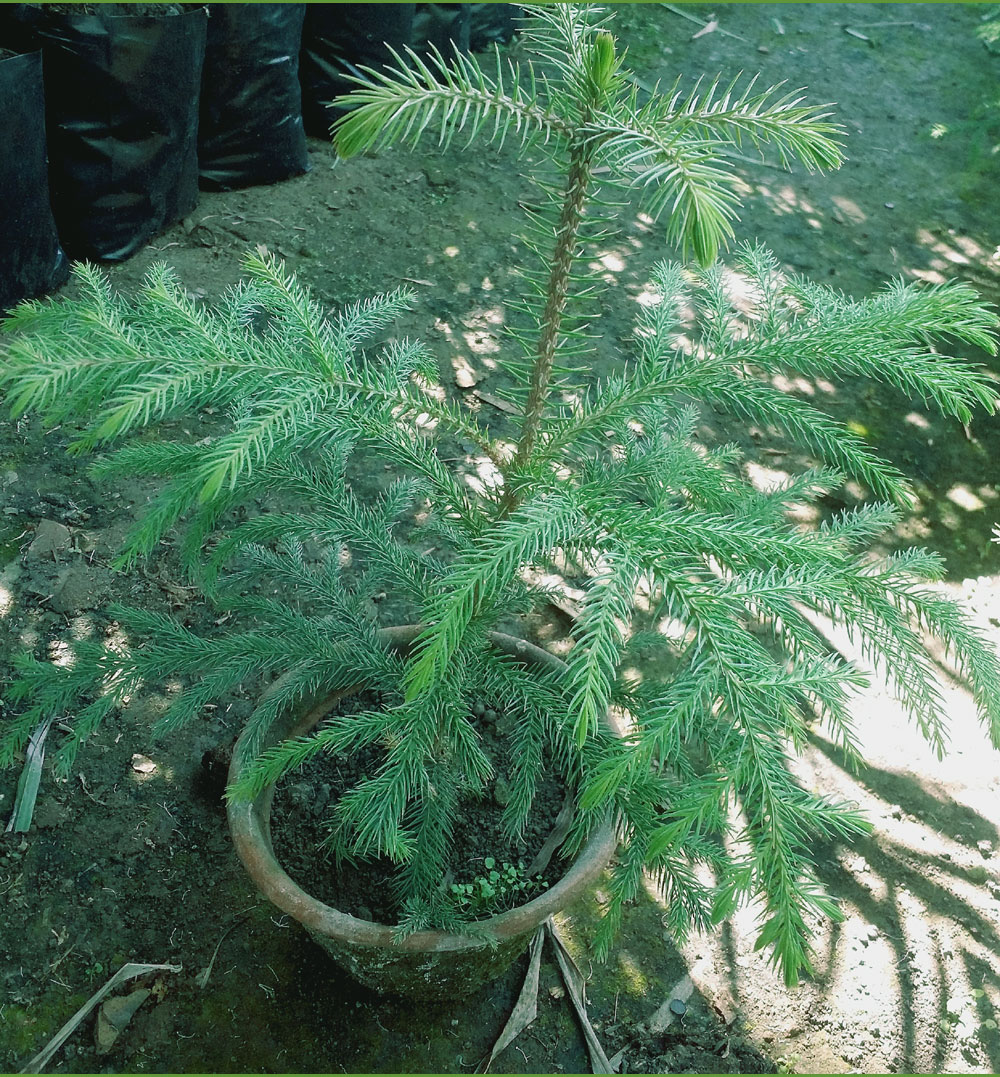 How to grow your own Christmas Tree
Tip 01
Expert horticultural consultants say that before developing the Christmas tree, we should work fully on this project. That is, before you grow it, get proper information about tree species, soil improvement, equipment, and environment. Also, get information about pest control and planting.
Tip 02
If you want to have a Christmas tree, you need good seeds and a good slope, you should also consult your local producers. You do not have to be an experienced gardener to grow an Araucaria columnaris.
A popular type of Christmas tree
We are introducing you to the usual type of Christmas tree. It's quite popular, so you can choose it.
Virginia pines
This is the most common species of Christmas tree which is often seen. Being popular, its plant is easily found in every nursery. Virginia Pine likes a bit of acidic soil. The bark of this tree is thick and it can grow up to 8 feet in 5 years.
Afghan pines
This is the second most popular species of Araucaria columnaris. This plant likes a little alkaline or neutral soil. It is more tolerant of hard soil and climate condition. Other popular species of Christmas trees are cedar, red cedar, and pine, and Arizona cypress.
Soil Requirement
Most kind of Christmas tree is tolerant of soil. But the best soil for this is sandy, the glory flourishes very well, which are thick, dense, and sandy soil.
The ideal pH for Virginia Pine is 5.5-6.5, while the ideal pH for the Afghanistan pine is 7.0-8.5.
There should not be permanent moisture in the soil. Dryness can also cause an obstruction in the growth of this plant. Especially at such times when we sow its seeds.
Water drainage is important for it as other plants. The Christmas tree does not support poor drainage and water that is stored under the plant.  Read also.
Planting Araucaria columnaris
The best time to plant, it is February-May. Summertime does not have a good time for plantation, because of the increase in temperature at this time the seedling becomes weak.
You can plant it with your hands or you can use the machine. Its vacancy is of particular importance, for at least 6×6 plot space for each tree.
If you have a lack of nutrients in your soil, then you use a fertilizer, otherwise, it is not needed. Well, you can add the compost, but it is not needed.
However the Christmas tree takes a lot of time to grow, but you get a green tree after a time. You will need to plant a tree in your greenhouse to put its tree in a pot or the ground.
If you want, you can also buy a plant from the nursery. Usually, it requires a 2×2 ratio, which means that you have to spend two years and you will be in a transplant for 2 years.
For this, fill the potting mixture in a container, then add 1/4 teaspoon lime per gallon to this mixture. But make sure the soil pH is 7 or neutral.
Add fertilizer to the soil for good germination. You will need fluorescent lamps to heat the seeds.
The Christmas plant does not require too much water. Read more.
Propagation Araucaria columnaris
You can grow Christmas trees from seeds or cuttings. You can choose semi-mature and hardwood for the cuttings. However, in order to display in homes, usually, full-grown trees are purchased.
Christmas tree Care
Christmas tree If you look inside the house, keep in mind that does not keep it near the fire or radiator, because it causes moisture and the needle drop.
If you have a Christmas tree in a container, show it in a cool room to reduce its damage and stress.
Bring the trees inside the house for a weekend before Christmas.
Do not keep these trees in the house for more than 12 days, if these trees seem unhappy in the house then keep it out immediately.
For this, choose a large container, whose diameter is at least 45 centimeters. Use the potting mix to fill in the container, the achievement is ideal for it.
Pruning or training
The Christmas tree requires very little training, these trees take their shape themselves. Yes, but you must separate any dead or sickly branch. If it is planted in a container, then it grows in a fixed size, but if you put it in the ground, it can go up to a height of 15 to 20 meters. However, some of its smaller species, such as Fraser Firs, can go up to a height of 7 meters. Korean Fire also reaches its final height of 4 meters. Read more.
Christmas tree Problems
Well, the Christmas tree usually does not cause any pest damage. But even there are some insect attacks on the Christmas tree, the most common is the Nantucket moth or pine tip moth. During the growing season, you can spot its presence in the lateral branches. The tips of this plant are hollowed out inside the tips. You can use chemicals for this tree. Use chemicals you know about.
Read also: How to Grow Potatoes in containers. Holly tree growing in containers. Daffodils Growing and care. Michelia Champaca alba growing tips. Growing Lilac shrub at your garden. Petunia growing and care tips. Container gardening. Petunia growing and caring guide. Growing spring onion in containers. Peachtree growing and care tips. Broccoli growing in containers. Kohlrabi growing and care guide.
For Pin: