Lilac Shrubs (Syringa)
Learn How to grow Lilac Shrubs, Growing Lilacs in containers, Lilac care, Suitable varieties of Lilacs, and more about this shrub. Lilacs can be planted the most easily in all Shrubs, for this, it requires just a little care, a lot of sunlight, good drainage, and fertile soil. If you give it a place in your garden, then in spring you will get an enchanting atmosphere with aromatic flowers.
The flowers of lilac are fragrant and are attractive for butterflies. They can go up to a height of 5 to 15 feet, depending on the different types of grounds. The lilac can be planted in the spring before being too cold or after the fall.  Lilac comes in seven colors, but usually, we are more familiar with Syringa Vulgaris. Nature Bring here is telling the plantation of Lilac shrubs.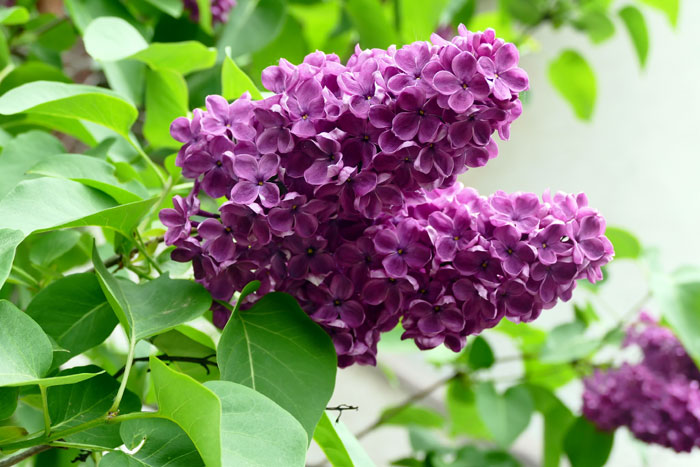 Classification
Scientific name                     Syringa
Common name                     Lilac
Plant type                              Flower
Sun requires                           Full Sun/part Sun
Blooming time                       Spring/summer
Soil                                         any
Soil pH                                   6.5-7.0
Zone                                       3-7
How to grow Lilac Shrubs
Soil selection
Lilac likes fertile soil to choose such soil so that it is natural to alkaline, well-drained (hence the soil pH 6.5-7.0 is better). If there is any deficiency in your soil, then enrich it first. See for more information on

soil Amendments

.
To test the site for drainage before planting, dig the 8-inch diameter and 12-inch deep pit for it, then fill it with water. If the whole water is dried after one hour, then the soil is correct, or choose another site.
Location
For this, choose a place where the full sun comes, lilac flourishes very well in the presence of the sun, its shrub requires at least 6 hours of sunlight. If you do not get enough sunshine, your lilac will not be very good. It requires adequate space for future development, Its shrubs go up to 7-8 feet wide and 10 feet in height.  Read more.
Propagation
If you want more propagation of your lilac shrub, then cut healthy shoots from Mother Plants in the spring season. Then wait until the fall ends. In this way, it gets a chance to develop some roots, and there is more success. These are the types of shots that are capable of the enduring season to season. Keep waiting because new lilac plants take about 5 years to flower the flowers.
Planting
It is also easy to transplant the Lilac Plants from the nursery. If the containers, grow plants, you want to put it in the ground, then first arrange the roots that spread out, if you have balled or burlapped roots then remove them before planting. Crush 2 to 3 inches deep into the ground and fill it with the topsoil around and water it.
Given the lilac dispersion on the basis of diversity, place between 5 to 15 ft between place.
Growing Lilacs in containers
There are many compact varieties of lilac that can be easily grown in the container. Among them. Pubescens, S. Patula, and S. meyeri, etc. are included. Large lilac becomes striking when grown in containers. Consider the dwarf lilacs, 'Miss Kim' and 'Dwarf Pixie', it is a suitable type of container. Read more.

Lilacs Care
In the spring season, make a compost surface on the basis of its plant, followed by the original moisture content and the control over the weeds.
If it is not raining in the summer season, then give one inch of water per week.
If you use more fertilizer then lilac will not bloom. Therefore, use 10-10-10 fertilizer in late winter, but do not feed too much.
When your Lilac bush stops blossom, then lime around the base of the bush and keep the well-cooked compost.
Timing is very important in Lilac Bush, so remove all the suckers while shaping to the bush.

Read more.
Lilacs Pruning
The thumb rule of pruning is that any shrub's stems should not be cut more than 1/3 each year.
This increases the health, increase and production capacity of the plant. However, according to the rules, you do not need 1/3 of all the shrubs, at that time you use your discretion.
Lilacs bloom on old stems, after significant pruning in the spring they get a chance to get blooming. If you prune it after the summer, then you can remove the wood.
After blossom, remove all the dead stems from the bush. Also, sort out the old stems and remove all the small suckers. Cut a weak branch to a strong shoot.
If your Lilac bush is very old and is in poor shape, then you should prune 1/3 of the bush in the first year, 1/2 part in the second year, and the rest of the third year.

Suitable varieties of Lilacs
Many wonderful varieties of hybrids of Syringa vulgaris are very suitable, which can bring charm to your garden landscape.
Syringa meyeri 'Palibin' (Dwarf Korean)
Descanso Hybrids- It develops in light winter weather in California.
Syringa reticulata (Ivory silk) –  Its flowers are of white color.
Bloomerang – they bloom in the spring and fall.

See more

.
Pests and disease of Lilac
Lilacs do not invade any kind of insects on the bush. This bush is more likely to be damaged by four-footed pests. Voles and Mice enjoy its barks. Keep original from the base of the trunk.
Powdery Mildew is a common disease in the Lilac shrub, especially in moisture and wet summers.
Lilacs may also cause borer problems in the bush, it likes the old wood, so regularly pruning helps.
Leaf miners do not cause serious damage to it, but they make the leaves unsightly.

See more

.
Read also: How to grow Rosemary herb.  How to grow Garden phlox. Growing Ridge gourd at home. During the monsoon maintain your garden.  Growing and caring Gladiolus plants. Michelia Champaca alba tree growing guide. 8 Gardening Tools for beginners. Onion growing and care. Growing Spring onion in containers. Avocado tree growing and caring.
Happy Gardening. 
For Pin: