Til Gajak recipe
Learn How to make Til Gajak, Til Gajak recipe at home and tips to make easy.  The festival of Sankranti and Lohri comes to remind us of the dishes of the til (sesame), whereas many other delicious dishes are made besides sesame made laddus, til gajak and chikki. But, today we are telling you the easy way to make Gajak from til (sesame). It has its own place in Indian food, most people are used to buying it from the market.
It is made in different names and ingredients like jaggery gajak, sugar gajak, sesame (til) chikki etc. Gajak is also important from the health perspective in the cold days.  The easiest method of making Gajak Nature Bring is telling you. At this festival, you make Til Gajak at home only.

Preparation time                   15 minutes
Cooking time                        15 minutes
Quantity                                400 grams
Difficulty level                       Easy
Ingredients for Til Gajak
Sesame seeds (til)                                200grams
Sugar powder                                      200grams
Cashew Nuts (finely chopped)            7-8 pieces
Cardamom powder                             ½ tsp
Pure Ghee                                           03Tsp
Almonds (finely chopped)                  7-8 pieces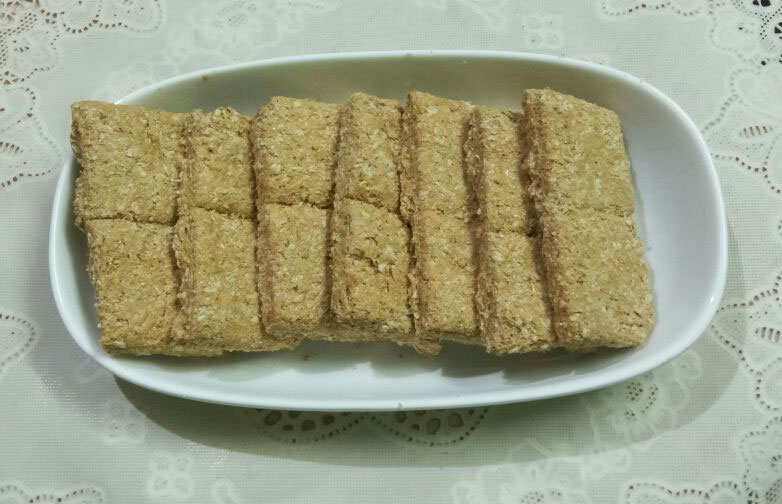 Til Gajak recipe
To make Gajak, first, wash and dry the Sesame seeds thoroughly.
Cut all the dry fruits into a bowl in small pieces and separate them.
Heat a pan and roast until brown in color according to the above-mentioned quantity, keep stirring constantly while roasting, otherwise it will burn from the surface. Remove the roasted sesame to a plate and separate it.
Add a spoonful of pure ghee to the pan and heat it, when the ghee becomes hot, keep the gas flame slowly, add sugar powder and stir well until it becomes well melted.
Then mix roasted sesame seeds and cardamom powder in it and cook the mixture in a low flame for at least 2 minutes. Turn off the gas and let the mixture cool down.
Lay the plastic sheet on the kitchen platform, grease it with the ghee on the surface of this sheet. Now spread the cooled mixture onto this sheet. Now apply ghee on the rolling roller. Spread the mixture uniformly with a gentle hand pressing.
Now sprinkle finely chopped cashew nuts and almonds over the mixture and press it with light hands.
Now cut Gajak with the help of a knife in the desired shape. Leave Gajak to be hard.
When the gajak becomes hard, remove it from the plastic sheet and leave it on the plate for a few hours. After some time, the gajak will be crispy. After cooling, place it in an air-tight container and use it. Read also.
Tips
Roast the sesame seeds lightly because the sesame becomes more bitter after roasting.
After making gajak, if it remains soft, leave it dry for 10-12 hours. It will be crispy, if it is soft then still put it in the pan and cook it again and repeat it again according to the same procedure.
Read also
How to make Gulab jamun. Hot and Spicy Schezwan chutney. Kaju katli recipe restaurant-style. Sabudabna Khichdi easy recipe. Chili Soya chunks recipe. How to Make mayonnaise Sandwich. Sabudana Vada recipe for fasting at home. Punjabi Kadhi Pakora recipe. Chicken masala easy recipe at home. Egg curry easy to make at home Dhaba style. Palak Paneer recipe easy method.
You can also follow me on Pinterest, Facebook, Twitter, Instagram and YouTube for more delicious recipes and updates
For pin: