Mysore Pak Recipe
In fact, South Indian cuisine has a taste and variety, due to which it is famous not only in India but all over the world. Mysore Pak is a particularly famous traditional recipe in Karnataka, which is prepared in special festivals. The main ingredients in it are gram flour and ghee, which is mixed with sugar, and then cut into the desired shape with a sharp-edged knife. learn how to make Mysore Pak,  Mysore Pak Recipe, and related suggestions about this recipe.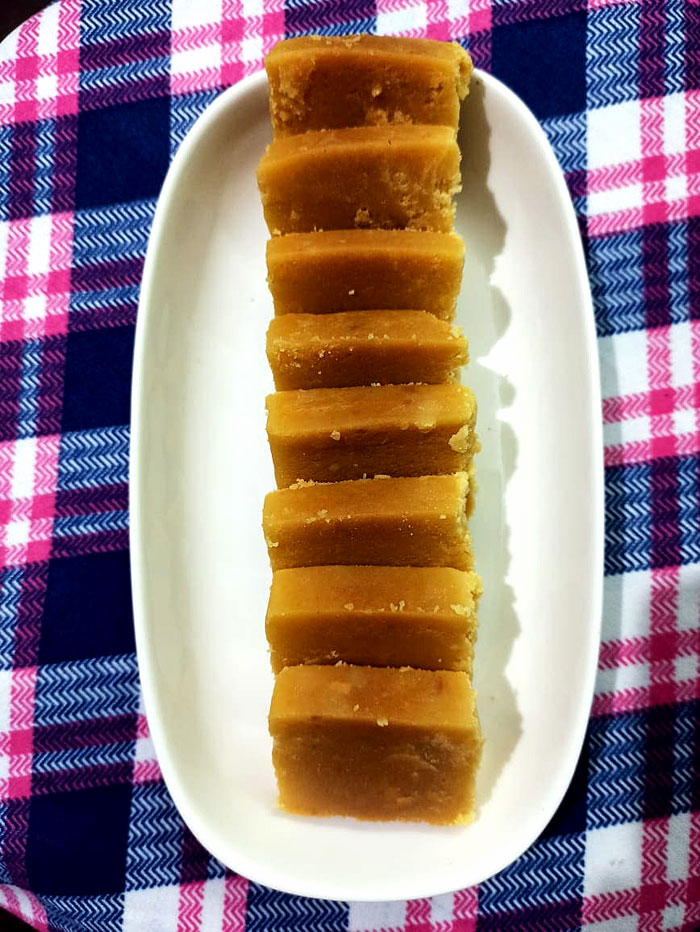 Preparation time                              10 minutes
Cooking time                                     20 minutes
Serve                                                    08 members
Difficulty level                                   Easy
Cuisine                                                South Indian
Ingredients for Mysore Pak
Gram flour (Besan)                         01 cup
Sugar                                                     0 2 cup
Pure Ghee                                           03 cup
Baking soda                                        01 pinch
Water                                                  01 cup
Green cardamom                             4-5
Mysore Pak recipe
The delicious Mysore Pak recipe is very easy and you can also make it at home. You can prepare this easy dessert at different festivals very easily.
Greece a plate with ghee and keep it aside, as soon as the mixture is ready, you will have to pour out without delay.
For this recipe, put 1 cup of ghee in a large pan and heat it on medium flame, when the ghee is well heated, add gram flour and roast.  Keep roasting it till it starts smelling good.
 Make sure the gram flour is well roasted otherwise the gram flour will taste raw.
Put water in another pan and place it on the gas stove, add sugar according to the quantity mentioned above.  Boil it until it reaches the one string consistency of sugar syrup.
Now the sugar syrup is ready, add gram flour and stir well. Add the remaining ghee to it and keep stirring otherwise the gram flour will stick to the surface and any lumps will remain.
After some time the ghee will start to appear on the side edge, now you add baking soda in it and stir it well.
After some time you will get many small bubbles and holes in the mixture, this time turn off the heat. In this stage you need to be vigilant, otherwise, the texture of Mysore Pak will be spoiled.
 If you cook it too much, then Mysore Pak will get you very tough. So without delay, immediately turn the pan on the greased plate.
At this time it falls in a large amount at once, you can spread it from the bottom surface of a bowl.
Allowing it to cool to room temperature. After a few minutes, it will become completely hard, before hardening, slice it into the desired shape.
Now your Mysore Pak is ready, you can store it in an airtight container and feed it to your guests for a few days. You can also use this dessert for eating at the end of the meal.
Suggestion
In addition, you will have to shake non-stop continuously, especially after adding ghee.
Do not cook Mysore Pak too much, otherwise, it will get you very tough. As soon as the bubbles and holes are seen, immediately flip it over the greased plate.
Read also: How to make Gulab jamun. How to make Besan ladoo.  Besan burfi recipe at home. Dahi Vada recipe easy steps. Idli recipe in a pressure cooker. Punjabi Kadhi Pakora recipe. Spicy Momos recipe easy steps. Khaman Dhokla recipe for your breakfast. Masala Dosa recipe. Matar Paneer recipe at home. 10 ways to use Baking Soda. Chana dal recipe easy steps at home. Palak Bhajia recipe. Balushahi recipe easy steps.
For pin.