Palak pakoda recipe (palak bhajia )
know how to make palak bhajia,  Palak pakoda recipe and important suggestions for this recipe. Palak bhajia (Spinach pakoda) is very popular street food, which Indians love most during the cold and monsoon seasons. Spinach pakoras are very easy to make at home if you follow our recipe. Spinach leaves are washed and cut and dipped in gram flour solution, then fried in hot oil. If a little eating soda is added to the gram flour, it becomes crisp and tasty. Apart from spinach, you can also make pakoras of fenugreek leaves, cauliflower, bell pepper, green onions, thick chili, and potato.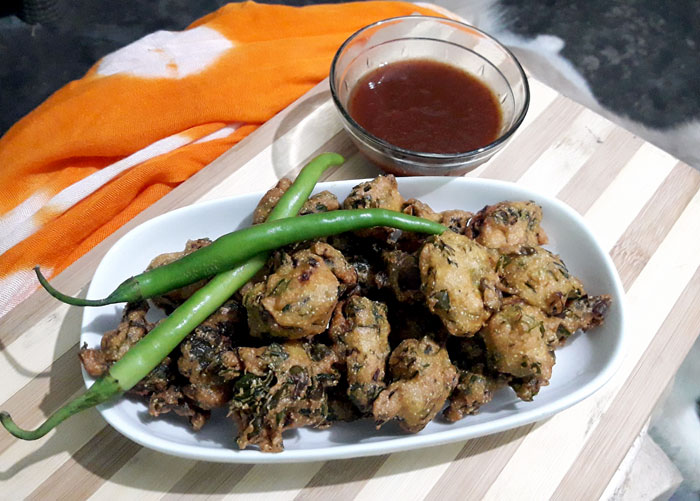 Preparation time                       10 minutes
Cooking time                            20 minutes
Serve                                        05 members
Difficulty level                           Easy
Cuisine                                     Indian
Ingredients for Palak bhajia (Palak pakora)
Spinach leaves                  250 grams
Gram flour (Besan)         01 cup
Rice flour                             02tbsp
Baking soda                        1/2 tsp
Red chili powder              01 tsp
Turmeric powder             02 tsp
Asafoetida (Hing)            01 pinch
Green chili                          02 (finely chopped)
Green coriander leaves 01 tbsp
Salt                                         as needed
Cooking Oil                         for frying
Potato                                  01 Big (Chopped) optional
Bell pepper (capsicum)  01 Big (Chopped) optional
Green Pea                          ½ Cup optional
How to make palak bhajiya (Palak pakoda recipe)
Place the spinach leaves in a mesh basket and wash them with running water and let them dry in the open air.
Take gram flour according to the above-mentioned quantity in a large bowl and mix some rice flour in it. Prepare a thick slurry by adding water to it. Keep in mind that there are no lumps in it.
Now add asafetida, red chili powder, chopped green chilies, turmeric powder, and salt and mix well. Leave this prepared batter in the room temperature for 10 minutes.
After the spinach leaves dry, finely chop them. You can also use whole leaves of spinach. If you want to make pakora with potatoes, then cut it into slices. We have also used capsicum and green peas in our ingredients, you can too.
Before making bhajia, whisk the batter well, the better the pakoras will be, the better.
Now heat the oil in a deep bottom pan, the oil should be well heated. To check if the oil is hot or not, add a few drops of gram flour slurry, the fried drop will come up.
With the help of your fingers, pour round-round pakoras in the hot oil, when one side turns brown, turn it otherwise it will remain raw from inside.
After frying the pakoras, put them in the paper napkin, so that the excess oil comes out.
Now your hot Palak Pakoda is ready, serve it with green coriander chutney or tomato sauce.

read also

.
Suggestion
Do not leave any lumps in the slurry, as good as the pakoras will be good.
Fry the pakora in hot oil only, fry in less hot oil, pakora will drink oil.
Add baking soda, it makes pakoras.
Read also
Egg curry easy to make at home Dhaba style. Street food Pav Bhaji. Palak Paneer recipe Dhaba style. .Chicken curry recipe easy steps. Chicken masala easy recipe at home.  Matar Paneer recipe Dhaba style. Pizza recipe easy steps. Vada pav recipe step by step. How to make Gulab jamun. How to make Dahi Vada easy steps. Idli recipein a pressure cooker. Hot and Spicy Schezwanchutney. Shahi Paneerrecipe Dhaba style. Balushahi recipe easy steps.
You can also follow me on Pinterest, Facebook, Twitter, Instagram and YouTube for more delicious recipes and updates
For pin: