Gulab Jamun
Learn How to make Gulab Jamun, Gulab Jamun recipe, suggestions.  It is the season of Indian festivals, in such a way that Gulab Jamun cannot be done in the house. But there are many people who bring it home from the restaurant, it's hard to make them a Gulab Jamun. But do you know, making this famous Dessert or sweet dish is eaten in India is very easy, just to be a little passion and confidence in you? Initially, when I started making Gulab Jamuns, then it was scattered in the pan, and after putting it in sugar syrup, it became stiff, but after several attempts, I succeeded in it. But now you are sharing Nature Bring an easy method that you can make it at home.
Gulab Jamuns are made with milk, mawa, milk powder, paneer, sweet potato, and bread, but, its best and traditional flavor comes with khoya.

Preparation time                  15 minutes
Cooking time                        30 minutes

Cuisine                  North Indian
Ingredients for Gulab Jamun
Evaporated Milk (Khoya )            250 grams
Cardamom powder                        1 Tsp
Baking soda                                     1/4 tsp
Fine flour (Maida)                          1 cup
Saffron                                               a pinch
Ghee or oil                                        3 cups
Semolina flour (Suji or Rawa)      2 Tsp
Cashew nuts 8-10 pieces
Ingredients for Sugar Syrup (Chashni)
Sugar 4 cups
Water 4 cups
Rosewater (Gulab Jal) 1tsp
Cardamom powder 1tsp (Optional)
*Instead of cardamom powder you can use green small cardamom even by grinding it.
* In the beginning, you should make a small amount of Gulab jamun for the experiment, for this, you have to reduce all the material to half.  Read more.
Making Sugar Syrup (Chashni)
Heat 4 cups of water in a pan, then add sugar, cardamom powder, saffron according to the amount written above.
Keep stirring this mixture. Until the mixture becomes slightly thicker.
Keep stirring it until the wire starts forming in the syrup.
Mix the water in the syrup and put it aside in a vessel.
*To see whether the wire is formed in the syrup, stretch it by keeping the syrup between your thumb and the index.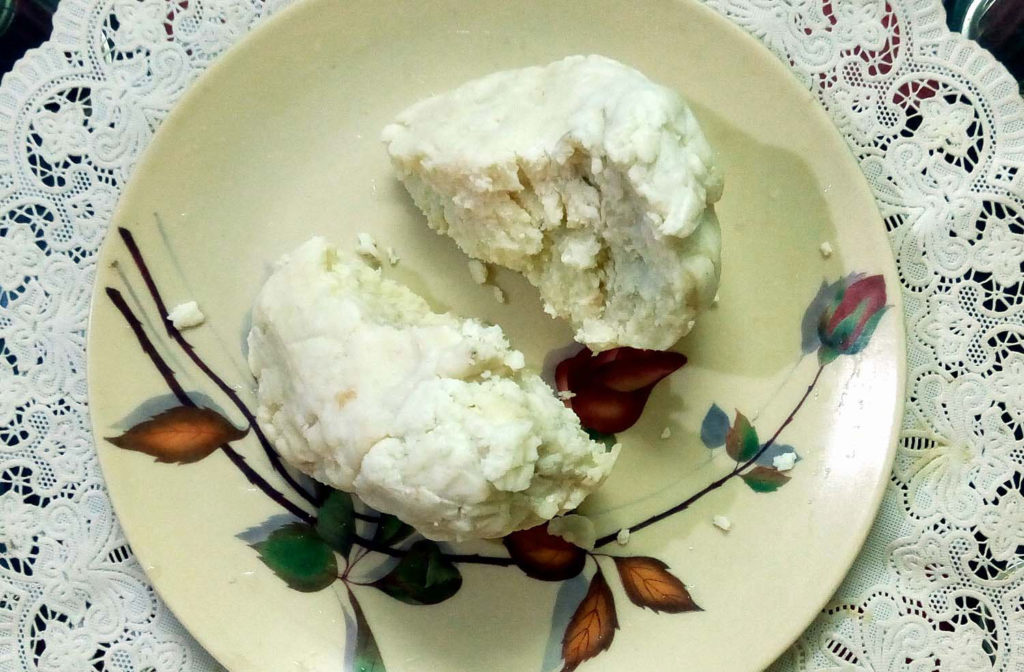 How to make Gulab Jamun
Take the khoya (Evaporated Milk) in the amount given above in a bowl and grate it well. Then add 1 cup fine flour (Maida) and a pinch of baking soda, cardamom powder and 2 tsp Semolina flour (Suji). Mash the mixture well with the hand. The better the mixture will mash, the Gulab Jamun will become as soft. Fine flour (maida) is easily mix due to moisture.
Knead this whole mixture like flour. Add a few spoons of milk to it, so that it is soft and easy to mix.
Put the mixture in a bowl. Now, take this khoya dough a bit and flatten it in your hands, add some pieces of cashew nuts in it, then make round balls with the help of both palms. Similarly, make all the balls.
Heat the ghee in the pan, first put a ball in it, if Gulab Jamun is bursting on the ghee, then add little fine flour to the khoya mixture. Read also.
*It would be better to test it before making all the balls, otherwise you will have to make balls again.
Put some balls in hot ghee, and fry these balls till brown. Turn them around so that it fries well around it. Keep in mind, it is fried in medium flame, otherwise, it will remain raw.
Instead of frying all the balls together, you put some balls and place it in a soaked paper, so that extra oil can be removed. Then put these balls in a light, warm sugar syrup. Similarly, put entire balls in the sugar syrup.
Let it remain in the syrup for one to two hours, so that the balls will drink well the syrup. Balls of drowning in the syrup will become larger and soft. Indian Dessert Gulab Jamun is ready to serve you hot.
Read also: How to make Til gajak. How to make Jalebi at home.  Kaju curry recipe Restaurant style.  Using Baking soda for plants.  Kaju katli recipe at home.  Matar paneer recipe Dhaba style.  Famous south Indian recipe Idli. Dahi Vada recipe easy steps.  Vegetable Spicy Momos recipe. Besan Ladoo recipe easy steps. Street food Pav Bhaji recipe. Dal Makhani recipe step by step. Aloo Kachori recipe at home.
For pin: