Jalebi Recipe
Learn How to make Jalebi, Jalebi recipe at home in this article.  In India, the hot-hot breakfast of Jalebi will be found everywhere in the morning. It is a traditional North Indian dish that is quite popular.  This is a Kesari or yellow sweet dish, made in Indian homes on special occasions. Because of its unique shape and crisp, children like it very much.
for recipe in Hindi, Please visit.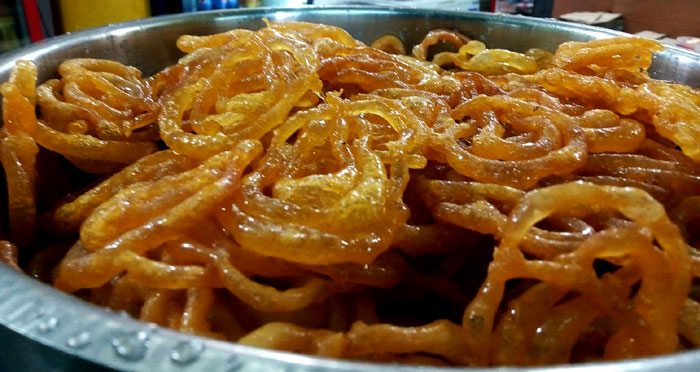 Preparation time                       10 minutes
Cooking time                            40 minutes
Serve                                        05 members
Difficulty level                           Easy
Cuisine                                     North Indian dish
Ingredients for Jalebi recipe
To make, the thick slurry is prepared by mixing maida (all-purpose flour) and yogurt and it is left to raise the yeast, then sweet dish is made. It is fried in hot oil in a fixed shape, after frying drowned in the syrup. The batter is prepared the day before.  Apart from this, Paneer Jalebi and Rabri Jalebi are also well-liked.
 All-purpose flour (Maida) Fine flour        03 cup
Yogurt                                                                   02 cup
Sugar                                                                     03 cup
Saffron                                                                 03 tsp
Green cardamom                                            5-6 (grind it)
Corn flour                                                            1/2 cup
Rose essence                                                    3-4 drops
Water                                                                   as needed
Edible color                                                         1/2 tsp (optional)
Baking Powder                                                     2 pinch
Oil or ghee                                                          1/2 cup
Sunflower oil                                                     02 cup
Pierced cloth

How to make Jalebi
The batter is prepared the day before for the recipe. For this, mix well the fine flour, cornflour, and baking soda in a bowl. Now add some ghee and food color to this mixture (if you don't like the color then leave it.) Add yogurt and mix it well. The mixture should not be too thick nor too thin. Leave this prepared mixture overnight.
How to make Sugar Syrup
Take water in a pan and heat it on medium flame, add sugar according to the above amount, stir it well. Keep it boiling till you get a level one string consistency sugar syrup. Now add saffron, green cardamom and rose essence to it, and stir well.
Heat oil in a pan on medium flame. Now make a small hole in the middle of the cotton cloth and put the prepared solution in it. Now collect the cloth from the four sides.  Press the batter gently into a round shape with the help of palm. Move from inside to outside to create the appropriate shape. Fry it till it becomes golden.
 Take out the hot-hot and immerse them in sugar syrup for 3-4 minutes, add to hot syrup (not too hot).
Now take out the jalebis from the syrup. Similarly, remove all from the syrup and serve hot-hot with curd or creamy rabri.  Read more.
 Suggestion
Batter prepared for this should not be too thin nor too thick.
Dip the jalebi in a hot sugar syrup, this will make it's very good.
One string consistency sugar syrup is required for Jalebi.
Keywords
Sweet dish, How to make Jalebi, Jalebi, Jalebi recipe, North Indian dish.
Read also: How to make Punjabi kadhi pakora recipe. chicken curry recipe easy steps. Shahi Paneer recipe Dhaba style. Lauki ka halwa recipe. Pineapple cake for children. Tomato ketchup recipe step by step. Bhindi masala recipe Dhaba style. how to make Methi Matar malai.  Paneer butter masala easy recipe at home. Paneer Pasanada recipe at home.
For pin: