Punjabi Kadhi Pakora
Learn How to make Punjabi Kadhi Pakora, Punjabi Kadhi, Kadhi recipe and more about this recipe in this article. Punjabi Kadhi Pakora is a very delicious Indian recipe. In it, sour khadi made of gram flour and pakoras are added. However, Kadhi is made in many ways, in which Punjabi Kadhi, Sindhi Kadhi, Maharashtrian Kadhi, Gujarati Kadhi, and Rajasthani Kadhi are traditionally made in their respective areas. Punjabi Kadhi is thicker than other Kadhi, and is eaten with plain rice,  Jeera rice or chapati. On the occasion of marriage, in the days of holidays or get bored with vegetable and people make it. I also like on Sundays or other holidays. It is very easy to make and its contents are also available at your home. Read more.

Preparation time                                    20 minutes
Cooking time                                        30 minutes
Serve                                                    08
Difficulty level                                       Easy
Ingredients for making pakora 
1 cup = 250grams
Gram flour (Besan)                    01 cup
Green pepper                            03 finely chopped
Onion                                       01 finely chopped
Celery (Ajwain)             1/2 tsp
Baking soda                             1/2 tsp
salt                                           as needed
water                                        To add content (according to experimentation)
Oil Refined                                as needed
Ingredients for making the mixture
Curd                                         500 grams (mix well)
Gram flour (Besan)                    1/2 cup
Turmeric powder                        01tsp
Green chili 2-3 finely chopped
Ginger                                     01 inches finely chopped
Salt                                          According to taste
Ghee                                        02tsp
Mustard seed                            01Tsp
Fenugreek seeds                      1/2 Tsp
Curry leaves                              8-10
Red chili powder (Kashmiri)        01 Tsp
Red chili (Dry)                           03
Asafetida                                  1/4 Tsp
Water                                        03 cups
Green coriander             finely chopped for garnishing
How to make Punjabi Kadhi Pakora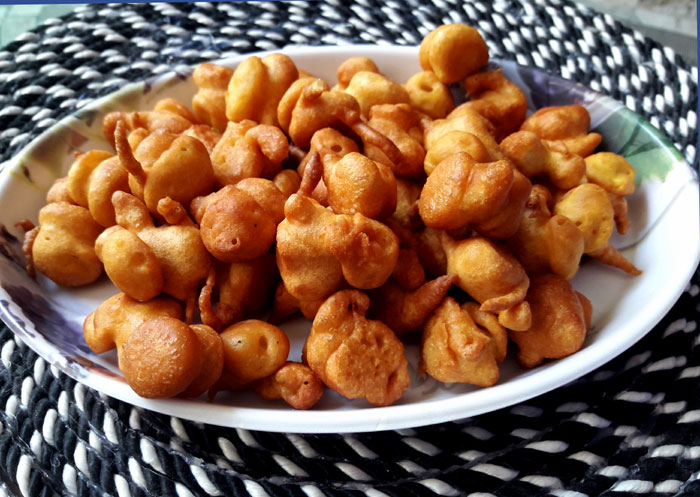 Put one cup of gram flour (Besan) in a bowl, then add chopped onions, green chilies finely chopped, baking soda and salt as needed.
Prepare a thick slurry with a little water in it. If the solution is thin then the pakoras will not be good.
Heat the oil in medium flame in a pan and make small rounds with the help of your fingertips and put it in the oil. At one time you can put 6-8 small balls. Fry it until medium brown. Reverse it, make it cooked on the other side, then drain it out and put it in a paper napkin, so that its extra oil gets out. Make pakora of the whole solution and keep it aside.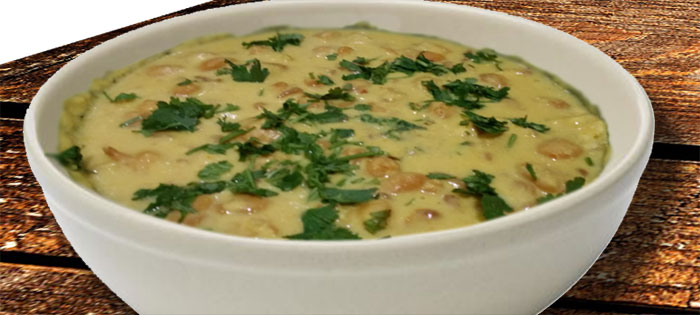 In another bowl, take curd and gram flour (Besan) as per the volume is written above and mix it well with the help of hand blender.
Dilute solution together with water. Then add turmeric powder and salt as per your requirement. Mix well, keep in mind that there will be no lumps of gram flour in it.
Heat 1 tablespoon oil in a deep pan, add mustard seeds and fenugreek seeds in it. When it starts cracking, add cumin seeds, ginger paste and fry for about 1/2 minutes.
Now add the solution made with curd and gram flour (Besan) and mix thoroughly.
Boil this mixture for 10 minutes, which removes the raw taste of gram flour (Besan). Keep it running continuously, otherwise, the mixture can stick to the surface of the pan. If the mixture is much thicker then you get more water. The mixture should not be too thick.
Place a separate pan on the middle flame, add little oil to it and add Kashmiri red chili powder and curry leaves. Pour the Besan mixture immediately on this tempering and sauté for a minute.
Now add pakoras in this tempering mixture and cook for 5 minutes in medium flame. Now your kadhi pakora is ready, take it off and garnish it with green coriander leaves. Read also.
Suggestion
For pakora, the prepared slurry should not be too thin or otherwise, the pakoras will not be correct.
Pakoda fry in medium flame otherwise they will not be able to cook inside.
Keep stirring the kadhi mixture continuously, otherwise, the mixture can stick on the surface of the pan.
Read also: Vada pav recipe, Palak Paneer recipe easy method. chicken curry recipe easy steps. How to make Egg curry. Kadai Paneer recipe. Veg Mayonnaise Sandwich Recipe easy steps. Chili Soya chunks recipe. How to make Dahi Vada easy steps. Veg Spring rolls easy recipe. Matar Paneer. recipe at home. Hot and Spicy Schezwan chutney. Idli recipe in a pressure cooker. Kaju curry easy to make at home.
For Pin: