Growing Carnation flower  (Dianthus)
Learn How to grow Perennial Carnation Flower, Growing Dianthus Flower in pots, pets problem, and care.  Dianthus plants in the garden are hardy annual, biennial or perennial, these attractive flowers are used as borders or spotted displays. Flowers are easy to care for and they are rich in versatility. In many dianthus plants, the foliage is a beautiful blue-brown color before blooming. Its leaves look narrow and grass-like.
There are about 300 species of Carnation flowers. They usually come in red, purple, white and pink colors. Some common dianthus flowers also occur incarnations, pinks, Cheddar Pink, and sweet william. These are members of the Caryophyllaceae family. The plant is mainly native to Europe and Asia, with some of its species extending from South to North Africa.
Do you know?
The name Dianthus is derived from the Greek words DIOS and anthos (flower). It was named after the Greek botanist Theophrastus for God.
Overview of Carnation flower
Scientific name                       Dianthus caryophyllus
Common name                       Carnations, pinks, Dianthus, Cheddar Pink, and sweet william
Plant type                                Flowering plant
Sun requires                            Full Sun
Blooming time                        Spring and late summer to fall
Flower colors                          Red, White, Pink, Purple
Soil                                         Nutrient-rich, well-drained soil
Soil pH                                    6.0-7.5
Zone                                       3-9

How to grow Carnation flower
Soil and Location
Dianthus can plant full sun or partial shade or anywhere where they can get at least 6 hours of sunlight.  This plant prefers wind-protected sunny locations, it helps it grow well. Appropriate place works on its development as well as the color intensity and smell. The choice of a half-shaded place affects its color intensity.
Carnations plants prefer nutrient-rich and well-drained loam soil. In the event of no water, root rot may be a problem. These plants prefer slightly alkaline soil pH, if soil pH is less than 7.0, apply with dolomitic limestone, its acidity will be fine. Fireplace ashes can also increase soil acidity.
Planting
You start its seeds indoors 2-8 weeks before the last frost. For planting directly in the garden, sprinkle seeds over the soil, and then cover with a light layer of soil. When the risk of frost is over,  keep the seed depth 1/8 inch to sow outside, keep moisture in the soil, and when these leaves start to appear 2-3 leaves, then thin planting 8-12 inches apart.
Propagation
Gardener prefers to grow dianthus plant from the seed, though it can also be propagated by cutting. You can also grow its seeds directly in your garden, or you can start indoors and transplant later. This plant likes hot weather, so if you want to plant outside then apply after the soil gets warm in spring. Read more.
Fertilizing
Carnations plants enrich it by adding balanced organic fertilizer to the soil before planting, it will encourage rapid growth.  If you plant pinks in pots then you need to feed fertilizer every 6 to 8 weeks. Alternatively, if you add a slow-release fertilizer to the soil while planting, you can remove the responsibility of fertilization.
Companion planting
Thyme and Portulaca are plants with it. You can also combine well with other cold-tolerant annuals such as dusty miller, pansy, and ornamental cabbage. Read more about Companion planting.
Temperature
Carnations plants do not like much frost but can tolerate mild frost. If the temperature is less than 40 degrees Fahrenheit, shift it to a safe place. Flower production may be dormant at a constant summer temperature above 85 degrees Fahrenheit.
How to grow Dianthus by seeds
Start the propagation of dianthus indoors with seeds.
Seedlings can begin indoors 2–8 weeks before the last frost.
Sprinkle

seeds

over a growing mixture or light loam soil and then cover with a light layer of soil.
Moisten the soil with water.
To keep moisture in the soil, cover it with a plastic sheet and keep it in a warm place.
When 2-3 leaves are seen, place it in a small pot. And when the plant grows to about 4-5 inches high, you can transplant and keep out.
If you want to sow in your garden, then sow the seeds to a depth of 1/8 inch, when the risk of frost has passed.
Keep moisture in the soil and when 2-3 leaves emerge in them, then planting 8-12 inches thin.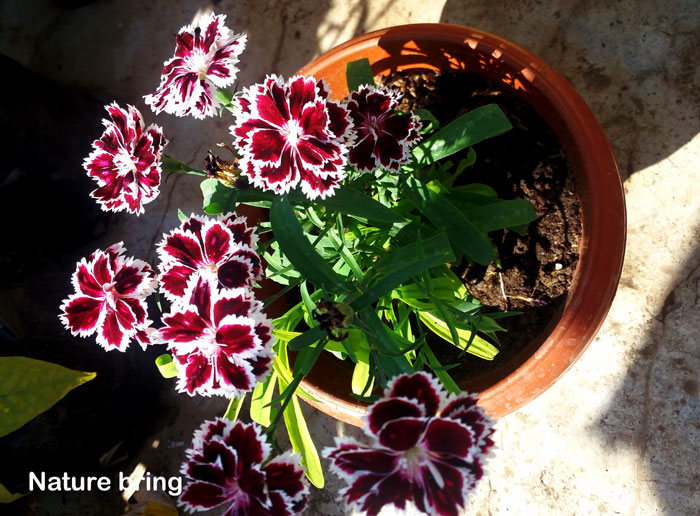 Growing Dianthus flowers in pots
Carnations plants are very easy to grow and care in pots, for this you use a little alkaline soil.
A 10 to the 12-inch pot is sufficient for this plant,  you can use clay or plastic pot. For good drainage, lay pieces of gravel or broken clay pot on the surface of the pot.
Fill the pot with at least 2 inches of compost and soil.
After planting the plant in the pots, take it to the place of full sun, where they can get at least 6 hours of sunshine each day. If there is sufficient air circulation, keep it in open position.
When watering plants in containers, be sure to keep the soil evenly moist. Do not allow the soil to dry in plants.
For dianthus plants growing in pots, you should give fertilizer every 6 to 8 weeks. If you planting pink then you can add a slow-release fertilizer to the soil.

Carnation flower Care
Cooler climates are best for growing dianthus. Plant them in a place where you get at least 4-5 hours of full sun each day.
For this, fertile and slightly alkaline soil with good drainage should be used.
There should be good air circulation around the pinks plant, and try to keep them free from moisture.
Pink plants should avoid over-watering; this may turn the leaves of the plant yellow.
Watering the established plants once a week is sufficient, but in extremely dry weather increase the water.
In the overwinter move the plants to a safe place where you can protect them from frost.
Pests and diseases Carnations
Carnations plants are generally not affected by pests or disease. But these can sometimes be affected by insects such as spider mites, aphids, stem rot, and mildew. With regular care, you can get rid of them.
Read also: How to grow Onions. 9 easy growing Herbs for beginners.  Growing Colchicum at your garden.  Coriander Growing and care in containers. Best Containers for your plants. Geranium growing and caring tips. 11 Best winter flowers for your garden. Freesia flowers growing and care guide. Soybeans growing and care guide.  Liatris growing and caring guide. Orange growing and caring guide. Plumeria growing and caring guide. Celery growing in containers. Thyme growing easy tips. Bleeding hearts flowers growing tips.  Pointed gourd cultivation.
Happy gardening
For Pin: