Tomato Ketchup
Learn How to make Tomato Ketchup at home, Tomato sauce recipe, Ingredients for Tomato Ketchup and more about this recipe. At this time tomato is very cheap in the market, this is the time when you can make pure Tomato Sauce for yourself. However, nowadays many companies that make Tomato Ketchup are on the market, but you do not know what they serve in the name of tomatoes. Sauces made in the season with onions, garlic, tomatoes, bay leaves are very good. Read more.
Some time ago I shared the easy method of making Schezwan sauce, it was quite commendable. It really is very necessary, because whenever you have pakoras, parathas or samosas, take two teaspoons of sauce and start it. Nature Bring You are sharing the easy way to make tomato ketchup at home.

Cooking time                        45  minutes
Serve                                     04
Difficulty level                      Medium

Ingredients for Tomato Ketchup
Tomato                                                                  02 Kg.
Sugar                                                                     250grams
Vinegar                                                                  03 tbsp
Black pepper seed                                                 15 piece
Dry Ginger powder                                                1/2tsp
Cloves                                                                    05 piece
Cinnamon                                                              01 inch piece
Salt                                                                         as needed
Chilli powder                                                          1tsp
Sodium benzoate                                                   1tsp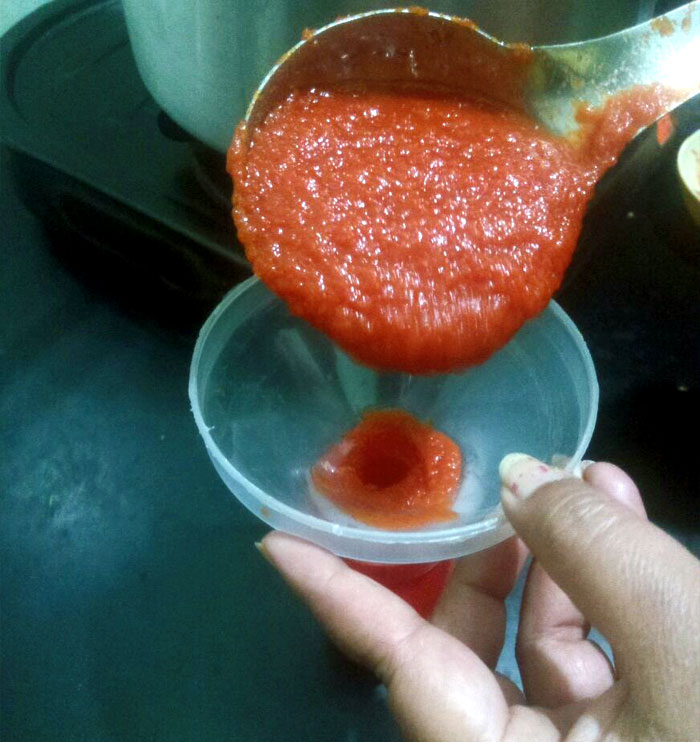 How to make Tomato Ketchup (Sauce)
First, wash the red ripe tomatoes thoroughly in water. Then cut these tomatoes in a large pot.
In the cooker, add chopped tomatoes and cinnamon, cloves and black pepper in a cloth bundle and boil for 15 to 20 minutes in medium flame.
Remove the cooker from the flame, separate the bundle, and then paste it well. Ketchup will become as good as well as paste.
Put this tomato paste in a large sieve and run with a small spoon. Filter whole paste in the same way and separate it. You will see that tomato peels and seeds are split apart.
Now heat the paste of tomatoes in a pot and cook in the medium flame, when the pulp gets thickened.
Continue stirring it otherwise, the paste can stick to the surface of the pan.
After a while, add sugar, red chili powder, dry ginger powder, and salt as needed and stir well.
When the mixture becomes slightly thickened, drop it with the spoon, see the mixture is thick or not.
Now close the flame. Let the ketchup cool down and add sodium benzoate and vinegar to it. This will save your ketchup from having a prolonged loss.
Fill this mixture into a glass bottle. Take ketchup (Sauce) is ready, you can always serve it with any Indian or Chinese dishes.

Learn more

.
Suggestion
Make your tomato ketchup acrid and spicy add ginger onion and garlic with chopped tomato then boil and make paste together.
Read also: How to make spicy  Schezwan sauce. How to make Chicken curry recipe. Vegetable Biryani recipe. How to grow Tomatoes at home. Growing Tomatoes from seeds. Easy Paneer Pasanda recipe. Pizza recipe at home. chicken curry recipe easy steps.  Chili Soya chunks recipe. Bhindi masala recipe Dhaba style.  Pani Puri recipe easy at home.
For Pin: