Pizza
Making homemade pizza is really a great start. I love it with my family, especially in the holidays. The holiday night with the kids is a fun night. To make it more entertaining, eating, drinking, and music is essential. At such times if there is a pizza in the food, both children and adults get pleasure. Learn How to make pizza Recipe, How to make Tomato Sauce and easy tips.
Due to the market's high rate and demand of the children, I had to accept this challenge. The beginning came to me quite a lot, but after some trial and error, we finally got success.  when I made in the first time, it was like a dream for me.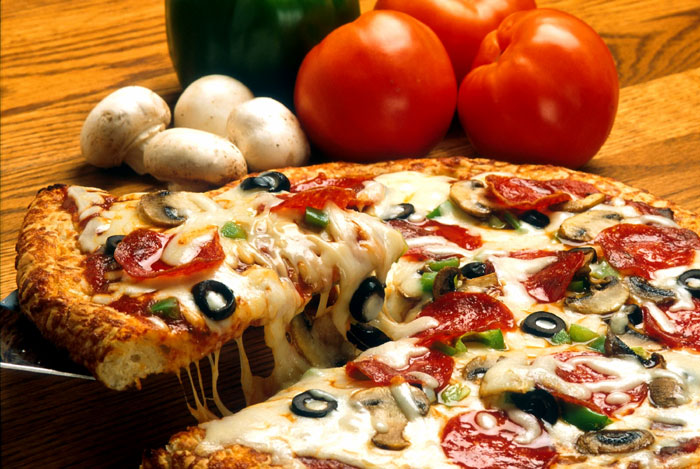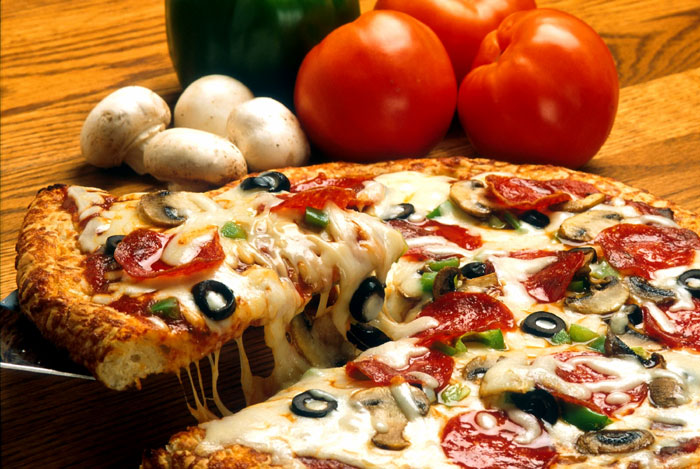 Preparation time            2 hours 30minutes
Cooking time                20 minutes
Serve                            03
Difficulty level               Medium
Ingredients for dough
(1 cup = 250 ml)
Dry yeast                                  2 ¼ teaspoon
All-purpose flour, Maida                        3 ¾ cups
Olive oil                                                2tbsp
Salt                                          as needed
Honey                                       2 tbsp
Warm water                               1 ½ cups
*You can use all-purpose flour instead of bread flour to make pizza, but the bread flour is more in the gluten than all the purpose flour and makes a crisp layer for your pizza.
Ingredients for Sauce
Tomatoes                     200 gms
Garlic cloves                 3-4
Dried basil                    2tbsp
Dried oregano               2tbsp
Olive oil                                    2tbsp
Black pepper (Crushed) as needed
Red chili flakes             1tsp
Salt                              as needed
Ingredients for Pizza        
Mix vegetable                           1 ½ cup (Bell pepper, Onion, Olives, tomatoes, carrot, and mushrooms )
Mozzarella cheese                     200 grams or as needed
Red chili powder                       1/2tsp
Italian mix herb (Oregano)          ½tsp
How to make Tomato Sauce
In the middle when you get the time you can make tomato sauce. To make sauce, heat oil in a pan, then put chopped garlic in it, and keep stirring, when it starts to smell.
Add tomato puree, salt, and sugar as needed and stir well, cover it partially. Let the sauce be slightly thicker, and later add red chili and Italian herbs and crushed peppers. Mix well and put it aside in a vessel. Read more.
How to make pizza Recipe
Take water in a bowl and heat it slightly. According to the quantity given above in this water, add honey, olive oil, and yeast.
Then mix the flour according to the required quantity and salt as needed. Leave it for 5 to 10 minutes. Keep it until it is sticky until stir or mix in your stand mixer. After a time the dough becomes elastic.
Grease one bowl and keep the dough in it and leave it for about 1 hour. After seeing the dough becomes almost 2 times.
If you have a machine, then you can knead the dough from the machine by mixing all the ingredients.
When your pizza dough is ready, you divide it into parts. With the above-given amount, you can make up to four individual pizzas.
Let each part come flat like a roti (Round shape) with the help of hands. Then place it on a cookie sheet or pizza pan, which will lubricate the surface and sprinkle corn flour.
If it is to make a pizza then it is good to bake the base (pizza base) for the first 5 to 7 minutes.
For this, heat the oven in 240 degrees Celsius for 20 minutes already. If you want to make a thin pizza then just go ahead.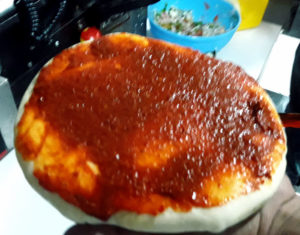 After this, keep it sauce and chopped vegetables and grated cheese on your pizza base. Sprinkle Italian herbs (Dried basil, dried oregano) and red chilly flakes in the last.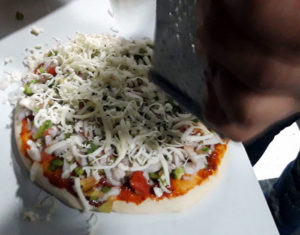 Then bake it in your oven for 10-15 minutes, when the cheese starts to become a little brown then out of the oven.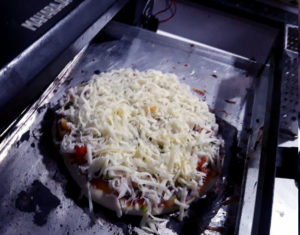 Now your pizza is ready, slice it up and hot serve.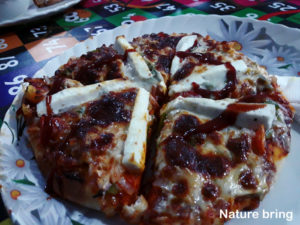 The thick base cannot be cooked for long while the cheese is brown. The pizza found in pizza shop is actually made in large ovens and is very hot. Most of the pizzas are baked on stones because their base is cooked very well. Read more.
Read also:
How to make Tomato Ketchup. How to make Palak Paneer Recipe. Masala Dosa recipe easy steps. Veg Spring Roll recipe.  Make Shahi Paneer at home Dhaba style. Chicken curry recipe. How to make Kadai Paneer recipe.
Reference: Cheese Pizza Recipe.
For Pin: