Aloo Paratha Recipe
Aloo Paratha is a particularly Punjabi dish, which is preferred all over India. This is the ideal breakfast of Punjab, with this they consume a glass full of lassi or buttermilk. Aloo paratha has a special reason for its popularity, it gives plenty of energy to the men working in the fields. Know-How to make Aloo paratha, Aloo Paratha Recipe, Potato stuffed parathas and suggestions related to this recipe.
Aloo Paratha is usually made by mashing boiled potatoes and stuffed with wheat bread (Roti), you can use any vegetable to make it a little different. But we are telling you the easy recipe of making popular Aloo parathas, the main ingredients are potato and wheat flour.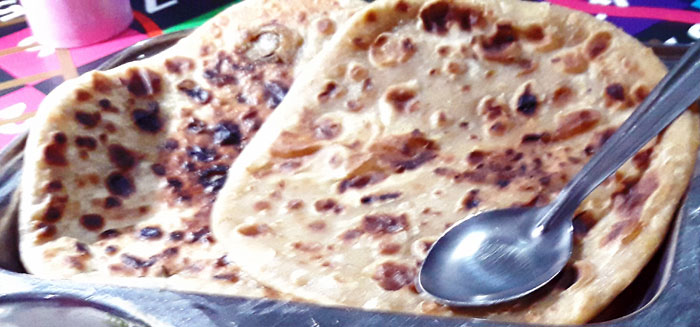 Preparation time                             20 minutes
Cooking time                                     15 minutes
Serve                                                    06 members
Difficulty level                                   Easy
Cuisine                                                 Punjabi
Ingredients of Aloo Paratha
Ingredients for paratha stuffing
Potato                                                  300 grams  (medium size)
Onion                                                    01 (Large size, Finely Chopped)
Green Chili                                          4-5 ( Finely Chopped)
Red chili powder                              01 tsp
Chaat masala                                     02 tsp
*If chaat masala is not there, you can also use garam masala.
Salt                                                         as needed
Asafetida                                             01 pinch
Black pepper powder                     1/2 tsp
Carom seeds                                      01 tsp
Green Coriander leaves                                02tbsp
Butter                                                   04tbsp
Ingredients for Dough
Wheat flour                                        02 cups
Water                                                   as needed
Aloo Paratha Recipe  
Step-01
Wash the potatoes thoroughly and keep them to boil. Take out the boiled potatoes in a large bowl and mash them when they cool down a bit.
Add finely chopped onion, green chilies, green coriander leaves, garam masala powder or chaat masala, asafoetida, carom seeds and salt as required and mix well, making sure there are no lumps in this potato.
Make sure that the onion, green chili, and green coriander are finely chopped, otherwise it will be removed after filling.
Masala is ready to fill in the popular paratha, keep it aside in a large bowl.
Step 2
Now take wheat flour as per the above-mentioned quantity in a large bowl and add water slowly. Knead a soft dough with the help of a palm.
Divide the dough into small pieces and make balls, and circle-shaped with your palm. Press the dough ball in the center, press it with the palm and make a bowl shape.
Fill the prepared potato masala in this dough bowl and collect from the side and add it to the center.
Fill the prepared potato masala in this bowl and collect from the side and add it to the center. Now press it gently with a rolling pin and spread it round like roti. Apply pressure on it evenly and spread it carefully.  Read also.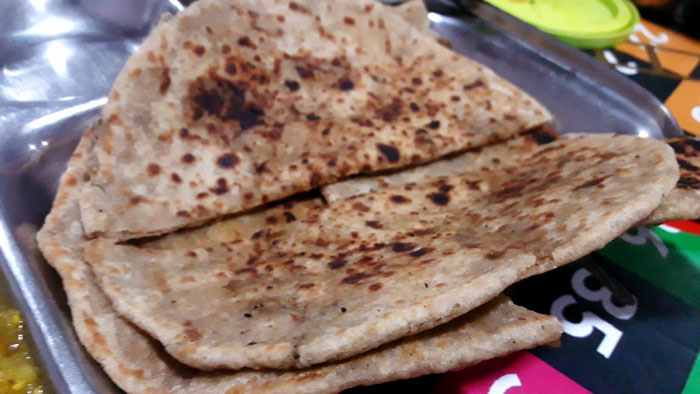 Step 3
Keep slight pressure on the rolling pin otherwise, the mixture will come out.
Now place the griddle on the gas and heat it. Add one paratha and roast, turn the paratha and apply one spoon of butter on both sides and roast it. If you like to eat more butter then first put butter on the griddle and then roast the paratha, after inversion the paratha, add the butter again. When they are cooked well on both sides, keep them aside on a plate.
Step 4
Your Aloo Paratha is ready, you can serve it hot with cold curd, green chutney or pickle. You can also serve aloo parathas with tomato sauce or chole. If you want to enjoy its real and wonderful taste, then eat it hot. If you cut it in the middle with a knife and decorate it on the plate, it will look good.
Suggestion
The potato mixture should be well mashed, with no lumps. If there is a lump then the paratha will burst while spreading.
When kneading the dough, add a spoon of oil to it, it will make parathas crispy.
Main ingredients
Potato and wheat flour
Keywords
Aloo paratha
Read also:
Egg curry easy to make at home Dhaba style. Chicken curry recipe easy steps. Chicken masala easy recipe at home. Palak Paneer recipe easy method. Shahi Paneer recipe Dhaba style. Chili Soya chunks recipe. Vada pav recipe step by step. Paneer Pasanda recipe at home. Veg Mayonnaise Sandwich Recipe easy steps.  How to make Punjabi kadhi pakora recipe. How to make Methi Matar malai. Veg Mayonnaise Sandwich Recipe easy steps.  Suji's Uttapam recipe step by step. Poha cutlets recipe restaurant-style.
For pin: