Pani Puri (Golgappa recipe )
Learn How to make Pani Puri , Golgappa recipe,  Pani Batasha and more about this recipe. Paani Puri, Pani Batasha,  golgappe, is popular Indian street food, which is a mouth of watering when you hear it. Although it is the main street food of Uttar Pradesh, it is eaten with lots of interest in every part of India. It is known by different names in different parts of the country. In Maharashtra Pani Puri, Uttar Pradesh pani batasha, Golgappa in Punjab, Phulki in Madhya Pradesh and Puchka in West Bengal are known. This is the most liked street food in India, which you will find almost everywhere.
It is full of a blistered small puri, whose upper part is broken and filled with specially prepared spicy water and boiled mash potatoes. This is telling us the method of preparing you at home so that you do not need to go out. It is also better than the perspective of your health, you will get rid of the mess of the street.
Golgappa is very easy to make spices and water at home. But it takes more time to make puri in this recipe, but it does not need to be disturbed, it is easily available in the market nowadays.  Read also.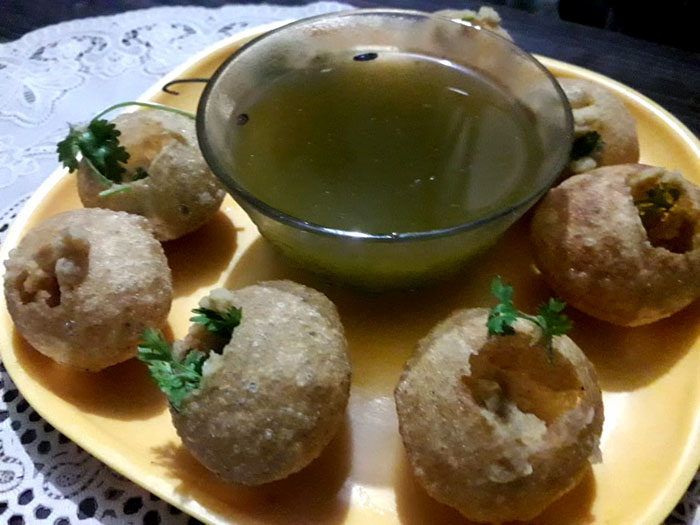 Preparation time is        45 minutes
Cook time                     35 minutes
Serves                          04
Difficulty level               Simple
Materials needed to make puri
Suji (Semolina )             1 cup
Maida (Fine flour)          02 tbsp
Baking Powder             1/4 teaspoon
Salt                              as needed
Oil or pure ghee                        For  frying
Materials to make Pani and masala
Green Chilli                   1-2 (Chopped)
Mint leaves                   1/2cup
Onion                           01 medium sized (finely chopped)
Coriander leaves           02 tablespoons
Sev (Namkeen)              1/2 cup
Tamarind chutney          2tbsp
Lemon                          1/2 Medium size
Ginger                          1/2 inch
Boiled potato                03
Sugar                           02 Tsp
Chat masala                  1/4 tsp
Black salt                      1/4 Tsp
Red chili powder           1/2 tsp
Cumin powder               1/2 tsp
Boiled chickpea        1/2 cup
Salt                              as needed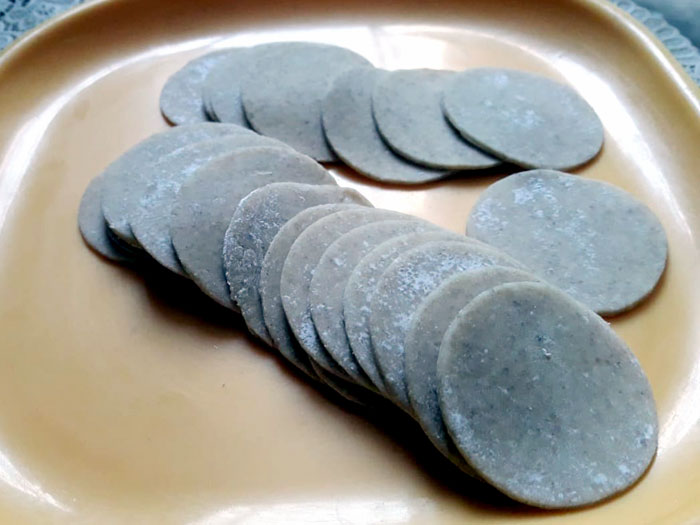 How to make Puri
Take semolina, flour and baking soda in a bowl and mix it well. Now add water according to the need and tie it strictly.
Cover it with wet a cotton cloth and leave for about half an hour at room temperature.
After half an hour removes the cloth and mashes well.
Now divide the dough into 4 equal parts and take a bowl and spared it like roti with the help of rolling pin. Keep in mind it is not too thin or thick. You should use the rarot dough for not sticking to each other while cutting it.
With the help of a round shape small lid, a small bowl or a small glass cut the round and put it apart in a plate.
Making the rest of the flour again then repeat this recipe until the dough is finished.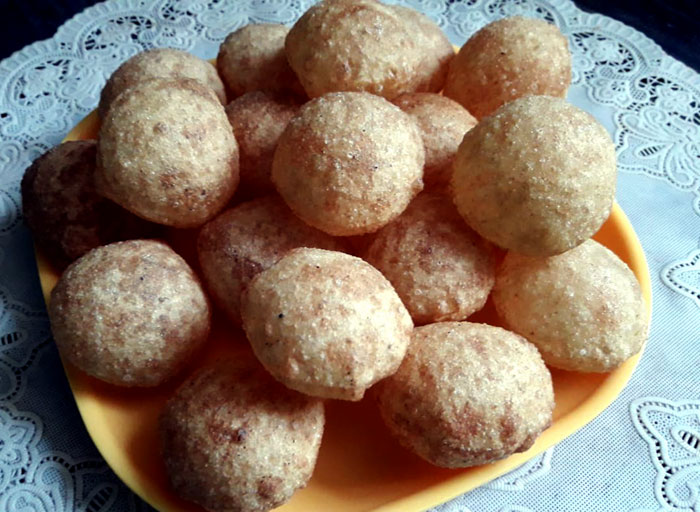 Now you heat the oil in a deep frying pan and put 6-7 puri in it and press it lightly with the help of sieve spoon, which makes the puri flower. After going well on one side the puri reflex.
When its color becomes golden, remove it from the pan and put it in a paper napkin, leaving extra oil. Read more.
Suggestion
Do not forget that the dough will be hard, otherwise, it will not be crispy.
Keep the thickness unchanged while rolling the roti, not too thick and not too thin.
After deep frying, place the puri in a clean and dry place, having slight moisture will not remain crispy. If the moisture remains, keep it in direct sun or keep it in the oven for 15 minutes at 200 degrees F.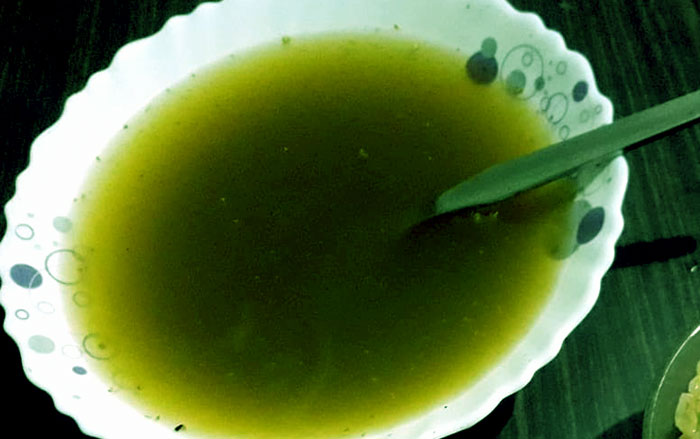 How to make Pani (Water)
Wash well green coriander leaves and mint leaves and put it in your mixer grinder jar. Now add green chili ginger and lemon juice and grind well. Add water and dilute it.
Now, take it out in a big bowl and stir it with Chat masala, add black salt and a little white salt and stir well. Now add two spoon sugars and mix them well. Put this mixture into the fridge for 1 hour. Now your water is ready.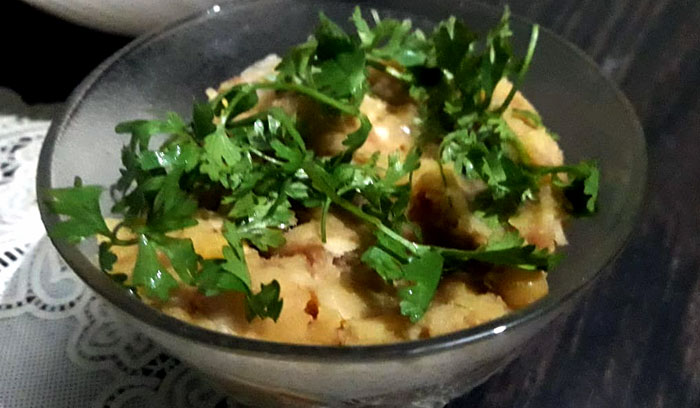 How to make Masala
Mash the potatoes in a large bowl, now add boiled gram, chili powder, cumin powder, coriander leaves, chat masala and salt as needed and mix well with the spoon. Your masala is ready.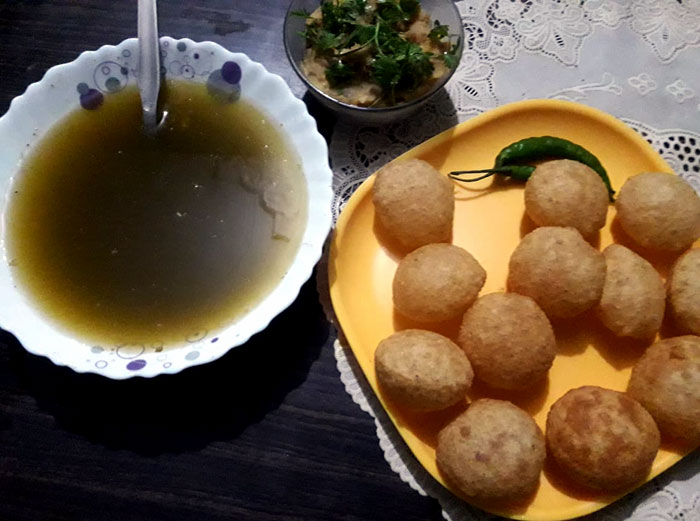 How to make Pani puri  (Golgappa)
To serve pani puri, you should pick one-one puri and make a big hole in the middle with the help of thumb. Similarly, make 6-7 puri holes and place a plate in place.
Now fill the prepared masala in each hole, add some finely chopped onion, sev and tamarind sauce. Fill all the golgappa in this way.
Now dip golgappa in the prepared water mixture and enjoy this recipe. Read more.
Suggestion
You can also use boiled peas instead of a chickpea.
Prepare different flavored water by adding garlic and asafetida in water.
Fill the water in the golgappa the time, it will break after leaving.
Read also:
How to make Veg Mayonnaise Sandwich. How to make Paneer pasanda recipe. Palak paneer recipe easy steps.  Hot and spicy Schezwan Sauce. Sabudana Vada  easy recipe. Make Veg Spring roll recipe at home. Chicken Masala recipe easy steps. Egg curry recipe Dhaba style.  Masala Dosa recipe at home. https://naturebring.com/masala-dosa-recipe-make-crispy-masala-dosa-home/
For pin: