Dosa
Know Masala Dosa Recipe, How to make crispy Masala Dosa at home. Dosa is a unique taste of South Indian (South Indian recipe), but it is very much loved today all over India. It is also made of rice and urad dal like idli and is eaten with coconut chutney and sambar. Dosa is an Indian traditional taste, it is very light and rich with nutritious properties, as it is a popular breakfast. Dosha is done in many ways, such as Plain Dosa, Masala Dosa, paneer dosa, Oats Dosa and Bread Dosa. It is a very good breakfast and you can eat for lunch and dinner too. Nature Bring is telling you the easy method to make Dosa.

Preparation time                  9hours
Cooking time                        30 minutes

Serve                                     04
Difficulty level                      Easy
Ingredients for Dosa
Rice, parboiled or idly rice                                 03 cups
Skinned Urad dal                                               01 cup
Baking soda                                                        3/4 tsp
Oil                                                                       for greasing while making dosa
Salt                                                                      as needed
Water                                                                  01 cups
Ingredients for Masala
01 cup = 250 ml
Potatoes, boiled                                                  7-8
peas peeled                                                         01 cup
Onion                                                                  02 big size chopped
Green chili                                                           02 Chopped
Ginger                                                                 02 inches long, finely chopped
Turmeric powder                                                1/2tsp
Red chili powder                                                1/2 tsp
Coriander powder                                              02tsp
Oil                                                                       02 tbsp
Asafoetida                                                          a pinch
Oil                                                                       02 tbsp
Green coriander leaves                                       1/4 cup
Salt                                                                      as needed
Masala Dosa recipe
To make masala dosa first, take rice and urad dal (lentils) in separate utensils (pot) and soak it for overnight. Separate the water of urad dal (lentils) in the morning and grind fine with the help of mixer grinder. Similarly, by separating the water of the rice rough grind it. Now mix these two together well.
Then add baking soda according to the above-mentioned amount and salt to taste. Keep this mixture in a room with a hot temperature for 9-10 hours. It is necessary for the fermentation in the mixture, you will see that the mixture becomes twice as fast as before. Now your mix is ready to make dosa. Read more.
Method of masala (Potato stuffing)
Now peel the boiled potatoes and mash them, and put aside.
Heat oil in a pan, when the oil becomes hot, add chopped onions and fry onions, add coriander powder, turmeric powder, red chili powder, asafoetida, and salt. Now add chopped green chili and ginger in it and fry about 1-2 minutes.
Then add peeled peas and little water, then cover lid and cook until peas are soft. Now put mash potatoes in it and cook for 2-3 minutes, then add chopped coriander in it and take it out of the gas and put it in a pot.
Method of Dosa
Now put the nonstick flat pan on the gas and keep it warm, medium the flame.
Now wipe the tawa with the help of cotton cloth.
Then add one spoon of oil to the pan and spread it on the pan with the help of the wet cloth.
Now spread the dosa mixture in the pan with the help of a big spoon, now spread it thin in the sphere from the surface of a small bowl. Take a little oil and spread it lightly on the edge of the dosa, and high the flame. Cook until then when he starts looking brown down.
When it is slightly brown, keep the potato stuffing in between and lifts the dosa with the help of a flat spoon from both sides and serve it on the plate.
Likewise, you can make dosa as much as you want. Serve hot with coconut chutney and sambar.
Read our web site for sambar.
Coconut Sauce (chutney)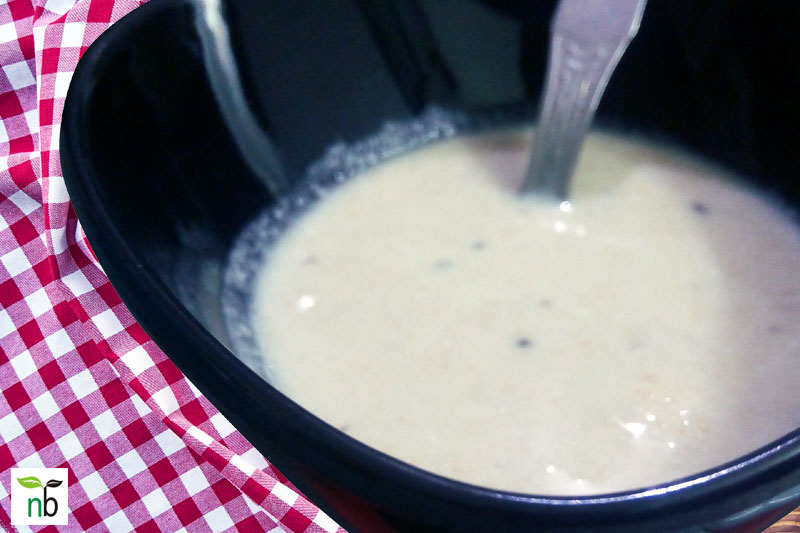 Ingredients for chutney
Raw  coconut                                                        100grams
Curry leaf                                                              1tsp chopped
Mustard seeds                                                     1/2 tsp
Curd                                                                       1/2 cup
Salt                                                                         As needed
Oil                                                                           1 tbsp
Coconut chutney recipe
To make coconut sauce, take raw coconut 100grams, green coriander, green chili, curd 1/2 cup, and salt according to taste.
Grind raw coconut, green coriander, green chili, salt, curd and 1/2 cups water in a mixer jar and grind them all in a fine. Take the chutney in the pot and mix the water according to the thickness of it.
Heat 1 tablespoon oil in a small pan, when the oil becomes hot, then add 1/2 Tsp mustard seed in it, when the mustard seeds begin to crack, turn off the gas by adding a curry leaf. Then put the prepared chutney in the pot. Coconut chutney is ready, eat it with dosa, sambar vada or idli.
You have to look for South Indian recipes try.
Read also: How to Kadai Paneer.  Chicken Masalarecipe. How to make Egg curry. Chili Sauce recipe at home.  Palak Paneer recipe. South Indian Idli recipe by Pressure cooker. Chicken curry recipe dhaba style. Matar paneerrecipe at home. Hot and Spicy Schezwan Sauce.
For pin: