Vegetable Biryani
Vegetable Biryani, veg biryani, veg biryani recipe make something new for your family, but nothing is possible without knowledge. If you have the responsibility of the family,  there is a holiday or any other special days, then you would want to make something different. You should leave laziness and make this new Sunday for your family, every Sunday we bring something new to you. This time Nature Bring has brought you Vegetable Biryani, yes it is absolutely vegetarian and it is also easy to make. Whenever there is a holiday, in such a way it seems that today, make something new for your family, but nothing is possible without prior preparation.  Read more.
If you want spicy food, then vegetable biryani is the best recipe for you. We have separated some of the unnecessary things, and the easy method is presented to you. If you do not have long grain basmati rice (pulao rice) for vegetable biryani, then you can choose any good quality rice.

Preparation time                  30 minutes
Cooking time                        30 minutes

Serve                                     04
Difficulty level                      Easy
Ingredients for Vegetable Biryani
(1 cup = 250 grams)
Basmati Rice long grain                     03 cups
Onion                                                 01 big size
Tomatoes                                           02 large size
Potatoes                                             02 medium size
Carrot                                                 01 chopped
Peeled peas                                       1/4 cup
Button mushroom slice                      1/2 cup
Garlic ginger paste                             01tbsp
Green chili                                             04
Cumin seeds powder                         01tsp
Kashmiri Red chili powder                 02tsp
Biryani masala powder                      02tsp
Turmeric powder                                 01tsp
Carom seeds                                       1/2tsp
Cinnamon                                             1.5 inch stick
Bay leaf                                                 02
Cloves                                                   4-5
Green cardamoms                              3-4
Yogurt                                                    02tbsp
Saffron water                                       02tbsp
Oil/ Ghee                                               1/2 cup
Fresh coriander leaves chopped     1/2 cup
Fresh mint leaves                                 1/4 cup
Star anise                                              02
Lemon juice                                         2tsp
Salt                                                         as needed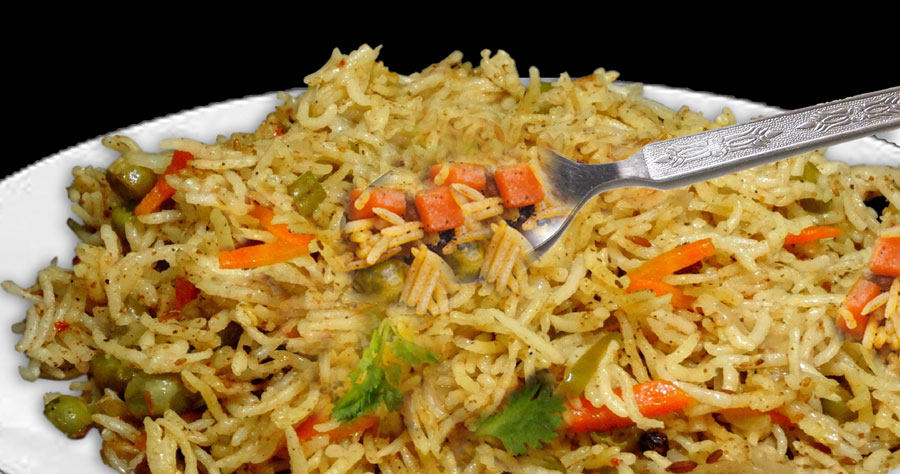 Veg biryani recipe
Rinse the rice thoroughly, take water in a pan and add rice in it, then add bay leaf, cinnamon, cloves, green cardamom, star anise, and salt as needed.
Then put the pan in the medium flame and boil it, then stir with a spoon. Do not cook completely when it cooked 2/3, turn off the gas.
Remove excess water from cooked rice with the help of sieve, and keep it aside.
PreparingVegetable  veg biryani gravy
Place the deep frying pan on the gas and add 2 tablespoon oil in it. Then add Ginger Garlic Paste, Kashmiri Red Chilli Powder, Biryani Garam Masala, and salt as needed, and add 1/2 cup water from above.
Cover the pan with a lid and cook in the medium flame for about 5 minutes, until the spices mix well.
Add all vegetables and mushrooms to this mixture, now add water and stir well and cook it for about 5 minutes in medium flame.
When the vegetables are completely cooked, add lemon juice to it. Turn off the gas and keep it aside.
Mix yogurt and saffron water according to the above-mentioned quantity in a separate bowl. Now mix yogurt and saffron mixture with rice.
After this, put half of the prepared rice in the deep pan, spread it with a spoon. Now add the vegetable gravy and spread it too.
Spread the saffron and mint leaves on it, add 1 tablespoon of ghee on the edges of the layer. Now close it with a tight lid.
Now place a nonstick tawa (griddle) on the gas and keep low flame, now keep the deep pan over it and cook for 20 minutes. When the biryani gets cooked, turn off the gas.
Suggestion
Cut into the length of the vegetables otherwise, it will mix with rice.
Do not cook rice full as it is fully cooked in step 2. This will separate the grain of rice, not sticking.
If you do not have a tight lid pan then use dough wheat flour to close the lid.
Reference: Vegetable Biryani recipe.
See our other recipes.
How to make Chicken curry recipe. An easy make to Tomato Ketchup at home. Hot and spicy Schezwan sauce. Methi matar malai recipe. How to make Palak Paneer.  Mushroom Tikka Masala. Malai Kofta- gravy masala. Veg Mayonnaise Sandwich Recipe easy steps.  Pizza recipe at home. Lauki ka halwa recipe easy steps. Bhindi Gravy masala recipe step by step. Idli recipe in a pressure cooker.
For Pin: