Besan burfi recipe
Learn How to make Besan burfi recipe,  Besan burfi recipe and suggestions related to this recipe. This Indian dessert is very popular and is made at every festival. Diwali, Holi or Rakshabandhan  Besan barfi (gram flour barfi ) is made in every household. It is an easy recipe and can be made instantly, the ingredients used in it are also easily available. Read also.
Preparation time                              10 minutes
Cooking time                                     30 minutes
Serve                                                    08 members
Difficulty level                                   Easy
Cuisine                                                 North Indian
Ingredients for Besan barfi
Gram flour (Besan)                         250 grams
Sugar                                                     0 1 cup or 125 grams
Desi Ghee                                           1 1/4cup (200 grams)
Cashew                                                                0 1 tbsp
Almonds                                              0 1 tbsp
Green cardamom                             4-5
Milk                                                       02 tbsp
Water                                                  as needed
Besan burfi recipe
Place a large non-stick pan on the gas, add gram flour according to the above-mentioned quantity and roast it on medium heat.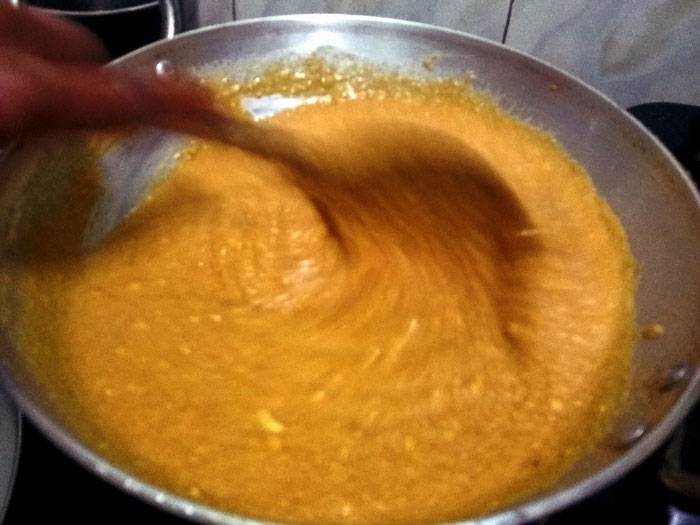 Now add 1 cup of ghee and fry the gram flour (Besan)till it becomes golden.
Meanwhile, keep stirring it continuously otherwise the gram flour will burn on the surface and the barfi will become tasteless. Do not leave any kind of lumps in the gram flour, if it is, breaks while stirring.
Now add green cardamom (crushed) to this mixture and if you want, you can also use cardamom powder.
Add sugar to the mixture and keep stirring continuously, so that the sugar melts and mix into the mixture.
Stir the mixture well and make sure the sugar is mixed evenly. Now a thick gram flour mixture is ready.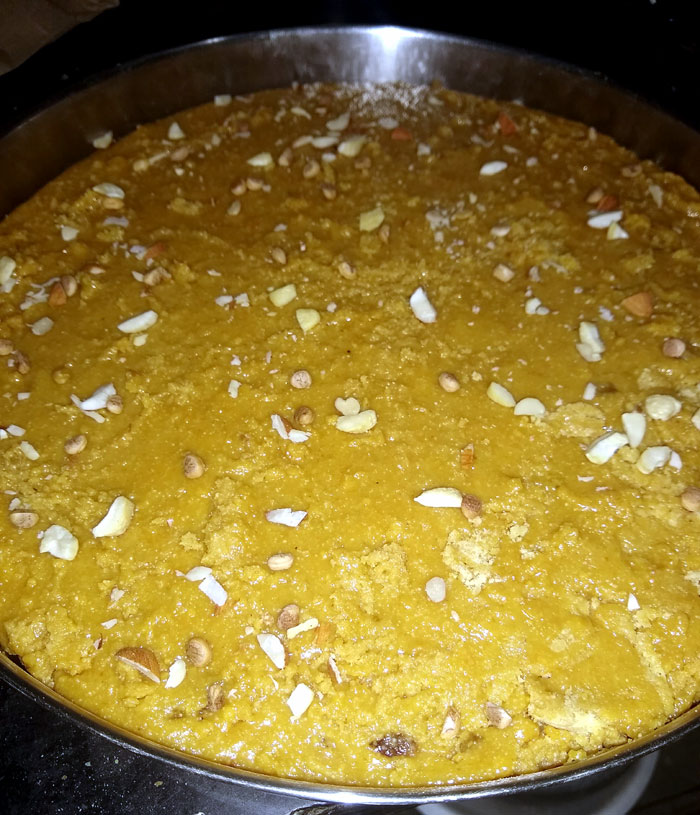 Grease the ghee with a deep bottom plate, and pour the prepared barfi mixture and And spread it evenly on a plate.
Now spread cashew and almond pieces on this mixture, and allow the mixture to cool at room temperature for one hour.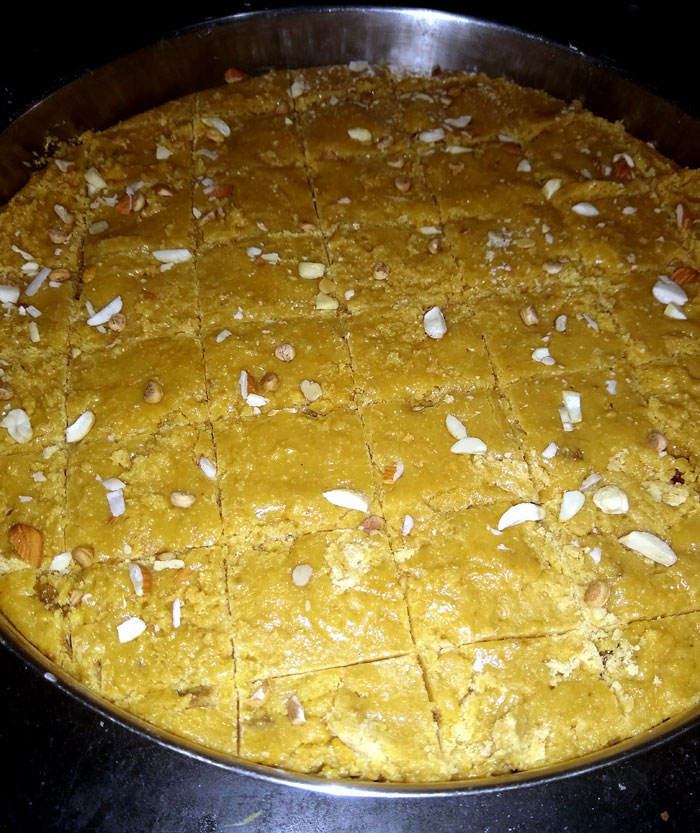 When the mixture cools down, apply a little ghee on the knife and cut the barfi into the desired shape.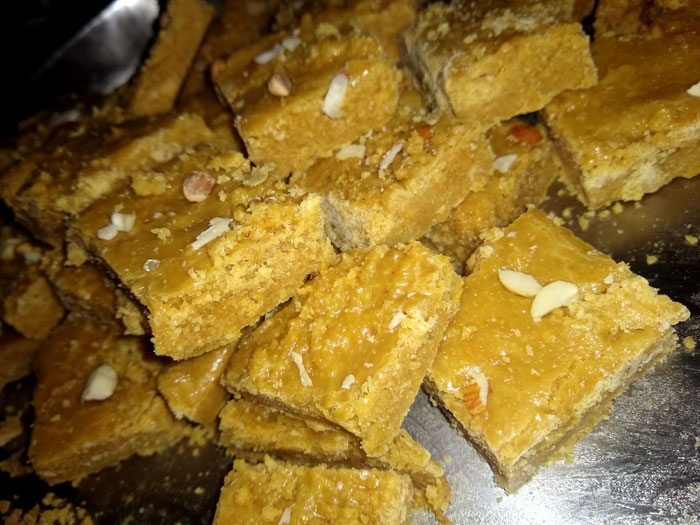 Now your Besan barfi is ready, store it in an airtight container and can eat for several days. Read also.
Suggestion
Stir continuously while roasting gram flour, otherwise, the gram flour will burn on the surface and the barfi will become tasteless.
Do not leave any lumps in the gram flour, and whisk well while stirring continuously.
Apply ghee on the thali or plate before pouring the mixture, otherwise, the mixture will stick.
Key ingredients
Its main ingredients are gram flour, sugar, ghee, almonds, and cashew (chopped).
Tags
Besan burfi, Indian Desert.
Read also: How to make Besan ladoo. How to make Punjabi kadhi pakora recipe.  Vada Pav recipe step by step. Khaman Dhokla recipe at home.  Dal makhani recipe Dhaba style. Chana dal namkeen recipe. Samosa recipe step by step. Coconut Ladoo recipe at home.
To pin