Dhokla
Learn How to make Khaman Dhokla recipe at home can be made easily by conventional way See Nature Bring Recipe. It is a popular dish from Gujarat. This is a very easy and tasty recipe, although the red mix is available in the market, if you prepare it at home then it is very cheap and even pure. This is very spongy and decorated with green coriander and scrap coconut and together with fried green chilies. When your plate is served with soft, spongy Dhokla with coconut chutney or mix chutney, you cannot stop yourself.

Preparation time                  3.30  hour
Cooking time                        30 minutes

Serve                                     04
Difficulty level                      Easy
Ingredients for Khaman Dhokla
(1 cup = 250 grams)
Gram flour                                           01 cup
Semolina                                              01 tbsp (optional)
Yogurt                                                 01 cup
Salt                                                      as needed
Turmeric powder                                1/2 tsp
Green chili  and ginger paste            1 teaspoon
Lemon juice                                        01 tbsp
Soda bicarbonate                               01tsp
For tempering
Oil                                                       02tbsp
Curry leaves                                        10-12
Mustard Seed                                     01 tsp
Sugar                                                  01tsp
Green chilies                                     04 Cut in length
Scrap coconut                                    02tbsp
Water                                                2-3 cups
How to make Khaman Dhokla  
Take one cup of hot water in a bowl and mix well with the gram flour and curd according to the above-mentioned amount. Mix it well, no lumps. Add salt according to the taste and mix thoroughly.
Leave it for 3 to 4 hours to ferment the gram flour mixture. Now add ginger, garlic paste, turmeric powder in this mixture and mix thoroughly.
Heat the steamer, if there is no steamer then heat it with a large pot.
Grease a small plate (which comes easily inside the vessel). Mix lemon juice, soda bicarbonate, one spoon oil in a small bowl, then add this mixture to the gram flour prepared solution.
Put this solution on the greased plate. Then put it in a steamer and cover the lid. Cook it in a medium flame for about 10 to 15 minutes.
If there is no steamer, then in a vessel you are heating the water, keep a small utensil inverted, then place the slurry plate over it and cover it with a lid from above.
To see whether the Dhokla is cooked or not, you should impale the knife on it, if the slurry does not stick to the knife, it means that the Dhokal has been cooked.
Now your Dhokla has become, let it cool slightly, then cut it into a square shape with the help of a knife.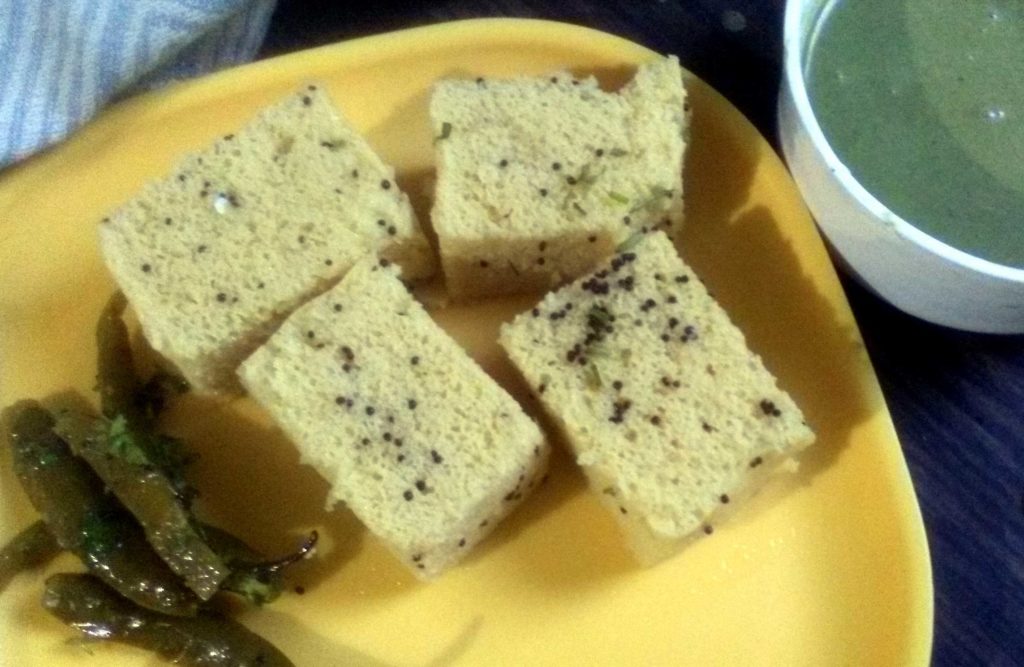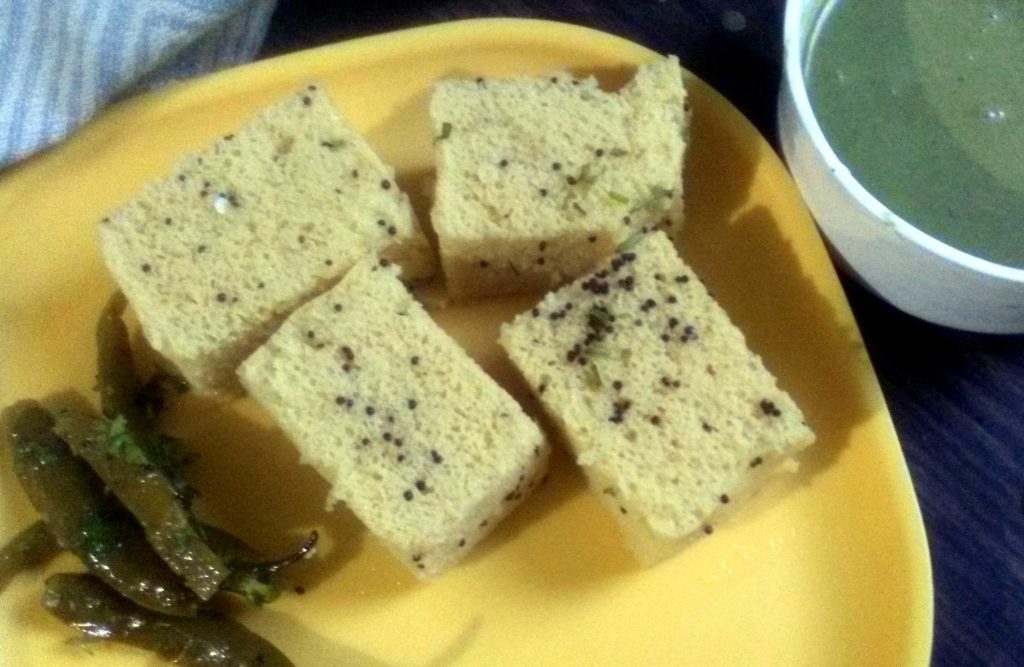 Tempering Dhokla
Heat the oil in a pan, when the oil becomes hot, put the mustard seeds in it, and when the mustard seeds start to crackle, add green chilies, little sugar, and a little salt, then add 1/2 cup water, after boiling shut the flame.
Now pour this mixture on the Dhokla and decorate it with green coriander and scrap coconut.
Dhokla You can serve with

tomato ketchup

,

chili sauce

, or green chutney.
 Suggestions
If you do not have sodium bicarbonate, you can also use Eno instead.
Some people like dry fries. In such a situation, when tempering you insert the mustard seeds and curry leaves on the pan, add the Dhokla in the same, do not use water.
If you cook the mixture much later than adding Eno, then the Dhokla will not become soft due to the exit of the bubble. Keeping the Dhokla immediately after adding Eno or sodium bicarbonate otherwise it will not sponge.
Read also:
How to make Vada pav at home. How to make Chili sauce easy steps. Paneer Butter Masala recipe Dhaba style. Chili soya chunks recipe. Chili paneer recipe at home. Shahi Paneer recipe step by step. Using Baking Soda in your garden.  How to grow curry leaves at your home. Chicken Masala recipe Dhaba style. Vegetable spicy Momos recipe. Malai Kofta recipe easy to make at home.
For Pin: