Samosa Recipe
Learn How to make Samosa, Samosa Recipe. Samosa is the most popular street food in India. In the morning and evening breakfast, samosa and tea are very liked by people of all ages. Inside the samosa, spicy stuffing of potatoes and peas and the outer layer are crisp. Its amazing shape doubles its fun. Prepare its stuffing in different ways, some use cashews, raisins, mushrooms and noodles in it. The kneaded dough is made to a certain shape and deep-frying it, then it is served with green chutney, sweet chutney or tomato sauce. Read also.
Preparation time                        15 minutes
Cooking time                            35 minutes
Serve                                        12
Difficulty level                           Easy
Cuisine                                     Indian
Essential Materials for Samosa
(1 cup = 250 ml)
(For Samosa flour)
Fine Flour                                             02 cups
Pure Ghee                                             1/4 cup
Celery seeds                                         1/4tsp
Salt                                                     as needed
Material For Samosa stuffing
Potato                                                  500g
Green peas                                           1/2 cup
Cashew                                                 8 -10 (if you wish)
Green Chili                                            2-3 (Finely Chopped)
Ginger                                                 01 inch long (make a paste)
Coriander Powder                                  01 tsp
Red chili powder                                   1/2tsp
Turmeric powder                                    1/2tsp
Garam Masala                                       1/4 tsp
Amchoor Powder (Dried mango powder)            1/2 tsp
Green Coriander                                    02 tbsp (Finely Chopped)
Salt                                                     according to taste
Oil                                                        for frying Samosa
How to make Samosa
Boil the potatoes in the pressure cooker, when the cooker cools down, then peel it and mash potato, keep it aside.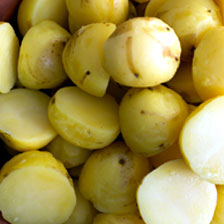 According to the above-mentioned quantity of fine flour, add some celery seeds and salt as needed.
Add water to the mixture and knead the dough a little harder. Now before wrapping, cover the clothes for 15 minutes, it will be well set for wrapping.
Now it is necessary to prepare the mixture for the stuffing in Samosa. Heat 2 tablespoon oil in a pan in a pan. Add cumin seeds and green chilies. After frying a little, add ginger paste and fry for 1 minute.
Add green peas (boiled or frozen) and roast for about 1 minute. Now add red chili powder, coriander powder and turmeric powder and fry a little, add amchoor powder and garam masala and fry for about 1 minute.
Add mashed potato and salt as required to this mixture and cook for about 2-3 minutes.
Mix well and add finely chopped coriander leaves.
Turn off the gas, now your potato masala is ready for Stuffing, keep aside.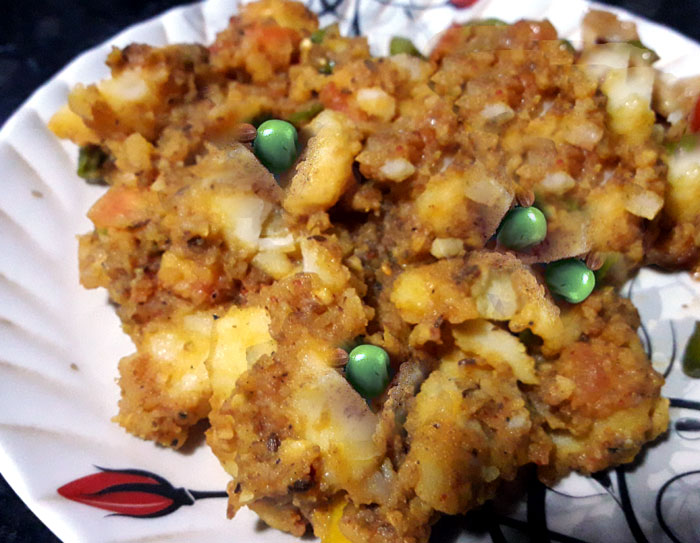 Let the mixture cool down for a while.
Divide the dough into 7-8 equal portions and make balls. Roll out the dough balls with a rolling pin. About 8 – 10 inches diameter is enough.
Cut the roti with a knife in two equal parts. Apply light water with a finger towards half of the cut surface and mix both the parts and paste it. Now you have a triangle shape in your hand.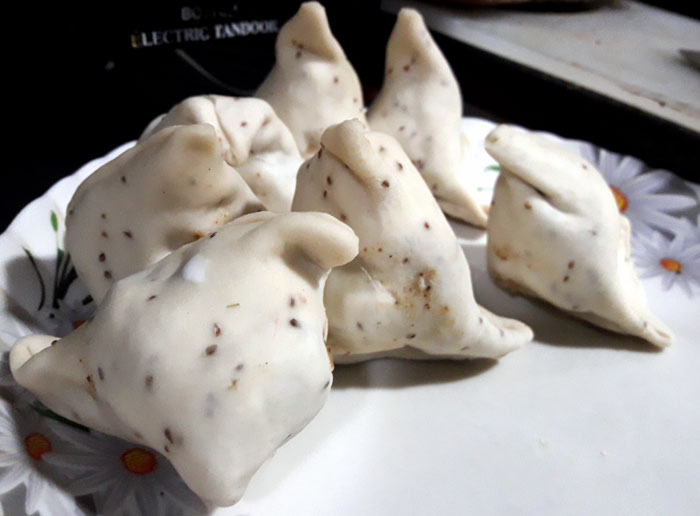 Place this Triangle shape in the palm and fill it with potato masala. Put a little water on the open edge and paste it. Place the pointed portion upwards and keep it on the plate. If not proper shape then presses slightly above the top. Similarly, prepare all the samosas and keep them on a plate.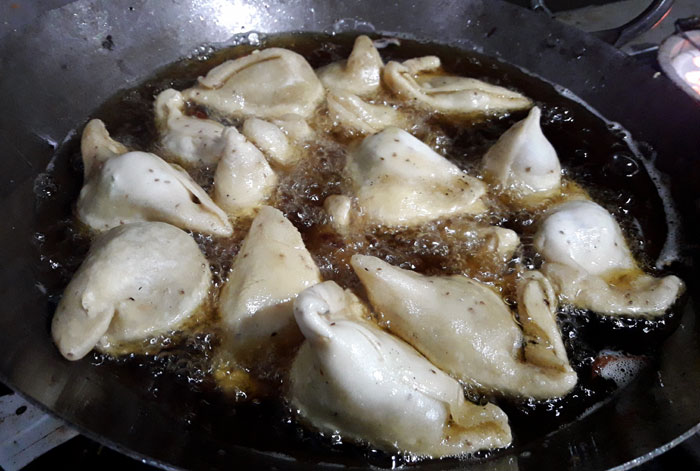 Now, in the frying pan, heat the oil in medium flame for frying samosas. Put some samosas in the hot oil and fry it until it turns brown, while frying the samosas, turn it so that it cooks well on each side. Likewise, fry all the samosas.
Take a hot-hot Samosa, serve it with green chutney, sweet chutney or tomato sauce.

Read also

.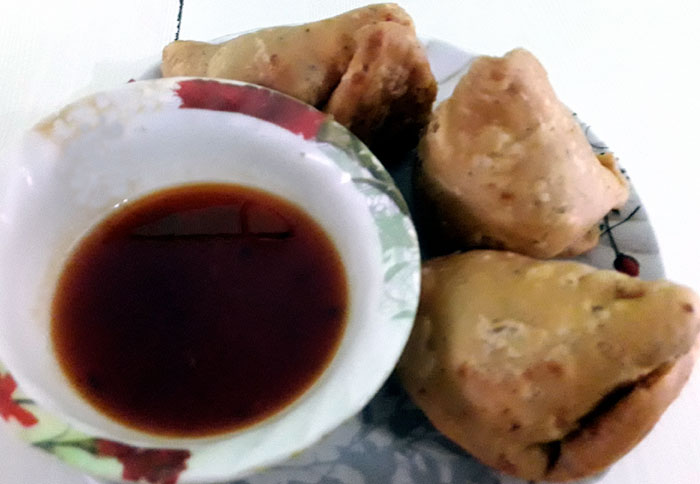 Suggestion:
Add oil instead of ghee while kneading the dough.
You can also add dry fruits, paneer, noodles or vegetables with a mixture of potatoes. You can also put small pieces of cheese on the floor.

Read more

.
Read also: Palak Paneer recipe easy method.  Egg curry recipe easy steps by nature bring. Easy Vada pav recipe at home. How to make Chicken Masala recipe. Street food Pav Bhaji. How to make Punjabi kadhi pakora recipe. Vegetable pulao recipe easy steps. Matar Paneer recipe Dhaba style. Veg Mayonnaise Sandwich Recipe easy steps.  Kaju katli recipe restaurant-style. Chicken masala recipe at home. Pizza recipe easy steps. Shahi Paneer recipe Dhaba style. Malwa Famous Daal Bafla recipe.
For Pin