Plastic Bottle Garden Projects
Today plastic bottle is becoming an important part of garden DIY projects. Its very big reason is the use of plastic bottles in different sizes and much more. The use of plastic bottles in the packing industry is in abundance. From the Recycled Garden, you can give a new dimension to your balcony, backyard and terrace garden through a very cheap, easy and effective way. The plastic bottle is the most available material, this is the reason that its usefulness in the garden is increasing nowadays. You can use these plastic bottles as a vertical garden, by planting herbs in the kitchen garden, or ornamental plants in the porch. Nature Bring is telling you how to use plastic bottle garden projects here.
01 Diy self-watering seed starter pots
DIY Self-Watering Seed Starter Pot can help you a lot if you are going to do your new seedling. Since it is a transparent plastic bottle, you can easily cheque the surface of the water, and you can drink your plant in the right amount. If fungus or moisture stay for a very long time, it will easily affect your plant and destroy them. This is also better because the water you drink from the bottom and fungus is not easily developed. If you do not have plastic bottles then you can also use bottles of wine Gatorade, or Mason jars, which are funnel-shaped. DIY Self-Watering Seed Starter Pot is very easy to make and it will fit easily in a window or kitchen. See to make this beautiful DIY seed starter.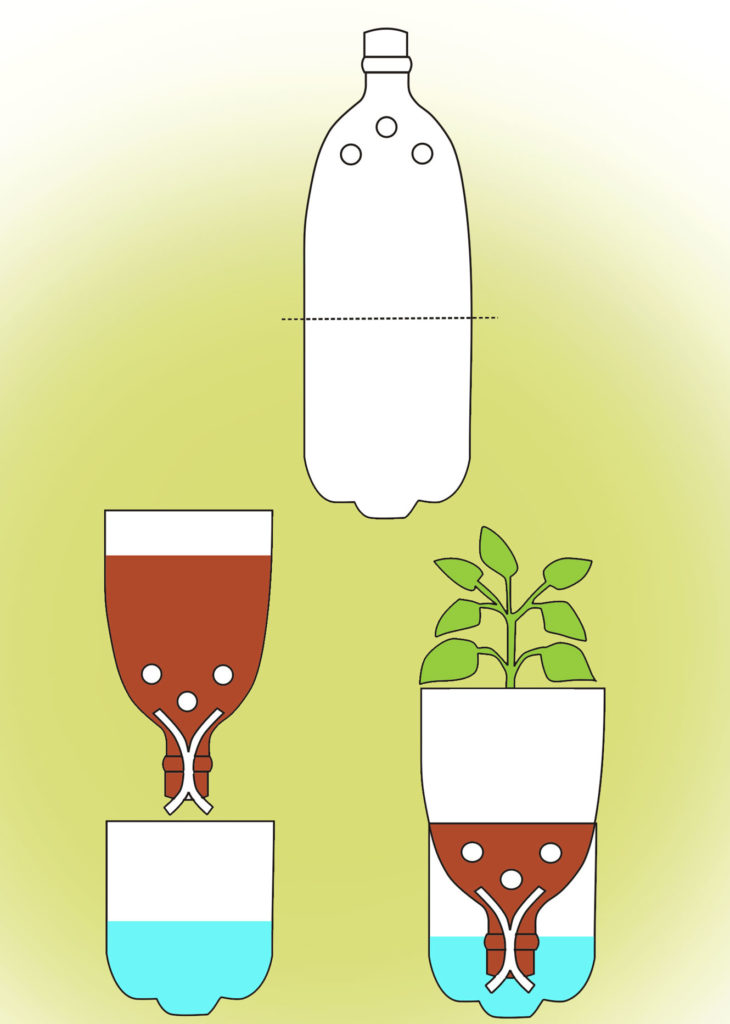 02 Diy plastic bottle sprinklers
If you use a sprinkler to give water to your garden then your plants will experience rainwater and the garden will be beautiful and green, and water will also be comparatively less. With the help of plastic bottle, the construction of sprinkler is very easy. For this, you need a push pin, a bamboo skewer, an empty plastic bottle of 2 liters and a hose adapter from the hardware store shop. Use the washer to seal the leak from the mouth of the bottle. See for more information.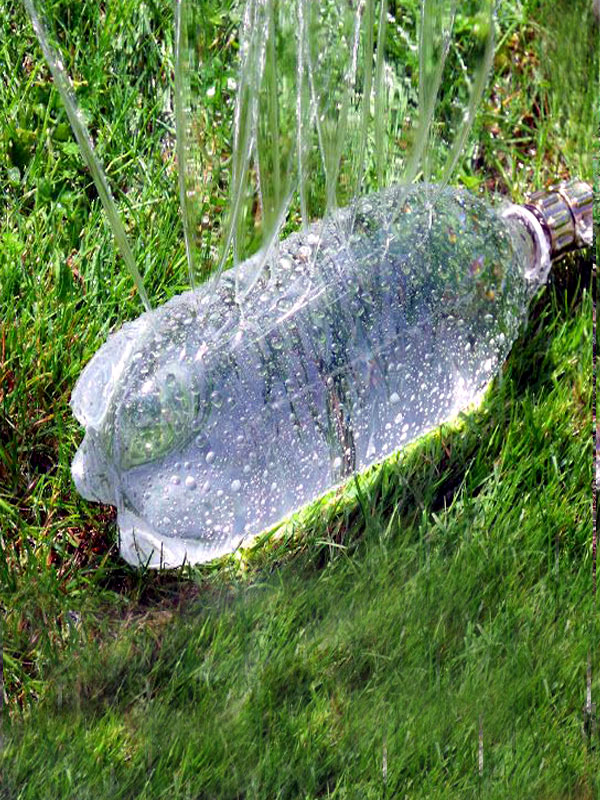 03 Growing onion vertically in a plastic bottle
Wish fresh and green onions, how good would it be to get food. If you need a vegetable or if you get a fresh onion for a salad or soup then you get a good taste and fresh onions, it can be possible if you put it in a small place in your kitchen garden. Although you can apply it to your ground, sometimes it can not be possible in the absence of space.
For this, we are giving you a simple suggestion, you have to use a 5-liter plastic bottle. It is an easy way to get a practical space-saving and green onions too. Nature Bring is making you aware of this easy method through easy tutorials here. See more.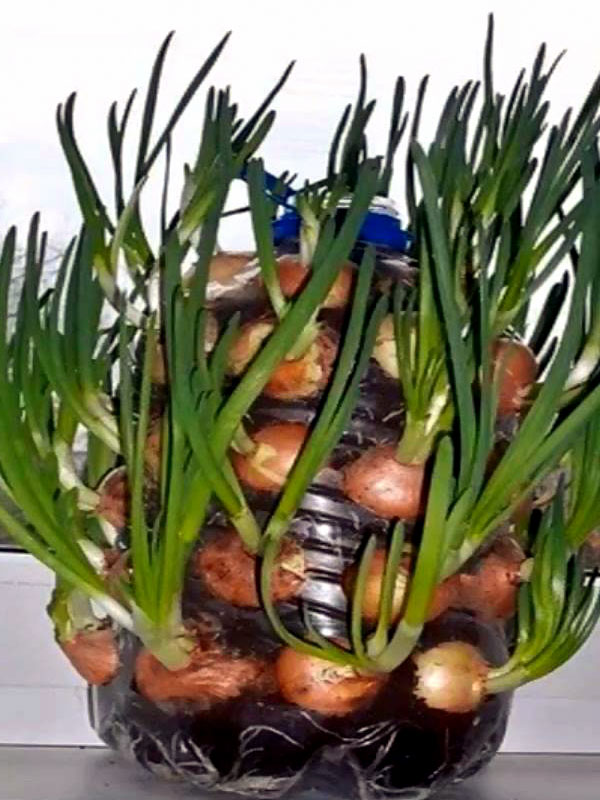 04. Plastic bottles vertical gardening
You can change your garden into a vertical garden with some cold drink bottles and a bit of crafting skills. Vertical gardens are an alternative for gardeners, which have no more horizontal blank space and want to cover with plants. If you want something different in your garden. Learn this through the Easy Tutorials.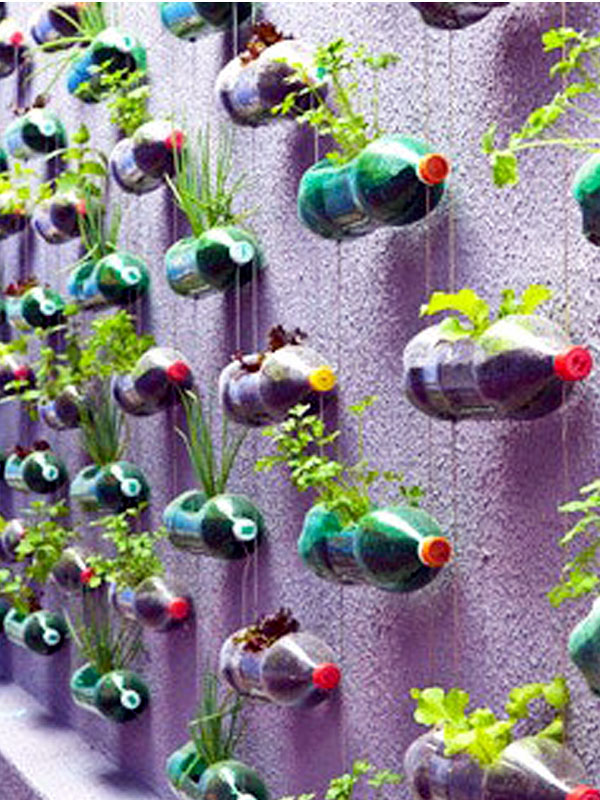 05. Plastic bottles sprinklers or nozzles
We all know that plants love sprinkled water. And when you do not have sprinklers or nozzles, there is no need to worry. You can keep your plants happy while using your old oil cans.  Separate the lid of your old plastic oilcan. You can make holes for a more substantial flow by using a small needle and a large needle, for this you heat the needle and holes in the lid with regular gape. You can make a thick and thin hole according to your need. See the tutorial for more information.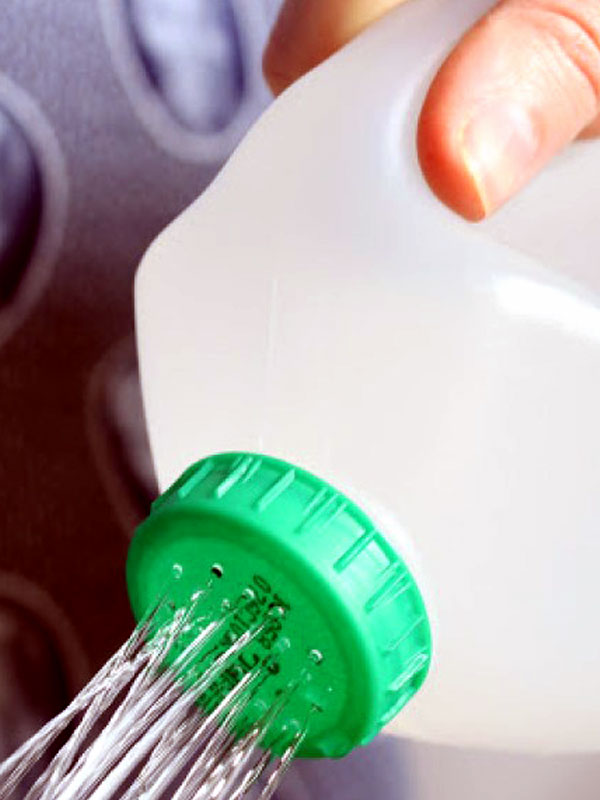 06. Recycled plastic bottle Greenhouse
The construction of an old plastic bottle greenhouse is very easy. This is an eco-friendly garden project, which seems quite attractive to watch. This is new and wonderful project enhances the beauty of your garden. Recycling is not the only trend, but today's age is needed. It is a good use of plastic bottles in a planned manner. Although it takes a lot of time to make it, it is very cheap. For this, you can collect plastic bottles in your backyard, or buy it from a cold-drink shop. See tutorials…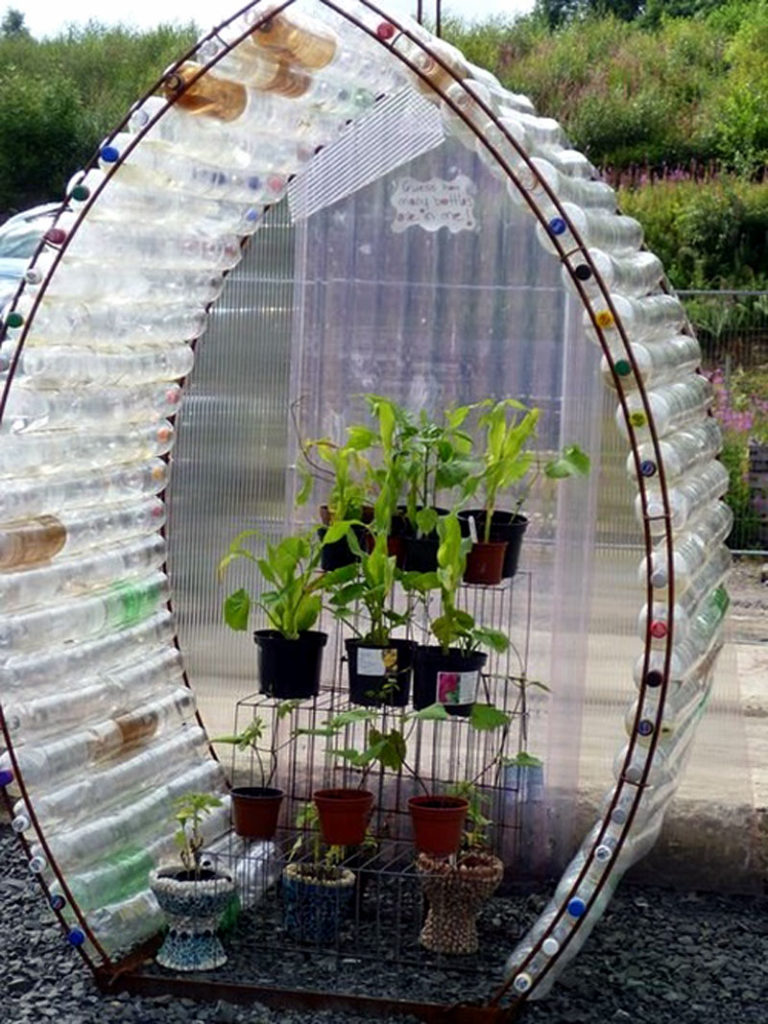 07. Plastic bottles kitchen gardening Projects
You can use the old bottle of two litters in a kitchen garden and terrace garden. It is easy to make and it seems quite attractive to see. If cut apart the parts of plastic bottles with the help of a sharp knife, separate it. Make small-small holes on the lower surface of the bottle, so that the water can be easily drained. Fill the potting mix in these bottles and prepare a beautiful kitchen garden.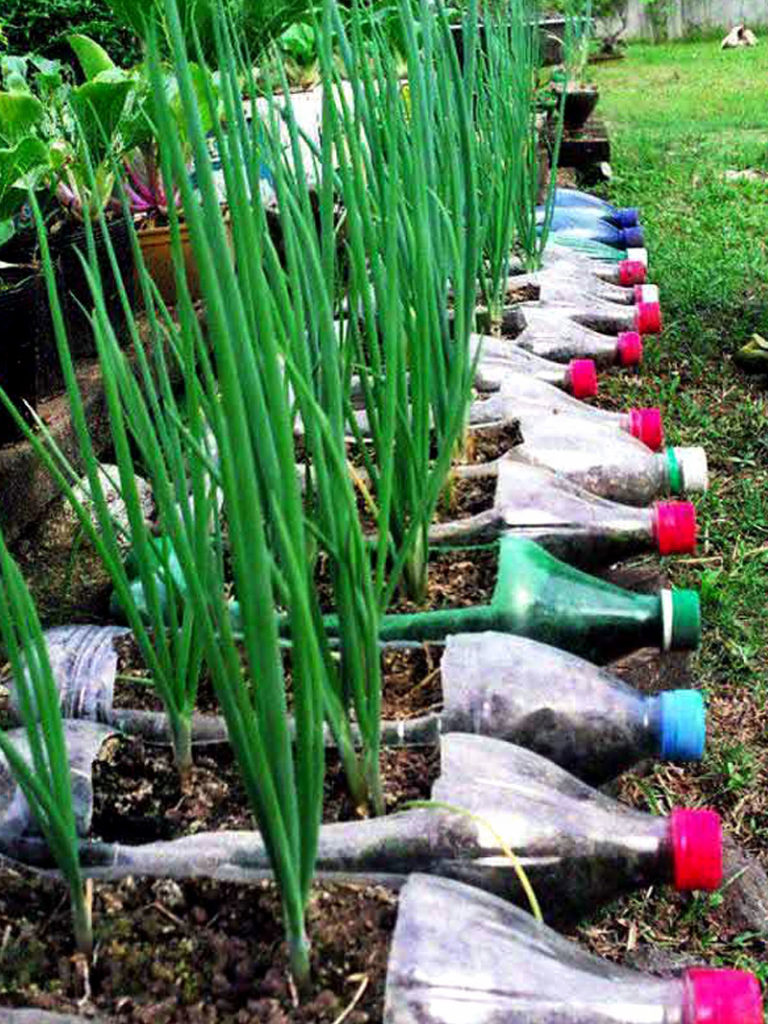 08. Plastic bottle drip feeder
Drip feeder is a great idea for your vegetable garden. In this, you recycled it using the old plastic bottle and many plants prefer moisture on the surface of their roots, it is better for them. This method prevents you from wetting the leaves and getting rid of many types of fungal diseases. It works very well. It can take advantage of many other projects besides the vegetable garden. If you love perennials, then drip feeder is absolutely right for this. See for more information.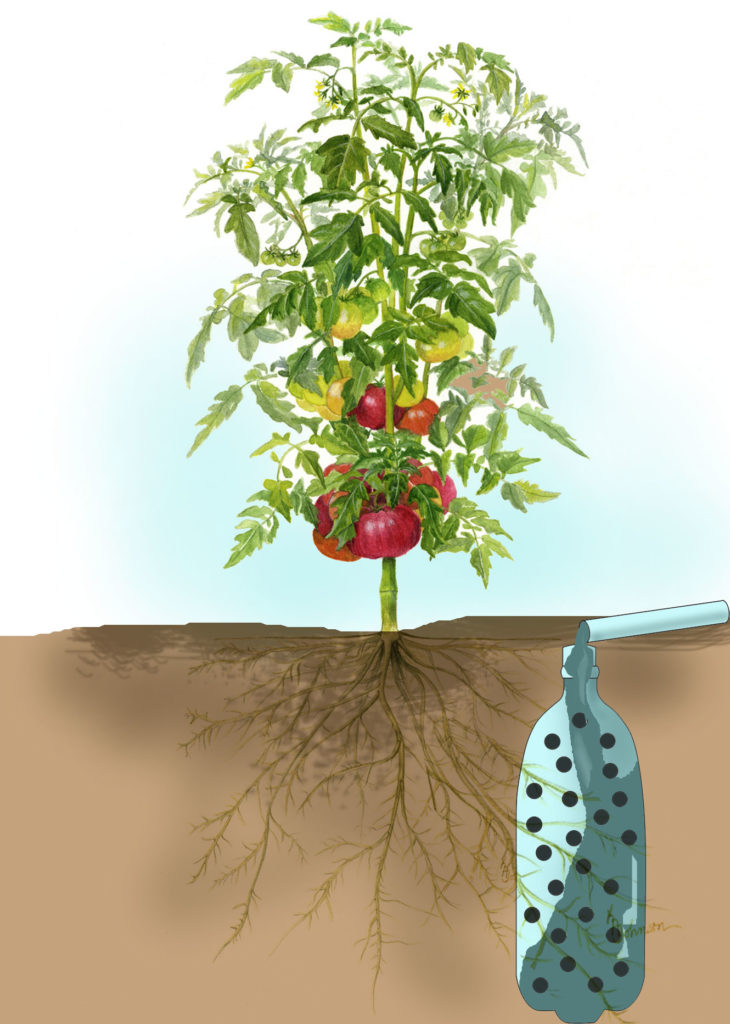 09. Hanging Plastic bottle tomato planter
Using the old plastic bottle, you recycling it is a new experience in itself; it not only gives you a new look to your garden and also uses old bottles. If you find tomatoes in it, believe that you will not need to bring it from the market. In this, you will not need to do tomato trailing and the place will also work. See in details.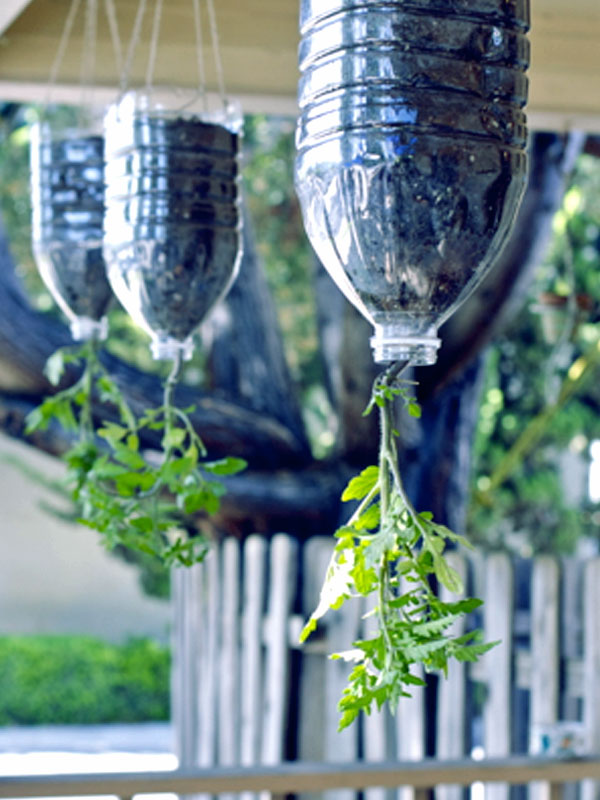 For pin: