Impatiens
Learn How to grow Impatiens in containers, Growing impatiens plant, Impatiens varieties, and more about this plant.  impatiens flowers are splendid plants that grow in shady areas, which are liked because of their bright colors. It is the most popular annual flower, its height is 1 ft. Flowers of Impatiens come in many colors, including white, red, pink, purple, coral, purple, and yellow. New Guinea impatiens are very popular flowers, they are large in size and can tolerate full sun. These ubiquitous colorful flowers are ideal for planting in the boundaries, hanging baskets, and containers of the garden, they can also be put in the utensils which will keep the entire heat blooming on your front porch. They are native to Africa, Eurasia, and North America.
Impatiens flower
In the spring, its flower seeds are easily found in the horticulture center and nursery. You can put them on different trays to create colorful patterns. It has three common varieties, each in the shape of different colors and different petals. Its Tom Thumb varieties come with large and bold flowers, super-elfins have pastel-colored flowers, and swirl varieties have curly patterns on petals, which are orange and red.
Classification
Scientific name                         Impatiens walleriana
Common name                          Impatiens or Impatiens flowers
Plant type                                 Flower
Sun requires                              Part Sun, part shade
Blooming time                           Spring- Summer
Flower colors                            Pink, Red, White, Purple, Orange and Bio colors
Soil                                          Rich well-drained and moist soil
Soil pH                                     6.0-6.5
Zone                                         9-11

Growing Impatiens plant
Propagation
Impatiens plants are grown easily from seed, for this both light and heat are essential for germination. You can sow its seeds in a tray or peat pot. Sow the seed in the potting soil and cover about 1/8 "part of it, you can use the germination mat or keep the pot in a warm place, it germination occurs in about 15-20 days. They can also make plants by cutting.
 Soil and location
Well-drained soil is rich with hummus. These plants require a good quantity of water, hence the well-drained soil is the best. For this, choose a place where there is no heat and intensity of the sun directly; Impatiens flowers flourish best. They can be planted in partially shaded beds, although it is good to have some sunlight in the morning but keep it in the shade in the afternoon. You can also keep it under bright, filtered light under the trees.
Planting
Planting of Impatiens is very easy, but you can also start them through seeds too. You need to plant seeds in January for planting in spring. Fill your seedling tray with the potting mix and moisten the tray, press the seeds lightly in the mixture, and keep about 22 ° C.
Keep moisture in the soil for these plants. Keep moisture in it until it is ready for planting in utensils or in the ground. Do not keep the potted plants in direct sunlight, as the container quickly dries direct sun.  Read more.
Watering
Your impatiens plant should give at least 2 inches of water once a week. These plants are very sensitive to heat and if your area's temperature is above 30 degrees Celsius, then at least 4 inches of water per week will be required. At this temperature the plant in the container should be given water regularly, they are also very sensitive to water.
Fertilizer
The plants of impatiens do not really need fertilizer. You mix the slow-growing fertilizer in the potting soil and it meets all the requirements. During the summer season, you can give a small amount of fertilizer in the middle. The plant will grow from the excessive amount of fertilizer but you will not get more of the flowers. In the spring and summer seasons, you can give water-soluble fertilizer every two weeks.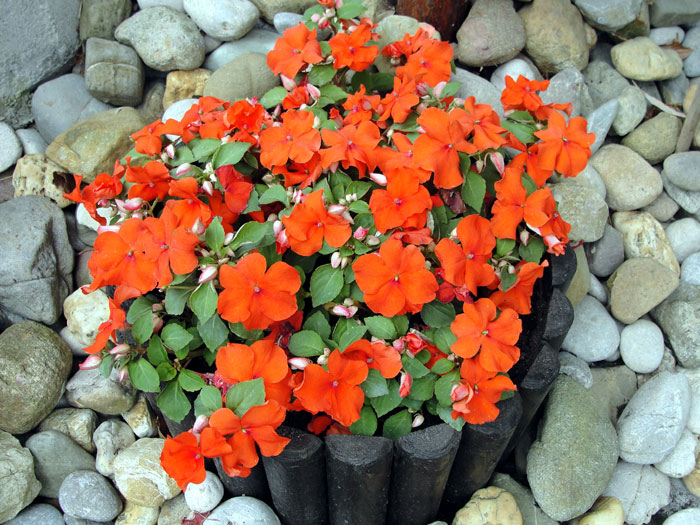 How to grow Impatiens in containers
Impatiens are best to put in containers because they add color to semi-shady areas in the home scenario. You can hang them in the containers, in the courtyard, or the hanging basket in the balcony. These are low annual maintenance plants that come in many colors.
From the nursery, you can search for a healthy green leafy plant or do your own seeding.
To harden Impatiens in outer containers, place the plant in a two-hour sunny place and then place it in a shady place. Gradually the plant becomes outer air etc.
Make the proper arrangements for the drainage of the container first. Fill the container with a good quality commercial potting mixture. Fill the container within approximately 1/2 inch from the top. In your potting mix
Add substances like compost, peat, or perlite.
Make a hole in the potting soil and bring it from the nursery, or carefully plant grown by seed.
Then patch the soil slowly around the roots, The main stem and roots of the plant are found, that place should not be buried.
Give the plant well water Re-water the soil after drying slightly, it helps prevent rot and fungal disease. Check the plants at regular intervals, because in the hot weather, the soil of the container gets dry quickly, dry soil tends to plants.
Container plants should feed every other week, use a general-purpose liquid fertilizer as per the instructions in the packet.
Keep your Impatiens in a place where there are a sunny morning and afternoon shadow. These plants grow well with filtered sunlight.
Pests problems with impatiens flowers
Over the years, downy mildew has become a big problem for impatiens plants. When the problem occurs, the leaves of the plant begin to yellow and the leaves become curling and appear on a white powder on leaves. Once the plant is suffering from this problem, it becomes very difficult to control.
The diseased plants should be removed immediately and remove the fallen leaves. Keep the plants in the open air so that the air circulation can be free. If this disease becomes serious then you should choose another bed for the plant.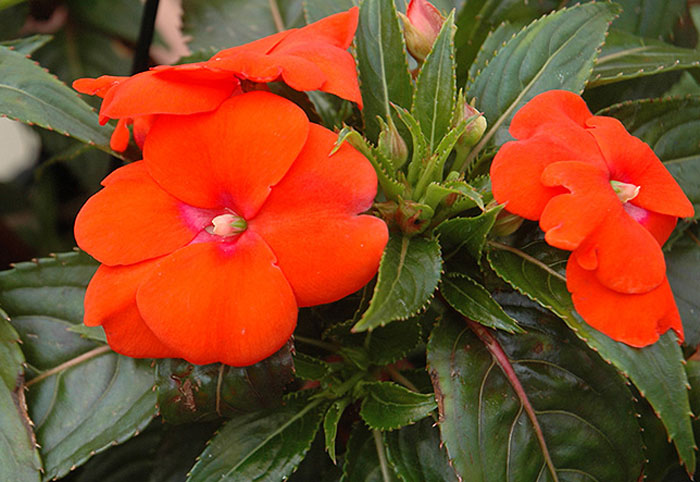 Varieties of Impatiens flowers
It has more than one thousand varieties, but some of it is common.
Impatiens walleriana : It is the most common in North America, and is grown as a perennial.
Impatiens balsamina: It is commonly called Garden Balsam or Gulab Balsam. These are cup-shaped flowers and are grown annually.
New Guinea Impact (Impact Hawker): Its flowers are large in size and can tolerate full sun.
Jewelweed and Touch-Me-Not (Impressions Capensis and Implant Pallida): These are both wildflower species and closely related to annual and perennial impatiens. 

Read more.
Read also:  How to grow Custard apple in containers.  Haw to grow Black Pepperat home. Growing Sweet Cornin containers. Spring Onion growing and caring tips. Holly tree growing and caring tips. Planting Freesia flowers in containers. 11 best flowers for your Winter garden. 8 Perennial vegetables you can plant once and savor forever. About us. Container gardening best filler plants.
Happy gardening
For pin: