Primrose Flower 
How to grow Primrose Flower, Growing Primrose from seed, Primulas cares, knows more about its growing conditions then read the following article. Primrose flowers bloom in the early spring, which has been diversified to the base of color and shape. This evergreen flower blossomed in the early spring, blossomed together, and decorate your garden. Primrose treats the container gardening and blooms again in the fall. There are many varieties that bloom in the container. The color of its flowers is blues, pink, red, yellow, orange and purple color, etc. These are easy container garden flowers that you blossom beautifully in your garden twice a year.
About Primrose
Primrose flowers are fragrant flowers that flourish in abundance for long periods of time. These plants are also present in the container in the cold. Select the plant with buds, it will perform long-lasting durability. Primulas can be planted inside the pot, they are short-lived. Usually, these plants live for 6 months. At the end of flowering, the flowers become faded.
These are perennial plants and prefer the humid environment. Reproduction in growing Primrose is easy because these plants are quite hardy and adaptable. This is why Primrose will easily find you in every nursery. Primrose can easily develop by seed with an equal mixture of soil, sand, and peat moss (Potting Soil). Nature Brings are giving tips here very easy.
Overview
Scientific name                  Primula vulgaris
Common name                   Primrose
Plant type                             Flower
Sun                                          Full sun/ partial sun
Soil                                          Acidic/moist
Soil pH                                   6.5
Height                                    18" -24"
Flower color                         Blue, Red, Yellow, Pink, Orange, and Purple
Blooming time                    March-may
Zone                                        5-9

Growing information Primrose
The choice of place is important for growing primrose, choose a place where there is a complete sun or a partial shadow.
They prefer acidic soils, for this, soil ideally pH is 6.5. Depending on the diversity of the soil, the soil can be from the rich loam to the average soil. Before planting, mix lots of leaf mold in the soil.
If available, then use leaf mold every year as a mulch, it is also useful in the form of plant manure.
Until these plants reach a height of 8 to 10 centimeters, keep in the indoor.
This plant requires additional fertilizer and water, they are happier with more water. It requires high nitrogen and humidity in the summer season. But the water does not accumulate, the danger is rooted when the water is logged.
If your area is dry, then select a drought-tolerant plant. If once the plant is established it will grow well and will last for a long time in the summer. It does not require much

supervision

.
How to grow Primrose from seeds
Fill the potting mix in about 4-inch wide pot. Then water it until it becomes saturated, give it water.
Insert 2 to 3 seeds in each pot. Insert seeds from depths of 1/2 inches and cover them with soil, light is necessary for germination of germination.
Cover the pot with clear plastic sheets. Then shift it to the propagation tray, or to have a shallow tray that can keep about 1-inch water.
Then shift the tray to cool location. Some sites recommend keeping it under fluorescent lights. Keep this in 10 to 12 hours per day in this light.
Watch the primrose seed daily, and leave the water if necessary. Keep the soil moist for germination. The ideal temperature is 60 to 65 degrees F. Under ideal conditions, germination is in 10 to 30 days. When the plants look up, remove the plastic sheets.
Once the height of the plantation is about 3 to 4 inches, you can transplant it to a large

container

or garden.
*The best time to plant polythene, acoli, and orricula of some species is from February to April. But in very serious areas you can sow it in April from Mach. If you want to plant it in June or by the end of July, you will keep it calm and moist.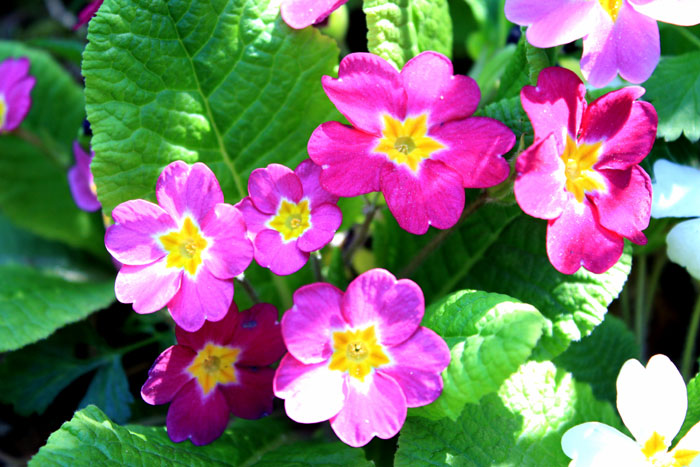 Propagation Primrose
It is easy to grow from Primrose by seeds because these plants do not transplant properly. Sow its seeds at the beginning of the season and cover them with mild soil. While sowing seeds, read the instructions given on packets properly.
Blooming time Primulas
These perennial plants are usually blooming in spring, but it can vary depending on the weather conditions. In the harsh winter, its flower may be delayed but light winter encourages its flower.
Insects and disease Primulas 
If your primers are kept in the right soil, the right environment, and proper observation, then it will face fewer problems. Healthy, aromatic plants, insects, or diseases can be affected very little. Primrose remains safe from insects and diseases.
Read also: How to grow Crossandra flower.  Best flowers for Bees and Butterfly garden. 8 Best Frugal Gardening tips. Growing Pansy flowers by seeds. Growing and care information about Lupin. The best Filler plants for a container garden.  How to grow Holly tree in containers. House plants care: Keep your plants healthy. Spring Onion growing and caring tips. 11 Best Winter flowers for your garden.
Happy Gardening
For Pin: