Dwarf Mango tree
Know-How to grow Mango tree, Growing Mango tree in a pot, Mango plant care, harvesting, and pests problem then read this article.  This fruitful tree grows in warm temperatures, and its large variety forms a shady tree. These trees grow to 65 feet in height and live up to 300 years. Although the size of its plant is quite large, you can keep its dwarf varieties in the container. You can grow this plant in a container, garden, terrace, or courtyard.
Container gardening has its advantages. You can easily manage it in less space.  Dwarf species of mango can be 4 to 8 feet high and the tree grows in USDA Zone 9-10 areas very well. The best time to grow mango trees in the container is spring.   These tropical plants are native to the Indian subcontinent and the national fruit of India.  It is a very popular plant and used as a variety of sweets,  pickles, and shakes, etc.
Classification
Scientific name                   Mangifera  indica
Common name                  Mango
Plants type                         Fruit
Sun                                     Full Sun
Soil                                     Rich soil
Soil pH                               6- 6.5
USDA Zone                        9-10

Growing Mango tree in pots
Dwarves are very similar to ordinary variety. But their height is 4 to 8 feet, so you can put it in the container. Mango trees always flourish very well in USDA Zone 9-10.
To grow the Mango plant you choose at least 20 inches large container. The pot should have a good drainage system as these plants need good drainage.
This is the best fruit to grow in the summer. If the container is large and the plants heavier, so use a wheel tray to shifting.
Spring is the best time to grow the Mango plant in a container.
Choose a dwarf species, such as Carrie, Coggeshall, Irwin,  Nam Doc Mai, etc. grow well in the container. You can also try some other varieties such as King Thai, shall and Glenn, etc.
Spread the gravel or broken pot piece into the container surface. Use prepared soil add with biological compost because this plant requires more nutritious soil. Put the mango tree after it.
Water the tree immediately after planting, and put the tree in a place where full sunlight direct comes.

Read more.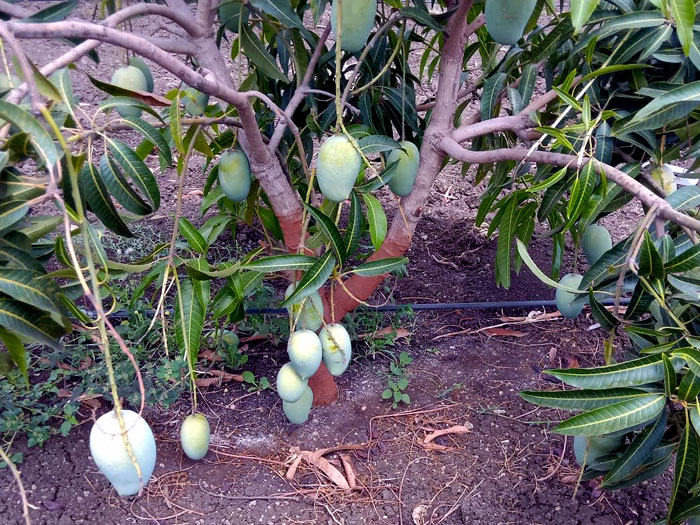 How to grow a Mango tree
You should choose a large size container for growing a mango tree.
It prefers well-drained and rich soil. To make the soil rich, you should use 40 percent premium compost, 20 percent pumice, and 40 percent forest floor mulch. This potting mixture is of weight and contains a lot of nutrients. For this, soil pH 6-6.5 is the most ideal. It is important from the plant's quality and health perspective.
These plants like hot temperatures, so they prefer full sun. Therefore, place it where at least 6 to 8 hours of direct sunlight may occur. Before put it inside when the temperature is low.
Good moisture is required to grow this plant. Therefore, humidity should be 50 percent or more. Wash the plant regularly. Do not keep water under the fruit tree, use water to grow only relative humidity.
Mango plant needs water on a regular basis. Water in the plant, when the soil dries up to 2 in the container.  Water should be completely removed, if the water is logged in the container, the plant can be damaged.
Propagation
Mango plant is propagated from the seed. These fruit tree plants are usually grafting using many techniques and many advanced varieties are developed, most of which is being used in India.
Care of mango tree
Rest in the spring with a mango tree with full heat emulsion.
It is a tropical plant, so keep it in the sun for 6-8 hours. Give water regularly in the summer months, in the winter season, you stop the water continuously.
However, it will be difficult to do this, but you remove the flower blooming the first year. This will encourage your mango to increase.
Insert Slow Release Fertilizer (18-6-8) after 6 weeks of planting. Read the instructions written in packets for the best results. Use mulch.
In order to maintain the container favorable, prune the mango in the late winter or early

spring

.
Use the stake to give extra support to the fruit tree after giving fruit.
Can this tree grow indoor?
These trees will grow inside the house, but this is not the ideal condition for this tree. How would it be to plant a tropical fruit tree in a temperate climate, you can think of yourself,  how the fruit tree will behave. If you find it in Indoor, then both pollination and acclimation will have to be considered. Due to the spread of pollen from flower to another flower, the probability of production of fruit increases. (
Pests and diseases
Common pests such as Hoppers,  Mealybugs, Scale, and Mites are bothered mango trees. They make the trees weak, due to which there is a reduction in the production of fruit.
Harvesting 
Fruits come in 2 to 4 months of flowering, but it depends on the diversity of the weather. In hot and humid climate these fruits ripen fast when fruits rip, its sweet scent spreads. These are mature fruits, you can harvest even immature fruits. This fruit is used to make pickles, sherbet, chutney, and sour.
Pests and diseases
Read also:  
How to grow Onion in containers.  7 easy Garden ideas.  How to grow Black Pepper plant.  How to grow Lavender in containers.  potatoes  Growing and care.  Growing Kohlrabi at home. Growing Spring Onion in containers. Elephant apple growing and caring. Freesia flowers Growing and planting . 8 common Gardening mistakes easily avoided. Anthurium plant Growing indoors. 8 Best Frugal gardening tips. Mulberry tree growing at home. Oregano growing and care guide.
Pests and diseases
For Pin: