Marigold Flower
Marigold is very popular as a herbaceous plant. Its pungent smell and is used in many cosmetic treatments. Many species of these plants, which main is Tagetes lucida, T minuta, Calendula, African Marigold, French Marigold, Tagetes etc. Tegets most cultivated varieties of which are known as African Marigold. learn How to grow Marigold, Growing marigold plant in a container,  Marigold plant Care, Varieties of marigold plant and more about this plant.
Most herbaceous plants are members of the sunflower family. Tagetes (Genda) is also Hardy annual or perennial plants are of the same genus. They are native to North and South America, but these species are found worldwide. One species T. Minuta plant is considered harmful in some areas.
About Marigold
This plant blooms throughout the summer regularly, so it is more popular than the other perennial. The reason for its popularity is grown in very easy circumstances. Once you put it when it grows easily with ordinary care. Plants prefer full sunlight status, but they can tolerate partial shade if the environment remains moist.
Its flowers come in different colors, but the main colors are yellow and orange. These flowers of particular importance in the festival, In festivals Nepalis and Indians decorate the house and use it in the worship of deities. Its wide cultivation is used in India and Thailand. Marigold flowers are a double daisy, carnation-like flower heads are goods, which are produced singly or in clusters. Read also.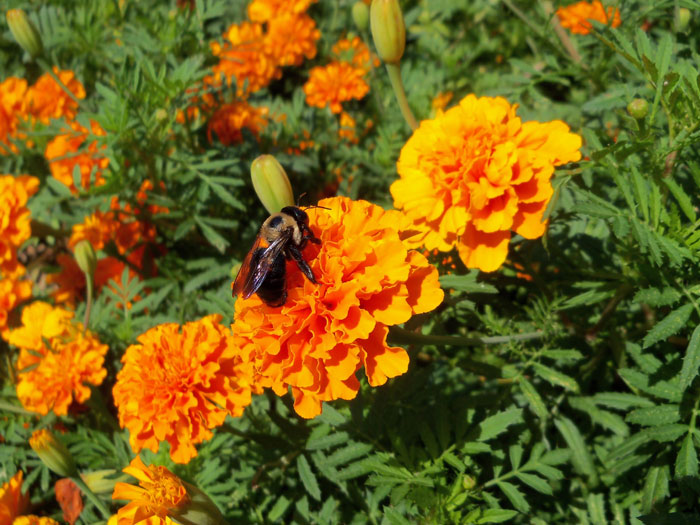 Overview
Scientific name                     Tagetes
Common name                     Marigold
Plant type                              Flower
Sun                                         Full Sun
Soil type                                 Loam, Sandy
Flower color                          Yellow, Orange
Bloom time                           Spring, Fall, Summer
How to grow Marigold plant
How to grow Marigold Plant, it is much easier to grow than other plants, their care is also easy.
The plant prefers full sun, sometimes they tolerate partial sunlight when the temperature is high.
These plants are generally flourishing in the soils of any type but the moderate fertile, well-drained soil is good.
When the soil temperature is warm then it should sow them directly in the garden. Last spring, a month before the cold season you can start seeds indoors.
Its seeds germinate easily get indoors. It takes 45 days after sowing to flowering.
Plant seeds 1 / 4 centimeter should press in the soil and water should be sufficient. A few days later when the plant should be 2 inches tall, then transplant into the loose soil.
When you transplant this plant into the container using a perfect potting mix.
Flowers bloom for long periods in the flowering period use potash fertilizer.
Pinch off the first flowers are when they open, it helps in the production of flowers wide.
Seed Saving
Zinnia and calendula seeds such that the number is too much. When the flower is dried out completely, cut them and make a bundle, hang it upside down. Once it becomes dry and crisp, so be sure to keep it safe from the hand's crush.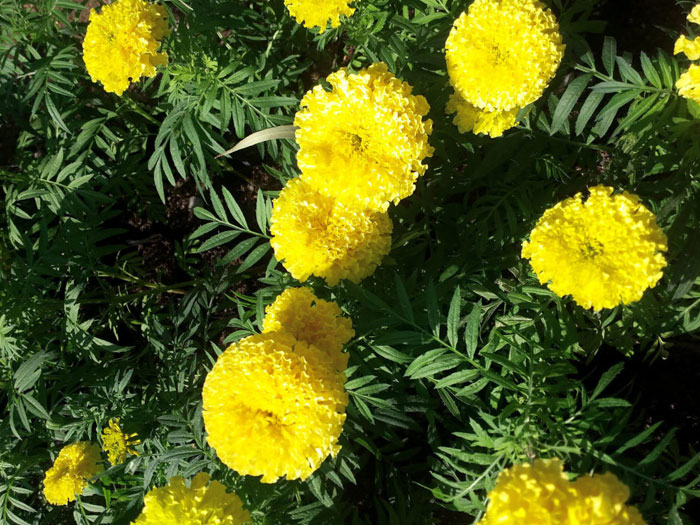 Marigold plant Care
However, there is a fairly pungent smell of the plant, still threatened by insects, it is relief. Many times it can upset slug.
American and Triploid species is fairly long, are carried to the heavy rain and wind damage it. To avoid this problem, use stocking.
Water when you see it, the soil is dry, then re-water.
Do not water the overhead Marigold, but the base of the plant.
They will thrive in poor soil so that the plant does not need fertilizer.
Africa dense double flower headstands for rot in cold weather.  Read also.
Varieties of the marigold plant
01. Tagetes
Tagetes species of different sizes 0.1 m to 2.2 m tall. Most species have pinnate green leaves. Often golden orange, yellow, white colors are found. The flowers are 4 to 6 cm in diameter. These are planted annually in horticulture. This perennial species is quite popular.
02.Common 
Usually, it consists of an orange color. There are some plants from the Asteraceae family, Ornamentals and that which is widely cultivated.
Insects and Disease of Marigold plant
This plant has some pests problem. To avoid these problems, the plant should grow around the cabbage and broccoli. Keep an eye on this plant is quite slug harm. Soft-bodied insects, aphids, and spider finish by insecticidal soap spray or from the strong stream of the water. (1)
Keep in mind bacterial leaf spot, powdery mildew, Alternaria leaf spot, damping-off, root rot, and the risk.
Read also:  How to grow Crossandra flower. Growing and care about Petunias.    How to grow Jade Plant.    Colchicum growing and caring tips.  Plumeria Growing and caring tips. Growing Anthurium plant indoors. Pansy flowers growing and care guide. Mulberry tree growing at home. Lily Growing and caring tips.  Orange jasmine growing and caring guide. Best flowers for Bees and Butterfly garden.
For Pin: