Pear trees
Learn How to grow Pear trees, Growing Pears in pots, Pears care, harvest, and pests problems in this article. The growing condition of the pears is almost like apples, only it blooms first, due to which there is a high risk of late frosts. Some types of pears are suitable for growing in large pots, which you can provide shelter in the cold.
Overview Pears
Botanical Name             Pyrus
Common name              Pears
Plant type                     Fruit
Sun required                 Full Sun
Soil                              Loamy/ Sandy soil
Soil pH                         6.0-7.0
Bloom time                   Summer, Fall
Zone                            3-10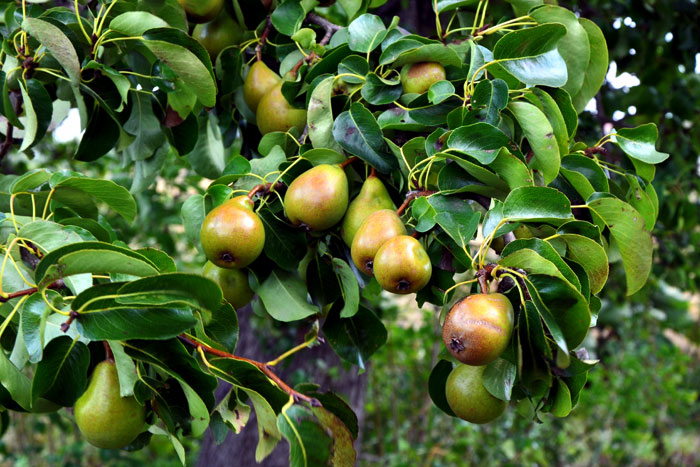 How to grow Pear trees
Soil and location
Pear trees prefer loamy, sandy, and well-drained soils; its tree grows well between 6.0-7.0 pH. For this, choose a place where full and direct sunlight comes. Well, air circulation will keep the plant healthy. There are many species of pear trees while shopping, choose the species according to the diversity of your area.
However, there are many varieties that are suitable for almost any climate.  
Planting time
The best time to plant bare-rooted pear plants in spring. If you live in more cold winter areas, then it is best to plant bare-root plants in the spring, when trees are dormant. In the container, you can plant any time of the year if the soil is suitable for work. But in the dry and warm months of the summer should not be planted. How to water your garden.
Spacing
Break the soil of your garden and make it loose well, add enough organic ingredients in it. Make a big and deep hole, and plant it. Full-size trees of pears take 20-25 feet wide, make sure for dwarf trees 12-15 feet apart.
Watering
Sprinkle the water slowly after the planting, by which slowly the soil should sit, if the soil is sat, fill it with soil. New plants require water 2-3 times a week, thereby keeping moisture in the plant. Do not overwater, the root of the plant will be damaged if water logging in the soil. When the tree becomes mature, then less water required. Water the tree regularly during the drought period.
Fertilizer
If you grow the plant in highly fertile soil, then use less fertilizer. Must start fertilizing when new growth starts in the spring. Use such a complete fertilizer, which reduces the amount of nitrogen compared to phosphorus and potassium. More nitrogen often develops leafy branches and prevents growth. It develops leaves than fruits. When the tree is 12 inches high in one season, then use less fertilizer next year. If the leaf appears yellow in the summer, then use a little bit more fertilizer next year.
Growing Pears in pots
Like other fruit trees, pear trees can be grown in containers in traditional ways. To grow in the container, select dwarf varieties of pear trees. If you select self-fertile varieties, pollen does not require other trees. Buy a healthy, disease-free plant from the nursery and place it in the container.
To grow pear trees, choose 18-20 inch diameter containers. You can put it in plastic, terra-cotta, or wooden containers.
If you want to grow pears by seeds, then you use the seed pot, fill the container with the

potting mix

and plant its seeds 1-2 inch deep. You can plant 3 seeds in a pot at the distance.
Water immediately after planting, after 2-3 weeks you will see sprouting. Do not water from above or else the seeds will displace. Keep the soil moist.
Now cover your seedling pot with a transparent plastic sheet and keep it in a bright and warm area, they can grow well by near a sunny window. If the plant is kept in more light and warm areas then more water will be required.
Keep checking, until at least 4 true leaves do not emerge in the seedlings. The first leaves that appear on the germination are stiff and do not have true leaves. When your germination contains at least 4 true leaves, you can transplant it.
 Transplant into different pots. To prevent damage to the root structure, make a slightly larger hole than the root ball. Now you can keep your pot inside or out of the house on the basis of weather. If the plant becomes very large, then you transfer it to a large pot.

Read more

.
Pears care
At least two varieties should be planted because cross-pollination is required to produce fruit. Ensure that the varieties are compatible with each other.
The size of the trees is larger, so space 20-25 feet apart. For the dwarf tree 12-15 feet apart is sufficient.
Water the young trees well, especially during dry conditions, it will help to establish roots.
Sort broken branches or dead leaves with sharp scissors. The best time of sorting is the early spring before the growing season. Cut off diseased and embroiled branches.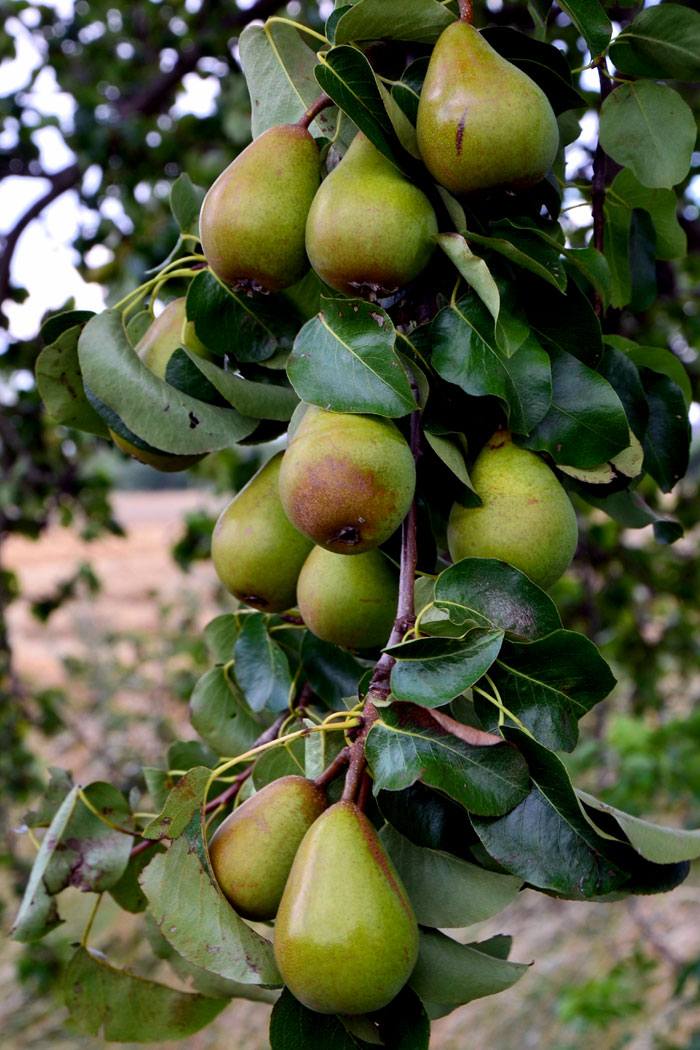 Harvesting
Various types of pears are harvested from mid-autumn to midsummer, and from July to October. Choose the full-size fruit for the harvest, leave the green, crippled fruits and hard fruits. Put the fruit in a cool and dark place to ripe.
Problems with pears
There are some common problems of pears, These are brown rot, Pear rust, pear leaf blister mite, pear of coriander in the head. It also has problems with aphids and mites.
Brown rot is a type of fungal disease that appears brown on the fruit, sometimes also with white pustules of fungus on the surface of the fruit. This is worse in the wet summers. As soon as it appears on fruit, destroy it immediately, remove rotten fruit, which will prevent it from moving forward.
The pear rust is a disease spreading in the summer and in the autumn, due to this, bright and orange spots appear on the upper surface of the leaves. As soon as it appears on its leaves for prevention, remove it, and destroy it. Thereby preventing it from expanding. No chemical control for this.
Pear leaf blister mite is a common problem occurring on its leaves, causing yellow or red blisters on the leaves which later become black. Though it does not affect the crop. For remedies, remove the damaged leaves and destroy them.

Read more

.
Major varieties of pears
There are more than two thousand varieties of pears, it is impossible to list them all. In short, it is made in standard, semi-midget, and dwarf type varieties. Its dwarf varieties are suitable for growing in containers. Among its other varieties are also fruitful and non-fruit trees. The three main varieties of fruit trees are European, Asian, and Hybrid.
 European pears  
These are the varieties that are usually sold in big markets. They are very tasty, but they are not very disease resistant. They have an upright growth habit and your garden looks attractive. This includes mainly Barlett, Bose, Colette, Anjou, Moonglo, and Sunrise varieties.
Asian pears
Asian pears have hard meat and have different sizes than European pears. It is also known as a Chinese pear or apple pears. Many of its varieties grow 15 feet long and most of them are partly self-fertile. These varieties include the Olympics, Peggy, Moonglow, Hosui, and Maxie.
Hybrid pear
Hybrid Pears is a mixture of varieties of European Pears and Asian Pears, it is better for canning and cooking because they are harder. Mainly it includes Kiffer, Comice, and Orient,  Seckel varieties. Read more.
Read also: How to grow Peachtree in containers. Celery growing in containers. Orange growing and caring guide. Know how to grow Pansy flowers. Cantaloupe growing in containers. Jade Plant growing indoors.    Onion growing in containers. 8 Best Frugal Gardening tips. Growing Black peppers in containers. Growing Heirloom tomato plants. Onion growing and care guide. Watermelon growing guide.  Verbena's growing and caring tips. Anthurium Growing in pots.
Happy gardening
For Pin