Bougainvillea
Bougainvillea flowering shrubs plants are a climber with stiff curved thorns, bushes, and flower-like spring leaves which are bright green. It has various species. Some experts say these species vary between four and eighteen.  Nature Bring is telling you about the easy Growing Bougainvillea, bougainvillea care, Bougainvillea cutting, and How to grow Bougainvillea in pots, tips for you to know the needs of the plant.
Classification
Scientific name                      Bougainvillea
Flowering time                     Summer to autumn
Planting time                        Spring
Sun Required                       Full sun
Temperature                        18-21 degrees C
Pruning                                  Early spring
Soil                                         Well-drained / slightly acidic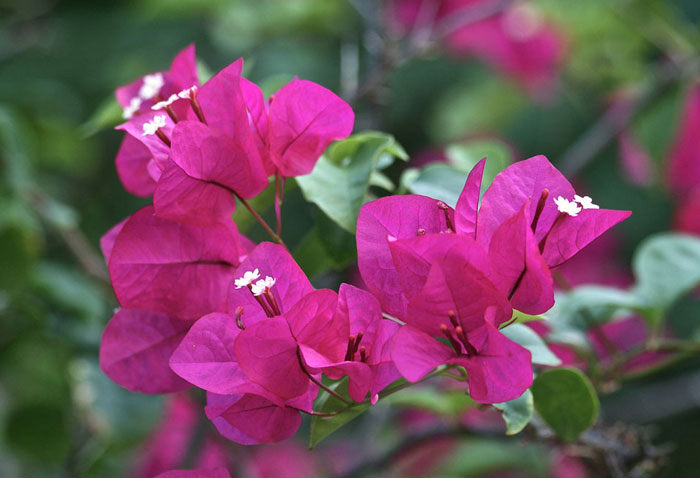 Bougainvillea flower
It is a hardy plant with clusters of showy flowers,  Bougainvillea flowers are of very vibrant colors.  The plant can be grown on the ground or hanging baskets or a large container, fence, or a wall. Its leaves are heart-shaped and flowers papery bracts in white, pink, orange, purple, and burgundy, and its branches are thorny.  During summer, this tropical climber adorns your garden in a large container. It has over 300 varieties all over the world.
Growing Bougainvillea
Sun and Temperature
This flowering shrubs plants prefer full sun. At least 6 hours of sunlight is important for the plant. Bougainvillea flowers bloom during the spring in the tropics. The blossoming period lasts 3 to 4 weeks. In the tropics, they continue to bloom perennially. The best time for this flower to bloom is when the temperature is 65 degrees Fahrenheit (18.3 degrees Celsius). The night should have a minimum temperature of 10 degrees Celsius. You can put it in your garden during the summer, but in winter it should be frost-free.
Soil and fertilizing
Water doesn't deposit around the plant. So, the well-draining medium is necessary. Use organic compost and sand with soil. Allow low-nitrogen fertilizer before the plant grows and blooms.
Watering
In the beginning, water every day. Once they settle in the soil, bougainvilleas bloom in dry soil. Avoid soil mixes with high peat levels and water retention. These types of media retain too much water and will contribute to root rot. Sunny places and warm temperatures are also a must for them to bloom. If possible, keep your plant outdoors for better blooming.  Read more.
Pruning
Remove dead branches while giving a proper shape to the plant. This leads to the sprouting of new leaves and flowers. Wear gloves when pruning the plant because there are thorns in its vine.
Bougainvillea cutting
Summer or early spring season is the best time for it to plant by cutting. New plants will bloom in 2-3 years. Propagation of the plant is not easy in the house, so many endeavors have to be tried.

How to grow Bougainvillea in pots
Choose a large container, because its roots are quite spread. There must be a hole at the bottom of the container for the draining of water.
Use well-drained and slightly acidic soil with a granular fertilizer before planting it. A bougainvillea blooms best when pot-bound so do not be tempted to re-pot unless you must. It is best to leave the plant in its original container until the roots replace all soil and you can't keep the plant well watered.
Flowering shrubs plants are native to the tropical region and can face a hot and humid climate. Necessary to give water to the plant regularly. Make it better in alternate days, so place the pot in the shed during the cold, you do not have to worry because the plant blooms again after the cooling season is over.
Bougainvillea plant care
When the plants start growing in the pot, start pinch to avoid it becoming a bush.
Use soluble fertilizer for plants engaged in the container. You can add this fertilizer when you give the water to the plant. You can also use a balanced fertilizer like 20-20-20.
When your plant grows and that there are more roots than the soil, then you should re-pot.
Pest and disease                                                                  
These shrubs plants are a relatively pest-free plant. But even they may be suffering from worms, snails, and aphids. The larvae of some Lepidoptera species also can be used as food plants.
Bougainvillea Varieties
Bougainvillea glabra is its original variety. But hybrids have been used extensively, so most of the shrub plants found are a hybrid. Based on the bract color and size you can choose your plant. The way to grow and the care stuff is the same.
Although many varieties of bougainvillea are suitable for growing in the container, there are some of them that perform well in the container. 'Miss Alice', along with the white cluster, flowers come with which can be easily applied in the container. 'Bambino Baby Sofia', it blossoms with orange flowers and goes up to a height of about 5 feet.  Rosenka or Singapore Pink blossoms in clusters with pink flowers, if you like the pink color then you can consider it. The 'La Jolla'or 'Crimson Jewel' is the perfect red flower to grow in the container. And if you like purple colors then you can try 'Veera deep purple'. Read more.
See also: How to grow Garlic vine. How to grow Turnips in containers.  Growing Amaryllis from the bulb.  11 best Winter Flowers for your garden.  Best flowers for Bees and Butterflies garden. How to grow and care about great Blue chalk stick. Growing Gerbera Daisies in containers. Container gardening.  Winter vegetable growing and caring tips. Lily growing in containers. Anthurium growing and care guide
For Pin: