Growing Chrysanthemums 
Chrysanthemums scattered their amazing color on patios, terraces, and balconies. They make your home colorful and attractive. Let's know  How to grow Chrysanthemums in a container, Chrysanthemum propagation, care and Chrysanthemum growing information.
Chrysanthemum flower
Chrysanthemum flowers sometimes called mums, Chandramukhi, Guladaudee, Chandramallika, or chrysanths, are flowering plants of the genus Chrysanthemum in the family Asteraceae.  They are native to Asia and northeastern Europe.  Chrysanthemum 400 AD was brought to Japan by Buddhist monks. Mum's throne to sit on the Japanese emperor used to love. These flowering plants are growing Tropical, which is basically the Eurasian region. With 20,000 species of chrysanthemum, the Asteraceae family is the largest family of flowering. Here Nature Bring tells you a Chrysanthemum growing tips and care.
Wild chrysanthemum is a texa herbaceous perennial plant. Mums leaves are alternately arranged into leaflets with toothed. The head is covered by layers of phyllaries. The flowers are white, yellow, and red in the colors. Chrysanthemums are also known as 'Mums'. Starting early in the fall blooming chrysanthemums are beautiful varieties of perennials.

Overview Chrysanthemums
Scientific name      Chrysanthemum
Plant type              Flowering herbs
Sun                        Full sun
Soil                        Fertile, sandy soil
Blooming time      October -November
Height                   10 centimeter- 1.5 meter
Rank                      Genus
pH                         6.5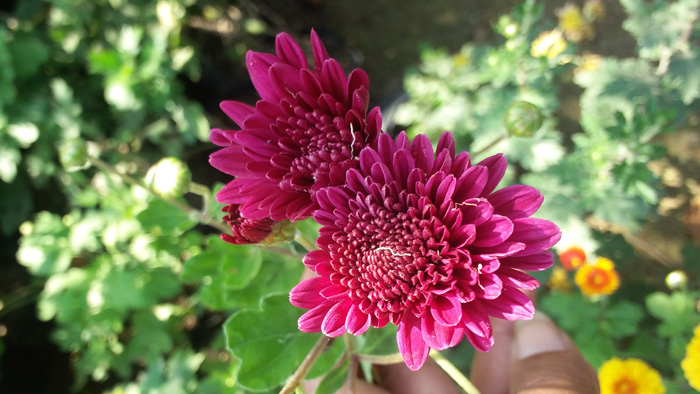 Growing information Chrysanthemums
How to grow Chrysanthemums, this is not a complicated process, this plant can be easily planted, but every plant has its own nature, which depends on its temperature, climate, and soil there.
Location and Soil
Mums prefer full early sun, at least 6 hours of sunlight is necessary for the plant when inserted it in the sun so it would be nice to produce flowers. It responds to well-prepared soil and moisture because plants require more food. Mix well the soil, fertile, sandy soil is good. The time of planting, the holes should be dug extra deep so that the roots can be moisture.
Planting time
The easiest way to develop early in the spring season. However, it can be planted at any time, but its root system before the summer season should be developed properly.
Varieties
There are hundreds of species on the basis of individual size and color, you can choose any option for your garden.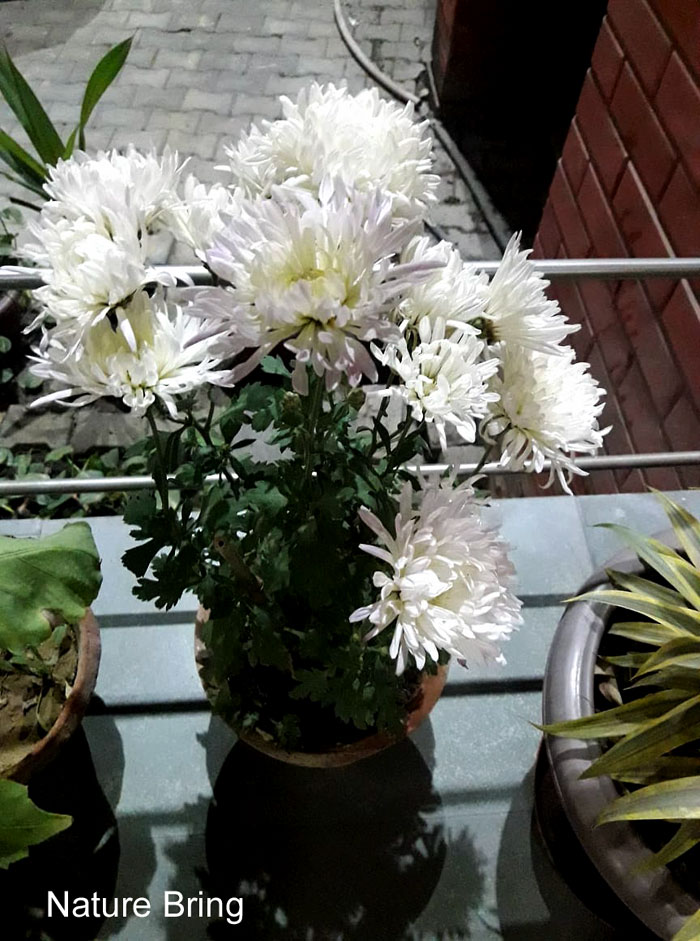 How to Grow Chrysanthemums in pots
Mums grow very easily, so any gardeners can also grow it without any problems. If you want to

grow in the pot

, choose-medium sized pot.
It flourishes well in a well-drained and loamy soil. Mix the sand in the soil so that it becomes well-drilled, mix organic compost in the soil, thereby improving soil quality.
Bring a healthy plant from the nursery. Put it in the pot. After growing plant, water it liberally for a few weeks. This will help the establishment of the plant. After planting them, for good results, place it on the courtyard, balcony or terrace on your house, where there is clear sunshine.
If you set up inside the house then there is clear sunshine. Direct sunlight and proper air circulation are important for the healthy growth of these plants.
Chrysanthemum propagation
Mums propagated easily by seeds, you can plant it by cuttings and dividing also, or buy from the nursery.
Use 4 to 6 inches fresh healthy cutting, remove the lower half of the leaves ·
Rooting hormone use in cutting. The sterile moist sand, vermiculite or sphagnum moss and keep up to a 1-inch deep crater.
Prepare a mini greenhouse container above the container cover with poly film. ·
Chrysanthemum produced by seeds soil before the start of the spring season.
Chrysanthemums care
Do not plant mums for three consecutive years in the same place, it helps to prevent diseases and pests. To get the best results plant should at a distance of at least 18 to 30 Inches.
This plant is required balanced

fertilizer

every 2 weeks.
When the plant is 6 inches long, then all branches of the plant pinch about 3/4 Inches. It helps to develop the plant and promote more bloom when the plant should be 1 foot tall pinches them again.
The plants are susceptible to mildew, so the priority should be to keep the plant dry.
The plant much more air circulation, water drainage, and the morning sun are very important.
These plants require fertile, well-drained, sandy or loamy soils with 6.5 pH.
Balance fertilizer and sunlight encourages blooming in the growing season.
Pests and diseases Chrysanthemums
Aphids and leaf miners are common pests. Leaf and bud eelworms stock can cause damage. Occasional pests like Capsid bug and glasshouse red spider sometimes damage. Rust diseases, white rust, are particularly harmful to the chrysanthemum, it is difficult to control them. Powdery mildew can be harmful in dry conditions. In wet weather, gray mold and other fungal diseases harmful.
Read also: Growing Rosemary plant. How to grow Petunia in a container. Growing Beets in containers. How to grow Calendula.  7 gorgeous container plants for the spring garden. 10 splendid plants for Flower Bed Gardening. Lilac shrub growing tips by Nature Bring. Balcony Garden. Poppies growing and care tips.  Begonia growing in containers.  Self-seeding plants for your garden. 8 common Gardening Mistakes easily avoided. Flowering vines for your Balcony Garden.
For Pin: