Balcony garden Climbing plants
If you live in cities then you have limited space and all want to make your life fresh and happy, and try to bring greenery. In such a way, we have the best choice Balcony Garden. The balcony garden is a part of heaven, in order to develop it, we need good flowering vines and houseplants.
Gorgeous flowering vines that have made the beauty of your balcony garden and maintain your space too,  you can plant it in a container. Some are here. They can insert in your terrace Garden because you have limited space in the balcony garden or outdoors. Here are seven such flowering vines that you plant in the container, and a stick of bamboo for a balcony with mesh resorting.
1.Rangoon Creeper for balcony garden
Rangoon creeper is a normal vine found in India, Which is quite long and the attraction of your balcony garden. It is not the thickness of the fabric. Its flowers are the white light scent in the beginning and gradually it pink, red, and in the end, it gets darker maroon. This plant has a whole summer is plenty of blooms, the plant is required to support the climb. Fence it is good the vine fencing is able to take this much seems to be spreading the crop is required.
This vine is found in India, the Philippines, and Malaysia. The plant in your garden can easily plant; this is also easy to grow in a container. The same plant is more than 3 colors in the flowers bloom. We have two types of vine first is a single color and the other is a two-color flowers blossom. More about Rangoon creeper.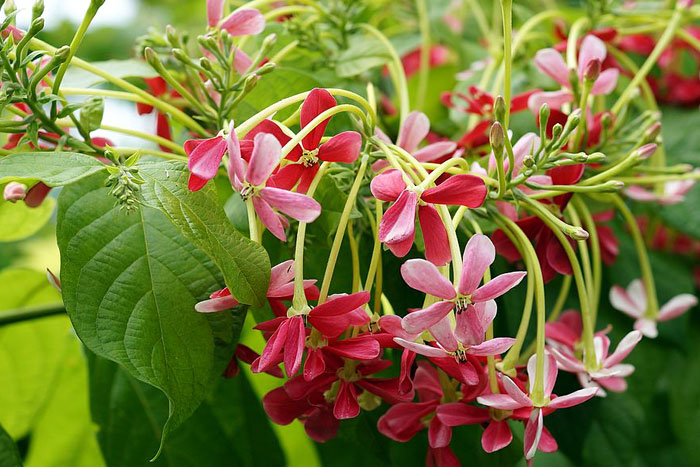 2.Black-Eyed Susan flowering vines
This vine is a perennial climbing plant grown in temperate and cooler areas annually. You can also see it as a houseplant in your balcony garden. This Bell can be up to 8 feet in length. You grow it in your garden and enjoy the beautiful flowering vines, which bloom in early summer. Its vine tender evergreen and its leaves are arrowheads shaped about 3 inches long.
You can grow this vine from seeds. You seed it in 60 degrees F indoor. After 10-24 days place bean sprouts. You can plant from its healthy branch. You clean the leaves below healthy sprig cut it in glasses of water and leave them for a few days, and a few days later to get the root.  When you transplant you take a large size container in which it may be an appropriate drainage system. Before planting use potting mix. Then put in the pot up shade. Use this propagation in the spring season.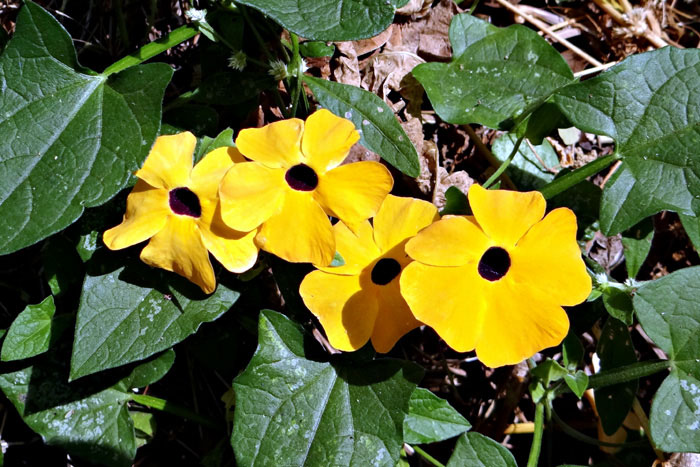 3. Morning glory
Morning glory flowers Neil, violet, pink or white trumpet-shaped flowers. These flowers bloom in the morning with sunrise, therefore it is called morning glorious.  These Evergreen plants. These climbing plants are most annual. Their flowers have fragrant. Morning glories do not require much care, but if not then care so quickly seems to be visiting as a weed.
Seeds can easily grow and its seeds are black or dark brown in color. You can grow in a pot; they are a 2-inch dent in the pot for seeding, after seeding you keep in shade, taking in a few weeks after it sprout. Then you can transplant in the other container. Once to grow its vine need not find it again, because it automatically when the flowers die, they may die in winter and rapidly reseed themselves every year.  Morning glory Bell supports water or you can put it near the fence. Too much fertilizer does not need to, nor should it more moist soil. Read more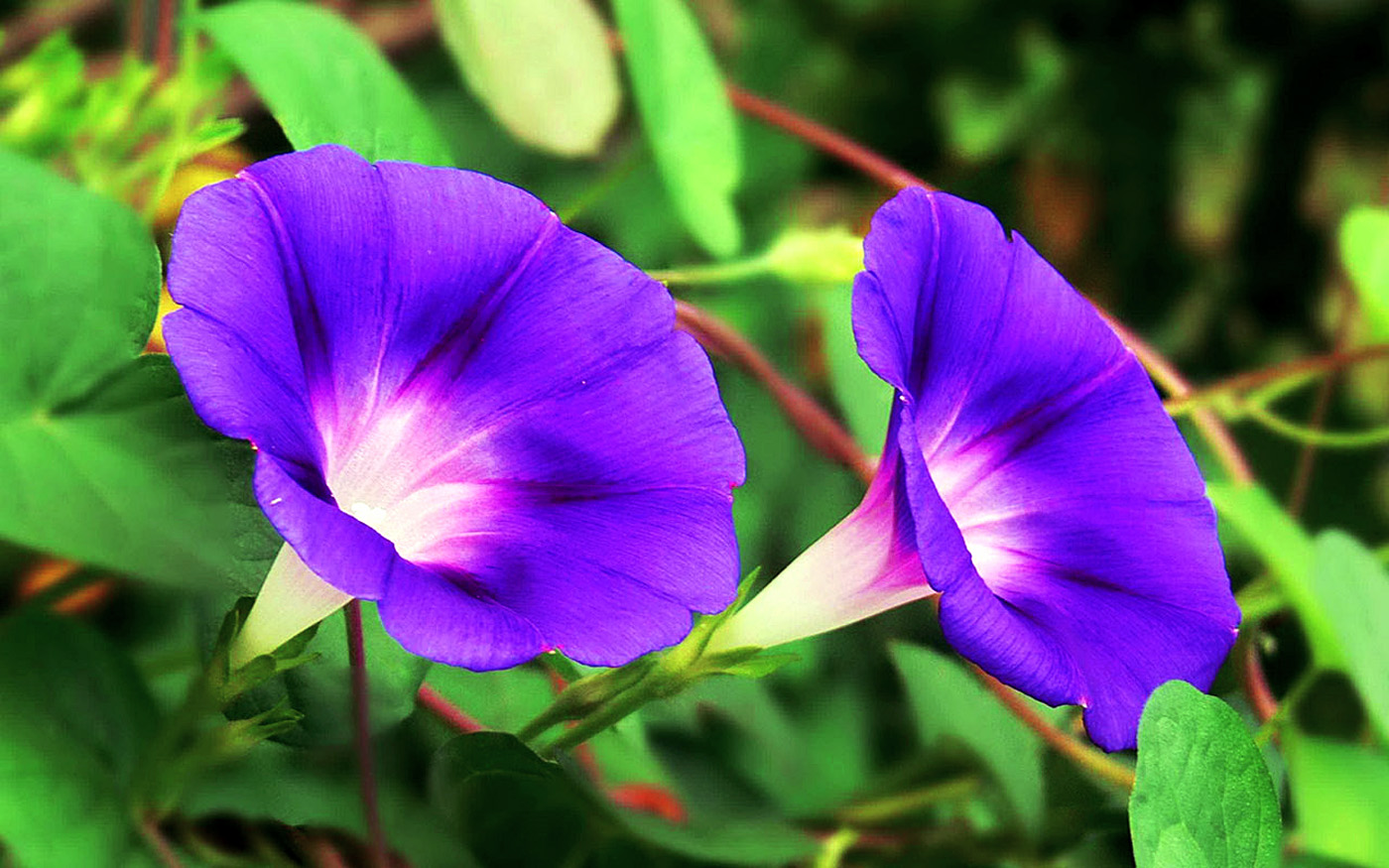 4.Sweet peas
Best annual vine sweet peas, the full spring season blooms with a unique fragrance. Though they are not easy to grow even if the proper time and in the right situation to get the proper result sown. The fragrant flowers are available in many of the annual species. Sweet peas like full sun. The focus of protection is easy for sweet peas. Its flowers come in bush and climbing both, and they climb themselves with the help of the forged.
These flowering vines are grown by seeds. After planting it a place it where air circulation altogether. You should put the seeds in hot water for 24 hours before planting so that the seeds are soft. After that, you keep the planting pot in shade. Remember that when you planting the drainage hole is proper. Use potting mix before planting. Read more…https://naturebring.com/blog/the-perfect-potting-mix-recipe/ Seeds must press 1 inch deep in the soil. Its seeds usually take 10 days to emerge.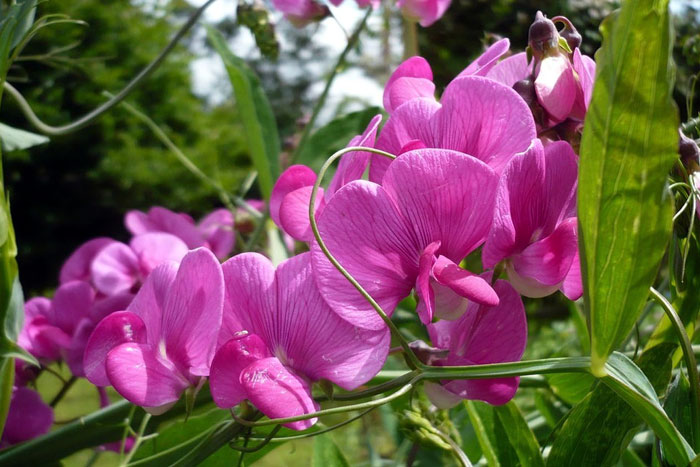 5. Mandevilla and Dipladenia
People think of plants a Mandevilla and Dipladenia are stuff, it turns out that the Dipladenia is a Mandevilla family member.  Though both of these plants are extremely popular and widely available. Although both of these plants are the same there is a huge difference between the two. Its leaves are dark green, pointed and glossy.  While the Mandevilla vine is greater in size. Its leaves are also larger. The flowers are trumpet-shaped. Its flower colors are white, red, pink, and yellow. During the growing season Fertilize 3 to 4 weeks with a liquid fertilizer for the care of Dipladenia.
They are easy to grow in containers and their flowers best perform for a balcony garden. These plants need full sun, but can a shadow tolerate. If you live in a warm temperature area keep your pot in shad in the afternoon for a few hours. Although this plant tolerates more dryness, these plants prefer some moisture but not wet soil much.  Read more How to grow Mandevilla vine, Dipladenia.

6. Moon Flower
Moonflowers look like morning glory, but they are blooming at night. Its white and large flowers bloom at night or the clouds whether. These plants like a full sun. Giving more compost may damage them. These plants do not require very good soil.
These tropical perennial climbing plants. In the same year developed 12-14 feet. Used annually in northern areas. Their leaves are extremely attractive and can grow easily from seed. You can in your garden in a straightforward manner. This vine has grown easily.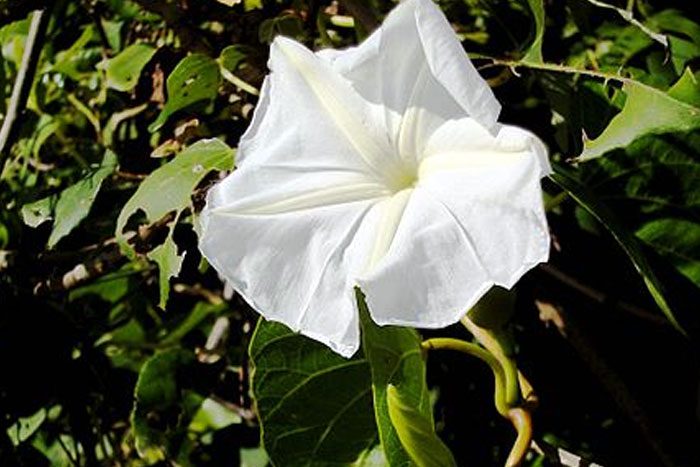 7.English ivy (Hedera helix)
A study found that English ivy reduces airborne fecal-matter particles. It has also been shown to filter out formaldehyde found in some household cleaning products.
Although popular as a potted houseplant, the National Park Service doesn't seem to be such a fan. The plant is called "an aggressive invader that threatens all vegetation levels of forested and open areas. It grows best with moist soil and four or more hours of direct sunlight each day.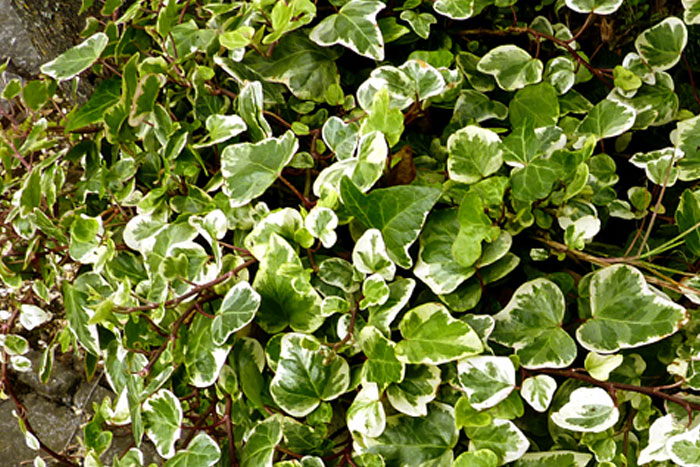 For Pin: