Calendula flower
Calendula is annual and perennial herbaceous plants in the daisy Family, often known as marigolds. These are native to Western Asia, Western Europe, Macaronesia, and are the Mediterranean. It's used to popular herbal and cosmetic products. Learn How to grow Calendula, Growing calendula flower and more about this flower.
From early summer until frost brilliant yellow and orange flowers adorn your garden. These plants prefer full sun. To obtain early flowering in your garden you should start before the growing season. These plant can very grow easily in containers and gardens. Flowers and spicy edible leaves are used in salads, it is unmatched.  The daisy-like flowers are beautiful, the anti-inflammatory, antibacterial properties and is rich in restoring the skin are valuable.  This elegant and edible yellow and orange flower blooming throughout the summer lasts.
Ground preparation Garden beds or containers filled with organic manure (Potting Mix),  as the first soil fertilizer to the beds together to make Improve soil.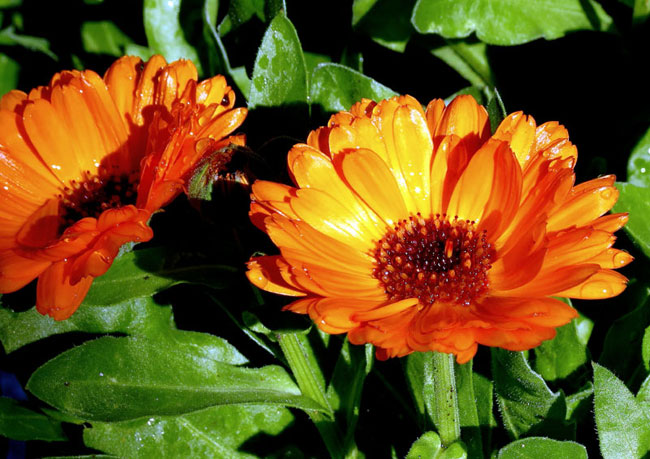 Classification
Scientific name:                 Calendula officinalis
Common name:                 Marigold
Soil:                                     Rich soil
Height:                               2 feet
Sunlight:                             Full sun to partial shade
Maturity:                           45-60 days from seed to flower

Growing Calendula plants
Herbaceous flowering plants length is 2 feet. Flowers bloom in the sun and dry weather and cold and damp conditions they are closed. It blooms well in warm areas, although they also tolerate partial shade, where the atmosphere is warm. The need for water is through it.
The plant is self-seeds in the garden and they automatically grow.
If it is growing by seed in early spring or late fall, you can directly on the ground.
These plants prefer full sun but will tolerate light shade in the hot zone.
4 to 6 weeks before the last frost of calendula seeds to germinate, it takes 5 to 15 days to germinate.  During the gardening season, should be using regular water and liquid fertilizer enhances its ability to bloom.
Pinch off flowers on a regular basis it should extend the blooming period. To prevent weeds and conserve moisture and keep the roots cool, help mulch.
Spacing –24 to 36 inches apart in all direction
Harvesting calendula flower
Calendula flowers dry, sunny day bloom should collect. Regular plant seeds should pick but be careful not to damage reached. Dried flowers of calendula collect in the afternoon to avoid the moisture. Keep in mind to avoid reabsorption of moisture.
Herbal use
This perennial herbaceous flowering plants as herbal medicines do. Its flower petals are used for making salads and soups.  Its plants originating glycosides, saponins, and another rich compound is a potent anti-inflammatory and antioxidant compounds. Calendula is so beneficial to health in many ways.
Skin, wounds, burns, ulcers, chapped skin and lips, problems such as insect bites, people use its flowers.
Salves, oils, creams and other prepared products are easy to obtain drug store.
Its flowers have anti-inflammatory and antibacterial properties.
Herbalists recommend that taking calendula tea, its use in the digestive tract ulcers, gallbladder and lymph glands in the treatment that is a significant role.
Pests and Disease calendula
Insects and diseases do not usually bother this plant, but its flower deterring to bugs are. It is a good ally for vegetable gardens. If it is planted around chard, carrot, and tomatoes, it protects against insects.
For Pin: