Cosmos 
Growing Cosmos annual flower adds beauty to your summer garden, especially when used in informal beds, it is the best flower used in the use in borders and containers. Cosmos flower is popular and ornamental, they are annual plants is a native of Mexico, that blooms a long stem. Cosmos is a genus, with the same common name of cosmos, consisting of flowering plants in the sunflower family. learn how to grow cosmos, cosmos care, Cosmos flower, and more about this plant.
Cosmos flower
These plants are suitable for borders or containers. Cosmos flowers are attracting honeybees, butterflies, and birds. Cosmos flower is in vibrant colors red, yellow, orange, white, and pink. These plants have a height of about 6 feet and extend simple and cheap. This annual flower plant is used in many ways, such as indoor performances, as cut flowers or as background. Cosmos is a perennial species, but also the common garden plants are grown in the annuity. These plants can reseed but the seeds can be collected easily and can be used in the next season. See Annual flowers.
Classification cosmos annual flower
Common Name                    Cosmos
Scientific Name                    Cosmos
Plant Type                            Flowering plant
Height                                    6 feet
Sun                                         Full Sun
Soil                                         Loamy
Soil pH                                   6.0 to 6.8
Flower Color                         Pink. Orange, White, yellow
Bloom time                           Summer, Autumn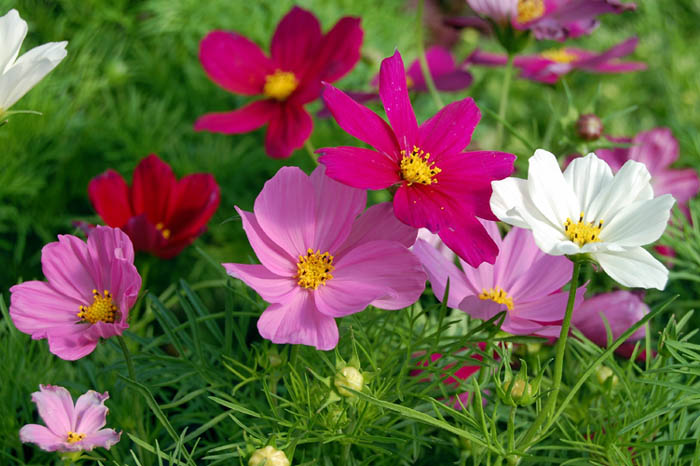 How to plant cosmos
These annual flower plants can be started 4 to 6 weeks before the last spring frost. Seedling is fast booming. As soon as the seeds become 3 to 4 inches long, they should be transplanted.
Its seeds are brown and can be easily handled; these seeds can be sown in the summer.
This annual flower plant seeds 1/4 inch deep in the moist soil too but it should completely dry. The plants do not need soil for the very rich, though rich soil encourages more foliage and bloom.
They can tolerate hot and dry weather.
The plants grow 18 to 60 inches long and can be grown anywhere.
If you develop by the seeds, keep in mind, they bloom for the first time take more than 7 weeks. After that, however, it continues to

blossom

until next winter.
Its prickly seeds are scattered here and there during the fall and these new plants are born.
Soil
If Natural Soil 6.0 to 6.8 pH is the best, but cosmos do not care about soil. They tend to grow in poor soils. However, given some fertilizer soil (rich soil) bloom in the well.
If sowing or transplanting in outdoors to wait for the frost until the frost has passed. It will grow very quickly but would die due to the cold. Read also.
Cosmos Care
Full sun for best blooming appearance is much better. However, they also bloom in partial shade but bloom and are relatively small.
It requires less maintenance, while prolonged droughts do not.
Let the water regularly, but do not let the plant more water. Much water and fertilizer are the effects of the plant's blossom. Cosmos can tolerate dry soil, as far as the warm and dry atmosphere.
The plant does not need any fertilizer; it's grown well in poor soil if the soil is to improve the impact on the bloom.
They are the only real maintenance is required, when the flowers have faded, deadheads and dried leaves should then be separated, flowers bloom longer.
These

plants

grow tall and strong winds are affecting them to the edge of the fence is more appropriate.
Pests
These plants are almost pests free.
Harvest Cosmos flower
Harvest while keeping in mind that some of the flowers and leave them on the plant, because the plant is self-seed.
You can break at any time after the plant's bloom, but when it should be fully bloomed flowers and icing is more appropriate.
Double Butterfly Cosmos
Rose Bon Bon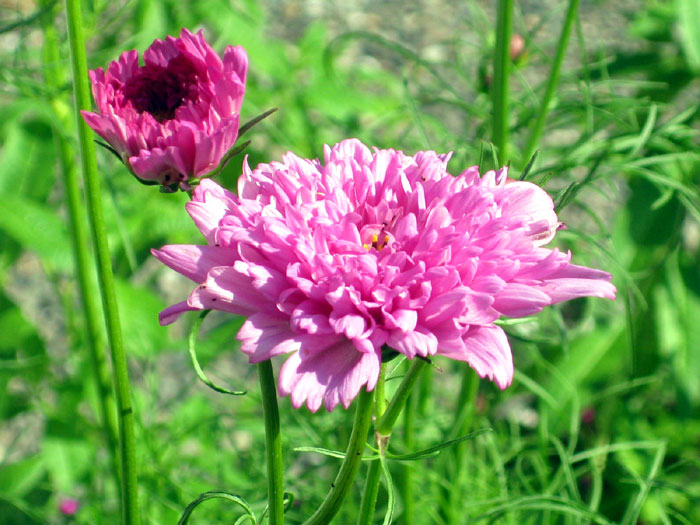 French breeders have developed a very nice flower, the popular plant by the name of Rose Bon Bon, is similar to a rich romantic rose with petals, offering it double flowers. It is exceptionally beautiful and produces nearly 3-inch flowers which blossom non-stops on long stems, it blossoms abundantly in summer and fall and is a good cut flower. Butter like to visit these beautiful toys because they go above the thin cut leaves. Read more.
Read also: 11 Best winter flowers for your garden. Hollyhocks growing and caring tips. Garlic vine growing and caring guide. Freesia flowers growing and care guide. Anthurium plant Growing indoors. How to grow Bleeding hearts flowers. Best flower for bees and Butterfly gardens. Geranium growing and caring tips. 8 Best Frugal Gardening tips. Liatris growing and care guide. Know how to grow Pansy flowers. How to grow Lily. Soybeans growing and care guide.
For Pin: