Lucky Bamboo plants
Lucky Bamboo (Dracaena braunii) is a very low caring houseplant, which flourishes well in low light. It's not really bamboo. This is Dracaena sanderiana plant, which is the type of tropical water lily. know How to grow the lucky bamboo plant,  lucky bamboo care, Trimming and shaping Lucky bamboo, and many more this article.
Lucky bamboo plants
Lucky bamboo hard stalks can survive well in water or soil.  People believe that in the place it grows it brings good fortune and good luck. It is also believed that happiness and prosperity increase as it grows and is an important part of Feng shui. Lucky bamboo plants come from China and Taiwan the most. Professional producers give different shapes from its stalks through twist and spiral, which is valued by the ratio of the design and number of stalks. It has originated in West Africa.
Lucky Bamboo thrives 8-11 hardiness zone. The lucky bamboo survives very well inside the house, people keep it in their drawing room as a houseplant. If it is kept under proper supervision then it can go up to 5 feet height.
Classification Lucky bamboo plants
Scientific name                   Dracaena braunii
Common name                   Lucky bamboo
plant type                             Houseplant
Sun requires                        Indirect Sunlight
Media (soil/ water)            Sandy/ Loamy/ Potting Mix / hydroponic
Soil pH                                 6.4-7.5
Zone                                     8-11

Lucky Bamboo Care
Dracaena braunii needs very little supervision. How can you make your lucky bamboo beautiful, strong and healthy? Here are some simple ways to give nature bring.
Lucky bamboos usually develop hydroponically, but it can also be well developed in the soil. When this plant is growing in water, insert small stones or marble pieces into the container, it provides stability to the stalk.
Use the filtered or pure water of rain for Bamboo plant, it helps keep the plant healthy. Every week you give your Bamboo Plant two to three times water. Do not reduce the water label and keep the plant roots in water. Must change the water in 10 days. If you keep your bamboo plant in the vase, keep this water low because its roots grow with water contact.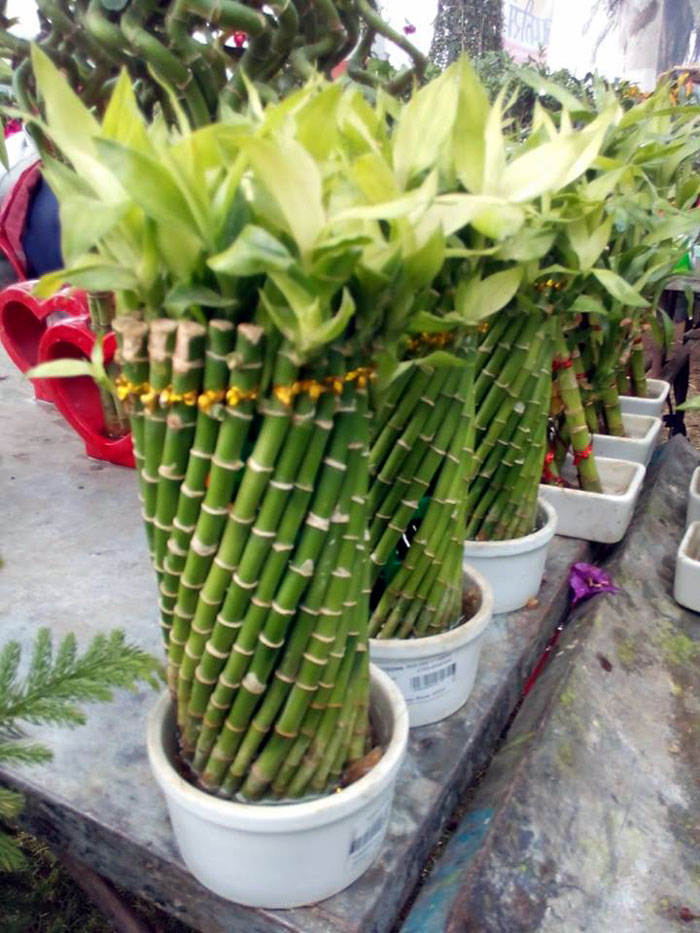 Sunlight
Indirect sunlight is best for a lucky bamboo plant, do not keep it straight in the sunny window. These plants prefer low light.  If the green color of bamboo leaves is affected, it means the plant is not getting enough sunlight. This affects the development of the plant and stops releasing new leaves. To avoid this problem, move the plant to more indirect light.
Potting Media
These plants can grow in water as well as in the soil. For this, a rich potting mix (sandy, loamy), which requires well-drained soil. Keep the soil moist, but do not overdo it. As you give water to other species of dracaena, give it water.
Temperature
This houseplant can damage the temperature of 65 to 90 degrees F. For this, if the temperature is 55 degrees F then better results. This plant should never be placed in front of the air conditioner, direct sunlight, and heat. Do not keep this plant in front of any heat source such as a heater, blower or lamp.
Watering
Dracaena braunii can grow pebbles in ordinary bouquets and at least 1-inch water. Although it is very sensitive to chlorine and other chemicals found in tap water. Use pure water to apply it.
Feeders
This houseplant does not require any type of feeder. Just need it pure water. If you want to use any fertilizer for this plant, use such fertilizer, which is special for it.
Growing  Lucky Bamboo in soil
You can also put your houseplant in the pot. Put the Lucky Bamboo plant in such a way that its roots remain 1 or 2 inches below the surface of the soil. Choose the soil that easily drains. Damp soil and without being overly moist are allowed.
Add water-soluble fertilizer into the soil every 2 to 4 weeks. Read the instructions in the packet for the best results.
Take the plant to a place where indirect sunlight arrives. Direct sunlight will burn the leaves of the plant leaves. Very little light will obstruct growth in the plant.
Problems with Lucky Bamboo
Dracaena braunii houseplant also has many problems. While taking care of it, you have to take care of the use of algae and the wrong water. Lots of light, very little light, more nutrients, and the use of wrong water, yellowing of leaves, browning of lucky bamboos may have to face such problems.
Measures to Avoid Problems
If you have such problems in your Dracaena braunii then you can get rid of the following solution.
You change your vase. If you do not have the second vase then you should take out lucky bamboo and wash it well with the help of hot water and soap. Then add Lucky Bamboo to the vase.
Change water often, always use distilled or filtered water.
If lucky bamboo is coming directly in front of the sunlight, make changes in its place, where indirect sunlight comes up. If your plant's color has started to fade or is not developing, move it to the second place immediately.
Trimming and shaping Lucky bamboo
You can make this houseplant like bonsai. Which includes planting and trimming. Instead, plants stalk begins to rotate in front of the light. These plants naturally move towards the light. In China, many experiments are made to cause a specific spiral.
Read also: 10 Elegant plants for Vertical gardening. 8 Frugal Gardening tips.  How to grow Fenugreek in the pot. Potatoes growing and care guide. Jade Plant growing indoors. Growing Black peppers in containers. Know how to grow Pansy flowers. Celery growing in containers. Cantaloupe growing in containers. Orange growing in containers. Oregano growing and caring tips.   Onion growing in containers. How to grow Bleeding hearts flowers.  Sweetcorn growing and care guide. 6 Healing herb you must grow at your home. Kiwi fruit Growing in containers.
For Pin: